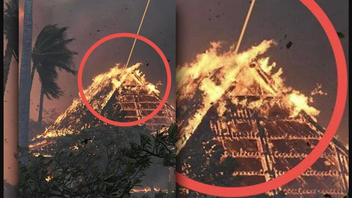 Did an orange laser beam ignite a fire in a Maui church that was already consumed in flames, surrounded by blowing embers, and palm trees bending in a heavy wind? No, that's not true: This photo has been altered. The original photo by Maui News photographer Matthew Thayer has been picked up by The Associated Press and was featured in an August 9, 2023, article in USA Today and it tops a NBC News photo essay published on August 11, 2023. The original photo does not show an orange laser beam touching the exposed ridge board and rafters of the burning church. Also in the original photo, the palm trees are blown to the left, and in the altered image they face to the right. It appears that not only was the image altered, but it was reversed, potentially to defeat image search tools.
In the Pacific Ocean, as Hurricane Dora passed 750 miles from Hawaii, some wind gusts on the islands were recorded over 80 mph. On August 8, 2023, wind-driven wildfires in Maui burned the town of Lahaina. On August 12, 2023, a post (archived here) was published by @MattWallace888 on X, formerly Twitter. The post was captioned:
Are you prepared to handle the truth?
This is what the post looked like on X at the time of writing: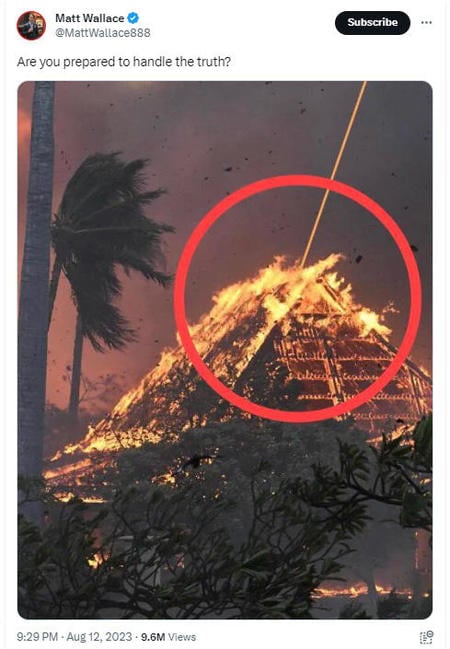 (Source: Twitter screenshot taken on Thu Aug 17 20:25:50 2023 UTC)
The image above has been altered. It has been mirrored and an orange line representing a laser beam was added. A red circle highlights the fake laser beam.
The original photo was taken by Maui News photographer Matthew Thayer. An August 15, 2023, article on erienewsnow.com includes an Erie News Now broadcast video segment featuring a zoom interview with Thayer, who is a native of Erie County, Pennsylvania. He has been working with the Maui News for 43 years. The segment includes some clips of Thayer's footage from an upcountry horse evacuation before his editor at the newspaper sent him to Lahaina. At 1:56 into the news segment the photo of the church is discussed. The article summarizes Thayer's experience in documenting the event:
Thayer's images of two historic churches that went up in flames before his eyes, have been picked up by the Associated Press, and shared by news organizations around the world. He took a chance to capture that now well-published image. "I almost didn't go up there, it was dodgy, the Salvation Army was about to go up, but I got up there and there was a Hawaiian man watching his church burn, he was quite shook." Thayer said the man wanted to fight the flames, but he told him to go home, get his precious possessions and evacuate. Thayer later learned that the man and his home were spared.
A reverse image search for the flipped image with the fake laser beam and red circle puts Matt Wallace's X post at the top of the list. An August 13, 2023 article in Forbes titled, "Viral Photo Of 'Laser' Starting Fires In Hawaii Is Completely Fake" names Wallace and suggests that he appears the be the person who flipped the image. Lead Stories found no evidence of the image circulating before Wallace posted it.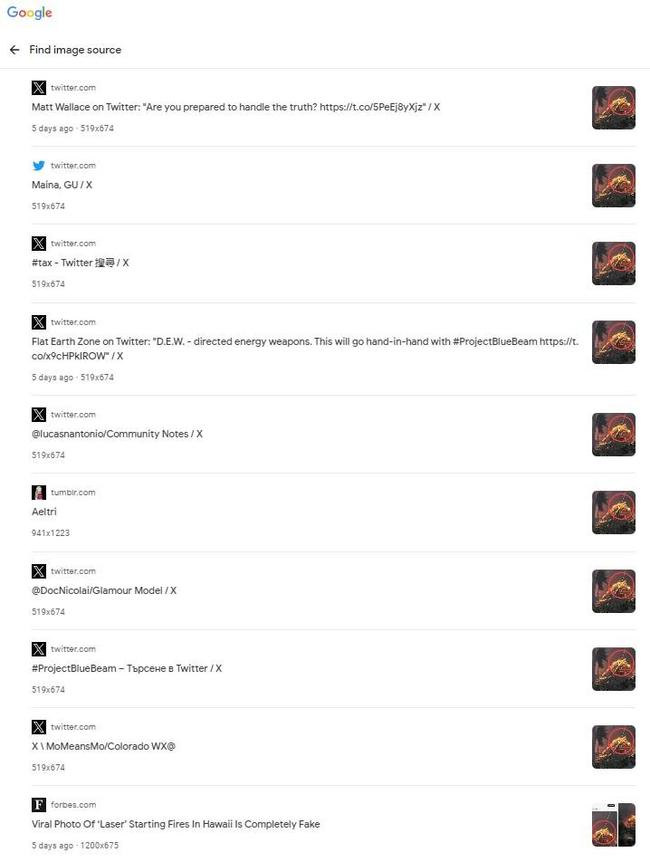 (Image source: Google Lens image search result screenshot taken on Thu Aug 17 22:21:19 2023 UTC)
Lead Stories has debunked several conspiracies about the Maui wildfires including fake, misidentified and mislabeled images that purport to show Directed Energy Weapons (DEW) or laser beams igniting fires in Maui. Those stories are here.