STORY UPDATED: check for updates below.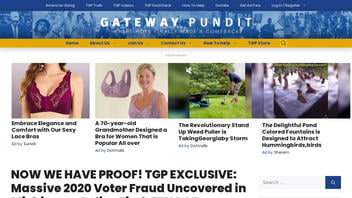 Did Michigan State Police find "tens of thousands of fake registrations" in an October 2020 voter fraud investigation? No, that's not true: The assertion made in the headline of the article making the claim is not supported in the body of the story, nor in the police report it's based on. The Michigan Department of Attorney General told Lead Stories that the state's 2020 election was investigated long ago and proven to be "fair and accurate."
The claim appeared in an article (archived here) published by The Gateway Pundit on August 8, 2023, titled "NOW WE HAVE PROOF! TGP EXCLUSIVE: Massive 2020 Voter Fraud Uncovered in Michigan - Police Find: TENS OF THOUSANDS of Fake Registrations, Bags of Pre-Paid Gift Cards, Guns with Silencers, Burner Phones, and a Democrat-Funded Organization with Multiple Temporary Facilities in Several States." The story opens:
Special Thanks to

Phil O'Halloran

and

Lori Skibo

for their contributions and assistance with this story. The two election integrity activists obtained a copy of the State Police report and began investigating the story in June. Phil O'Halloran, now Chairman of the Michigan Republican Party's Election Integrity Committee and Lori Skibo, Director of the MI GOP's Poll Challenger Program, brought it to our attention and are assisting with our research of this story.
This is what the post looked like on The Gateway Pundit website at the time of writing: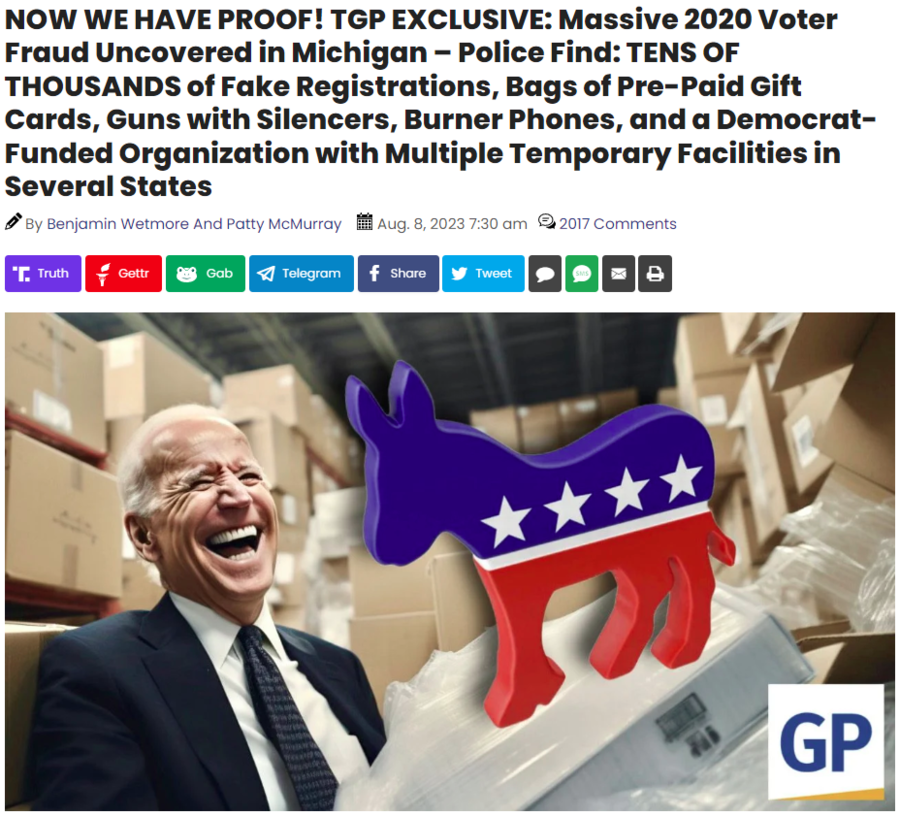 (Source: Gateway Pundit screenshot taken on Tue Aug 8 19:34:27 2023 UTC)
The story and police report
The Gateway Pundit trumpets "tens of thousands" in the story's headline, referring to fake voter registrations, but it never uses the expression again or similarly large numbers in the body of the story.
The Michigan State Police (MSP) report the article is based on says a person questioned in the investigation "had delivered between 8,000-10,000 voter registration forms to the Muskegon City Clerk's office. Later, City Clerk Ann Meisch "estimated that [redacted] brought an additional 2500 forms."
While the total number of voter registration forms submitted by that person may add up to as much as 12,500, very few of them were deemed to be fraudulent, certainly not "tens of thousands" of them.
Page 3 of the MSP report says Meisch "turned over 42 suspected fraudulent applications to Officer Foster for examination." A screenshot from the police report appears below:

(Source: Michigan Department of State Police Incident No: 060-0000368-20 screenshot taken on Tue Aug 8 20:10:06 2023 UTC)
At the time of the investigation, WZZM-TV reported this statement from MSP in an October 31, 2020, story. It said:
None of the alleged fraudulent voter registrations resulted in voters receiving absentee ballot applications or ballots, any resulting registrations have been voided, and there is no expected impact on any election.
Michigan Attorney General
Additionally, the Michigan Department of Attorney General provided a response to The Gateway Pundit's reporting on purported election fraud in the state. Press Secretary Danny Wimmer supplied this statement to Lead Stories in an August 11, 2023, email:
Despite the Gateway Pundit's continuing claims to the contrary, the 2020 election has been thoroughly litigated and audited and has been proven well beyond a reasonable doubt that it was fair and accurate. This matter was reported by several in-state outlets contemporarily, and much more accurately than the newest, inaccurate account made by the Gateway Pundit. Like their many other false claims of election law violations, this is once again, not a smoking gun for their long-debunked theories.
Additional Lead Stories fact checks of claims related to voter fraud can be found here.
2023-08-14T17:20:38Z

2023-08-14T17:20:38Z

Adds response from Michigan Department of Attorney General by Press Secretary Danny Wimmer.