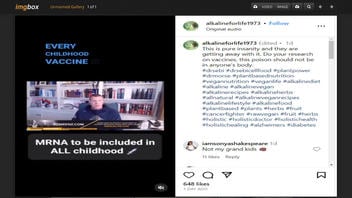 Is mRNA being integrated into "every childhood vaccine" without regulatory reapproval? No, that's not true: The U.S. Food and Drug Administration (FDA) calls the claim "completely false." There are rigorous regulatory processes in place to evaluate and approve any changes to vaccines, including the incorporation of new technologies like mRNA.
Pfizer's COVID-19 vaccine was the first mRNA product to achieve full FDA approval in the United States in August 2021, according to the Johns Hopkins Bloomberg School of Public Health.
The claim appeared in a post and video (archived here) on Instagram by alkalineforlife1973 on August 21, 2023, under the title "MRNA to be included in ALL childhood 💉" The post's caption says:
This is pure insanity and they are getting away with it. Do your research on vaccines, this poison should not be in anyone's body.


#drsebi

#drsebicellfood

#plantpower

#drmorse

#plantbasednutrition

#vegannutrition

#veganlife

#alkalinediet

#alkaline

#alkalinevegan

#alkalinerecipes

#alkalineherbs

#allnatural

#alkalineveganrecipes

#alkalinelifestyle

#alkalinefood

#plantbased

#plants

#herbs

#fruit

#cancerfighter

#rawvegan

#fruit

#herbs

#holistic

#holisticdoctor

#holistichealth

#holistichealing

#alzheimers

#diabetes
This is what the post looked like on Instagram at the time of writing: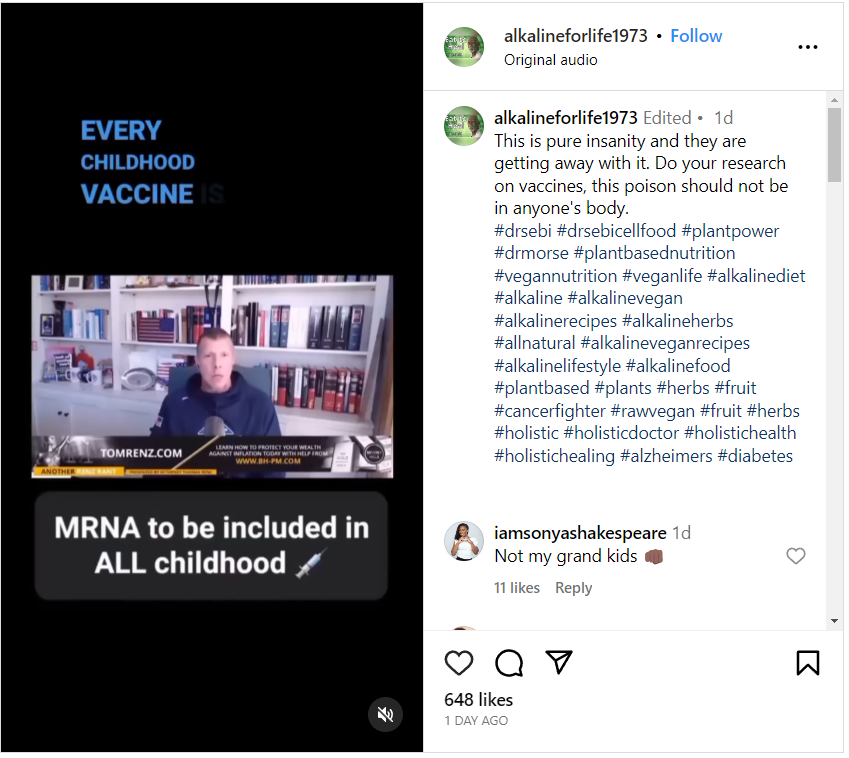 (Source: Instagram screenshot taken on Wed Aug 23 16:25:57 2023 UTC)
The video
The clip used in the Instagram post also appeared on Rumble (archived here), a social media video platform, on April 5, 2023. It was posted by Tom Renz, who bills himself as an attorney and freedom fighter. He claims no medical background and provides no evidence to support the claims in his video.
Here's what Renz says in the 80-second clip:
Now, every childhood vaccine is going to be mRNA. They're integrating it into every single one. So, they're changing the childhood vaccines to something new; they won't go through reapproval, they won't go through anything, they'll just change them.

And all the childhood vaccines are going to be gene therapies. So, if you get your child a vaccine of any type, it's going to be a gene therapy. It's going to alter their genetics. That's the game; that's where the money is. That's where this is going.

People don't care. These guys don't care about the COVID vaccine because they've made their money off of it. They've gathered their data. They've done their gene therapy experimentation on the population. But the thing that's dangerous is that they're tinkering with your genes, and that's what they're going to continue to do.

They are now integrating mRNA into every vaccine out there. So, you want to talk anti-vax? Here's anti-vax. Do not get any of them. There will not be another needle put in my arm, so help me God, for a vaccine if I have anything to say about it ... or my family. None. Zero.

Every one of these is now getting mRNA treatments. They're redeveloping them, redesigning them, and all of them are going to include gene therapies. There's so much money in this. It's mind-blowing.
Food and Drug Administration
In an August 24, 2023, email to Lead Stories, FDA press officer Cherie Duvall-Jones provided the agency's response to the Renz clip. It said:
The claims made within this video are completely false. Vaccine manufacturers are NOT adding mRNA to all childhood vaccines. Additionally, none of the vaccines licensed (approved) by FDA, including the mRNA COVID-19 vaccines, alter the genetics of vaccine recipients.

Vaccine manufacturers cannot make a significant manufacturing change to their vaccines without prior approval from FDA.
Centers for Disease Control and Prevention
The CDC's Immunization Safety Office echoed the FDA's response to the claim that mRNA vaccines change the genetics of those who get the shots. In another August 24, 2023, email, the office told Lead Stories:
DNA, the molecular blueprint of who we are, remains in the nucleus. mRNA does not enter the nucleus of the cell. Therefore, there is no way that mRNA can alter the DNA of a cell, or 'alter the genetics' of anyone receiving mRNA vaccination.
The CDC's "Myths and Facts about COVID-19 Vaccines" page also addresses the issue. It says:
MYTH: COVID-19 vaccines can alter my DNA.

FACT: COVID-19 vaccines do not change or interact with your DNA in any way.
Vaccine expert
Dr. William Schaffner, a professor of medicine in the division of infectious diseases at Vanderbilt University Medical Center, told Lead Stories in an August 23, 2023, phone interview that a vaccine can't be changed without going through a reauthorization process. He said:
It would be considered a new vaccine developed using a new technology. It would go through the complete FDA review process and ... if approved, and licensed by the FDA, will be thought of as a new vaccine and reviewed completely and thoroughly by the ACIP.
ACIP is the CDC's Advisory Committee on Immunization Practices. Schaffner was a member of the COVID vaccines work group, a subcommittee of ACIP. He continued:
The traditional vaccines, polio, diphtheria, MMR, you name it ... all those vaccines are currently not mRNA vaccines. And so, were a new mRNA vaccine produced, for use in childhood, it would have to undergo a very, very rigorous evaluation process. It would be considered a new vaccine. In effect, the manufacturer would start from scratch.
Additional fact checks related to mRNA vaccines can be found here.