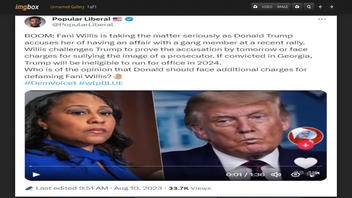 Is Fulton County, Georgia, District Attorney Fani Willis challenging former President Donald Trump to prove his accusation that she had a relationship with a gang member or face additional charges? No, that's not true: There is no publicly available evidence as of August 10, 2023, to substantiate a social media post making that claim. Willis directly addressed the accusations and insults by Trump in an email to her staff, reminding them that her office prosecutes "based on the facts and the law," and "this is business, it will never be personal."
The claim appeared in a post and video on X (archived here), the social media platform formerly known as Twitter, published by Popular Liberal on August 10, 2023. The post's caption reads:
BOOM: Fani Willis is taking the matter seriously as Donald Trump accuses her of having an affair with a gang member at a recent rally. Willis challenges Trump to prove the accusation by tomorrow [August 11, 2023] or face charges for sullying the image of a prosecutor. If convicted in Georgia, Trump will be ineligible to run for office in 2024.
Who is of the opinion that Donald should face additional charges for defaming Fani Willis?🤚🏽
#DemVoice1 #wtpBLUE
This is what the post looked like on X at the time of writing: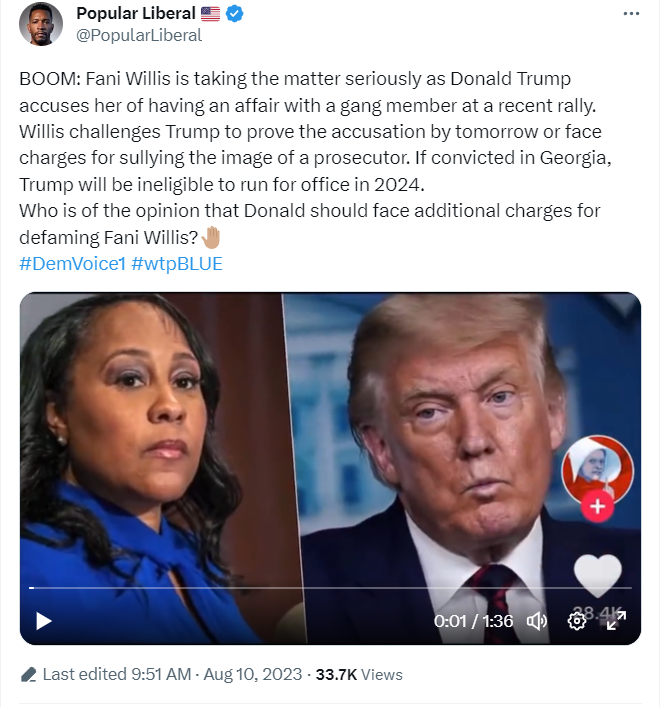 (Source: X screenshot taken on Thu Aug 10 15:55:27 2023 UTC)
The video
There are a number of inaccuracies in the 96-second clip but for the purposes of this fact check, Lead Stories will only address the claim that the Fulton County DA will charge Trump if he doesn't prove Willis had an affair with a gang member. Here's the transcript of the video, with the claim appearing in the final paragraph (emphasis ours):
Former President Donald Trump accused Fulton County District Attorney Fani Willis of having an affair with a gang member during his protest in Windham, New Hampshire, on Tuesday afternoon.

Willis is the Atlanta area prosecutor who is expected to announce in the following weeks that Trump will be charged in the investigation of his actions surrounding the 2020 presidential election. And according to the law, if Trump is found guilty of these charges, he will not be allowed to participate in the 2024 presidential elections.

She is investigating whether Trump appealed to Georgia Secretary of State Brad Raffensperger, in which he asked him to find enough votes to overturn the election in his favor, which was a serious violation of the country's electoral laws.

Trump, who has accused prosecutors of targeting him for political gain, launched the latest attack on Willis as he addressed a crowd at his school rallies in a school called Windham High School on Tuesday afternoon, saying, 'I could have another indictment sooner than expected.' He continued by saying, 'There was a young woman, a young racist in Atlanta, who was the agent of the witch hunt against me. People said she was in some sort of gang and, in the end, she was having an affair with a gang leader or a member of a gang,' Trump said.

And because of these false accusations, Fani Willis filed another motion against Trump, saying he has to prove that she had an affair with a gang leader, because the end of tomorrow [August 11, 2023], or she will add it to felony charges against him, which will be wrongly accusing and tarnishing the image of the prosecutor investigating his unlawful act against the 2020 presidential elections.
The Trump team makes the charge in a campaign ad (archived here) that Willis is "so corrupt" that she "got caught hiding a relationship with a gang member she was prosecuting."
Willis' response
Willis did respond to Trump's many accusations, including that she had "an affair with gang leader or a member of a gang," but not in the way the social media post said. In an August 9, 2023, email to her staff, Willis told them they "should feel no need to defend" her. While acknowledging Trump's words were "derogatory and false," she suggested her team should ignore the former president.
WSB-TV published the details of the email on its website. An excerpt appears below:
You may not comment in any way on the ad or any of the negativity that may be expressed against me, your colleagues, or this office in the coming days, weeks, or months. We have no personal feelings against those we investigate or prosecute and we should not express any. This is business. The comment does not concern me at all. It's ridiculous in nature but I support his right to be protected by the First Amendment will never be personal. We have a job to do. In this office, we prosecute based on the facts and the law.