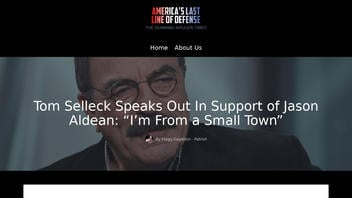 Did actor Tom Selleck speak out in support of country music star Jason Aldean, saying, "I'm from a small town," as of August 10, 2023? No, that's not true: This claim appeared in an article on a satirical website known for publishing fabricated content. Multiple credible media outlets have also reported that Selleck was born and raised in big cities -- not small towns.
The claim appeared in an article published by The Dunning-Kruger Times on August 9, 2023, titled "Tom Selleck Speaks Out In Support of Jason Aldean: 'I'm From a Small Town'" (archived here). It opened:
Tom Selleck is one of the most successful actors in Hollywood. A staunch conservative, Selleck doesn't always fit in with his peers. That became obvious when he spoke out in support of country star Jason Aldean and his hit song about small towns.




'I grew up in a small town,' said Selleck, 'and let me tell you, Jason's song was spot on.' His comments were shunned by many in his own circle, but Selleck doesn't care. 'I have my own set of values to adhere to,' he said.
Users on social media only saw this title, description and thumbnail:
Selleck is one of Hollywood's most successful conservatives.
The article continued:
Tom Selleck was born Jeremy Logan Portabilly in West Gregston, Alabama in 1943. The town has a current population of somewhere between seven and ten people.
An August 7, 2018, Country Living magazine article titled, "Who Is Tom Selleck? Everything You Need to Know About the 'Blue Bloods' Star" revealed that Selleck was born in Detroit, the largest city in Michigan.
A 2019 SoapHub article titled "Tom Selleck Facts: Celebrities Who Started on Soaps," added that he was raised in Sherman Oaks, California, at some point during his childhood. Sherman Oaks is a highly populated neighborhood in a large area known as San Fernando Valley, which makes up the most northern portion of Los Angeles.
A Google search using the keywords "Tom Selleck spoke out in support of Jason Aldean" produced no results to substantiate this claim.
Lead Stories reached out to public relations representatives of Selleck and will update this fact check if a response is received.
Additional Lead Stories fact checks about Jason Aldean can be read here and about Tom Selleck here.
The Dunning-Kruger Times
The Dunning-Kruger Times is a satirical website with an about page (archived here) that has the following disclaimer:
About Us

Dunning-Kruger-Times.com is a subsidiary of the 'America's Last Line of Defense' network of parody, satire, and tomfoolery, or as Snopes called it before they lost their war on satire: Junk News

About Satire

Before you complain and decide satire is synonymous with 'comedy':

sat·ire ˈsaˌtī(ə)r noun: The use of humor, irony, exaggeration, OR ridicule to expose and criticize people's stupidity or vices, particularly in the context of contemporary politics and other topical issues.

Everything on this website is fiction. It is not a lie and it is not fake news because it is not real. If you believe that it is real, you should have your head examined. Any similarities between this site's pure fantasy and actual people, places, and events are purely coincidental and all images should be considered altered and satirical. See above if you're still having an issue with that satire thing.
The website is named after the Dunning-Kruger effect, a term from a psychology experiment that describes the phenomenon of being ignorant of one's own ignorance. (That experiment has been disputed by a math professor.)
It is run by self-described liberal troll Christopher Blair and is part of his America's Last Line of Defense (ALLOD) network of satirical sites. Lead Stories has published fact checks on several of the fabricated narratives Blair's network has recently published (here).