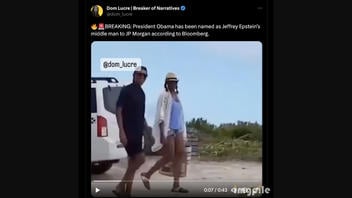 Did Bloomberg publish a story saying that former President Barack Obama was a "middle man" for the convicted sex offender Jeffrey Epstein at J.P. Morgan? Did Obama help the disgraced financier to foster ties with the banking institution? No, that's not true: Bloomberg did not write anything remotely similar in August 2023. The claim on social media distorted a Bloomberg article about a different person who was once referred to J.P. Morgan as a client by Epstein's assistant.
The claim appeared in a post (archived here) on X, formerly known as Twitter, on August 17, 2023. It stated:
BREAKING: President Obama has been named as Jeffrey Epstein's middle man to JP Morgan according to Bloomberg.
This is what the post looked like at the time of writing: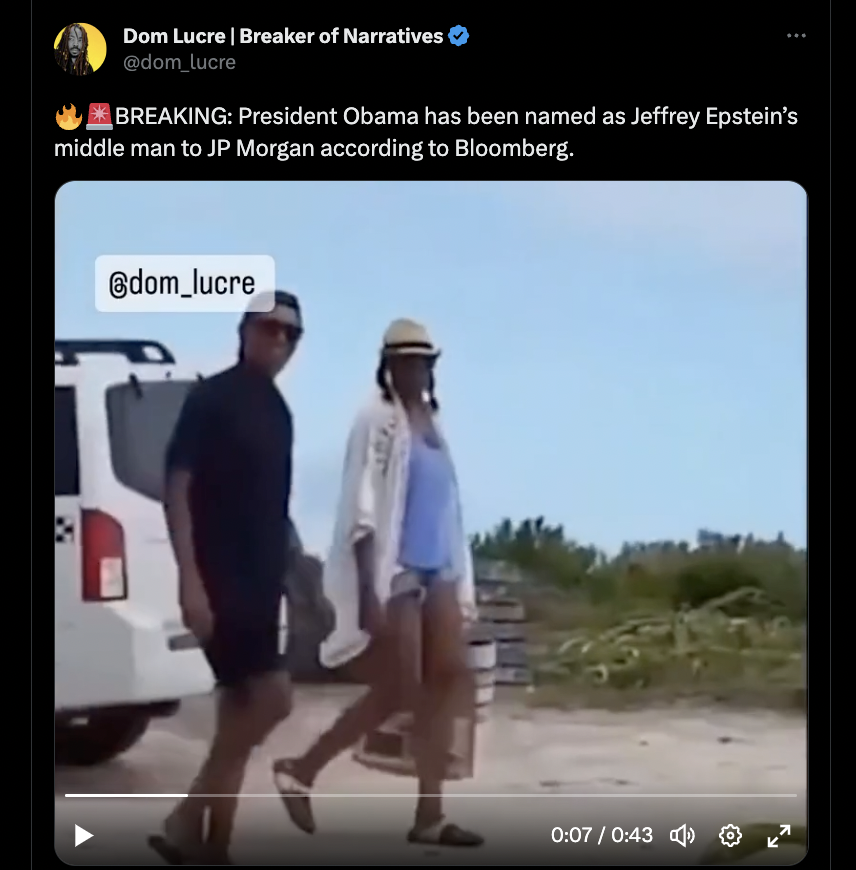 (Source: Twitter screenshot taken on Wed Aug 23 13:51:48 2023 UTC)
Bloomberg did not say that
A Google search across the Bloomberg website limited to 2023 results does not show any breaking news stories describing Obama as "Jeffrey Epstein's middle man to JP Morgan":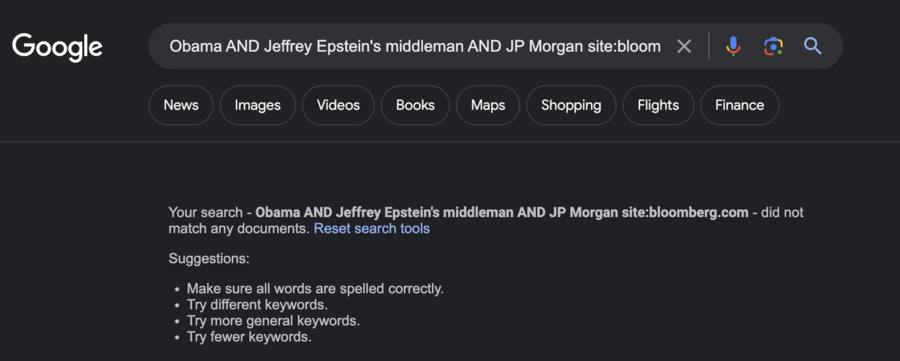 (Source: Google screenshot taken on Wed Aug 23 17:17:53 2023 UTC)
A broader inquiry across Bloomberg.com led to an article published on August 15, 2023, two days before the claim appeared on X. The report indeed contained the keywords "Obama," "Epstein" and "JP Morgan," but its content was very different from how the post summarized it.
The Bloomberg piece never stated that "President Obama has been named as Jeffrey Epstein's middle man to JP Morgan." Instead, it described a different controversy: It was about Kathryn Ruemmler -- not Obama -- referred to J.P. Morgan as a client by Epstein's assistant: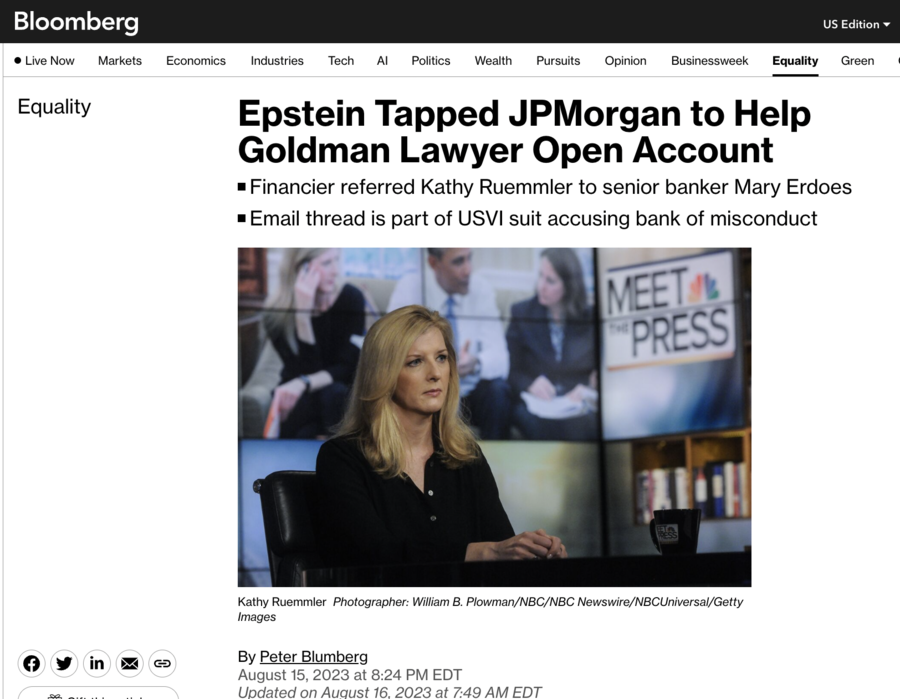 (Source: Bloomberg screenshot taken on Wed Aug 23 17:01:05 2023 UTC)
The described episode took place in February 2019, only months before Epstein's arrest.
At the time, Ruemmler, who had previously worked as a legal counsel for the Clinton and Obama administrations, was not affiliated with the then-Republican White House. As The Daily Beast wrote, she was a partner at Latham & Watkins in 2019 and later, in 2020, joined Goldman Sachs.
Coverage mentioned people other than Obama as Epstein's contacts at J.P. Morgan
The exchange cited in the Bloomberg article was aimed at pursuing J.P. Morgan executive Mary Erdoes to open a new account for a new client, not Obama.
Other media outlets covering the story -- for example, NBC -- pointed out that Epstein's long-term point of contact at J.P. Morgan was Jes Staley, not the former president.
No credible sources reported that Obama was "Jeffrey Epstein's middle man to JP Morgan."
Obama is not part of lawsuit
The referral came into the spotlight as part of a case filed by the U.S. Virgin Islands against J.P. Morgan on December 27, 2022 (case number 1:22-cv-10904-JSR.)
According to court filings available on PACER (which can't be copied), the bank is accused of "knowingly facilitating, sustaining, and concealing the human trafficking network operated by Jeffrey Epstein from his home and base in the Virgin Islands" and of "financially benefiting from this participation."
As verified by Lead Stories, the initial complaint does not even mention Barack Obama.
On August 14 and August 15, 2023, the plaintiff submitted the updated version of some filings that had fewer redactions. The particular document that mentioned Obama only did so to describe Ruemmler's former employer, not his purported involvement in anything related to the ongoing case.
Lead Stories reached out to the plaintiff's legal team for further comments. If we receive a response, this article will be updated as appropriate.
The attached video does not corroborate the claim
The post on X contained a blurry 43-second video showing a group of people who appeared to be vacationing somewhere at the seaside. That included a man and a woman whose facial features couldn't be seen clearly due to the low quality of the recording.
According to the reserve image search tool TinEye, the clip first appeared on the internet in February 2017: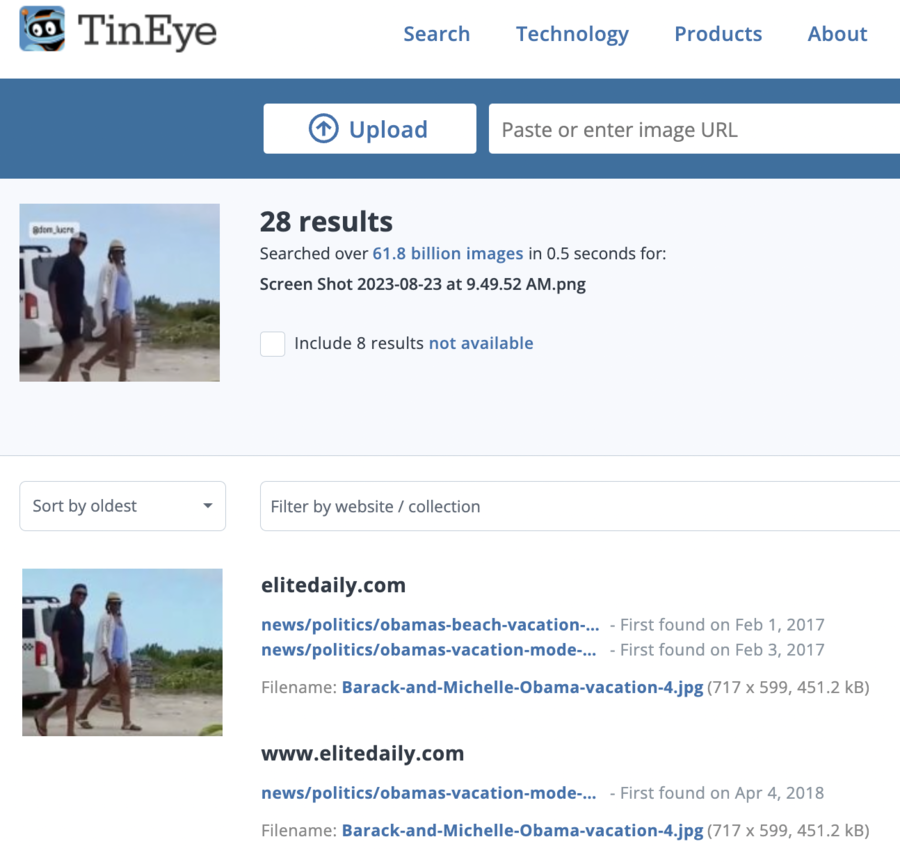 (Source: TinEye screenshot taken on Wed Aug 23 14:41:02 2023 UTC)
Reverse image search results on TinEye described the man and the woman in the video as Barack and Michelle Obama.
By February 2017, when the clip started to circulate across different platforms, the former first couple had just left the White House and went on vacation. That received media coverage, too. For example, People reported that after visiting the West Coast the Obamas headed to the British Virgin Islands (which is different from the U.S. Virgin Islands where Epstein had property).
British tabloids (for example, here and here) published either the footage in question or screenshots of it, stating that it was shot at Necker Island in the British Virgin Islands, a place known to be a residence of British billionaire Richard Branson.
False stories about Obama and his purported ties to the disgraced financier have been persistent on the Internet since at least 2019 when Epstein was arrested and found unresponsive in his cell in Manhattan. His death was ruled as a suicide.
Other Lead Stories fact checks concerning Barack Obama can be found here.
Stories about Jeffrey Epstein are here.