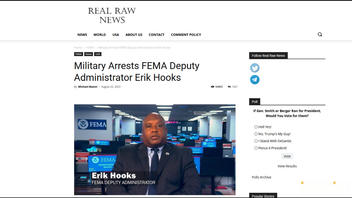 Did U.S. Marines arrest Federal Emergency Management Agency (FEMA) Deputy Administrator Erik Hooks? No, that's not true: A Pentagon duty officer told Lead Stories that this claim "is not true." Also, the website where this claim was made has a disclaimer that states it publishes satirical content.
The claim appeared in an article published by Real Raw News on August 22, 2023, titled "Military Arrests FEMA Deputy Administrator Erik Hooks," (archived here). It opened:
United States Marines on Saturday arrested Deputy Administrator of FEMA Erik Hooks on charges of treason, alleging in a 34-page indictment that Hooks and his boss, Deanne Criswell, ordered agents in Maui to deny fire victims food and water, to inhibit civilian relief efforts, to stop 'by any means necessary' displaced persons from exiting fire-ravaged Lahaina, and to dispose of bodies as 'discriminately as possible,' a source in General Eric M. Smith's office told Real Raw News.
This is what the post looked like on Real Raw News at the time of writing: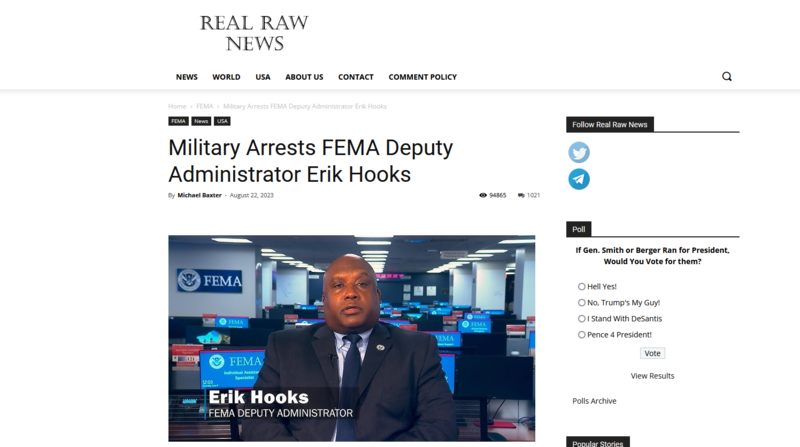 (Source: Real Raw News screenshot taken on Wed Aug 23 13:45:43 2023 UTC)
A Pentagon duty officer of the Office of the Secretary of Defense (OSD) responded to an inquiry from Lead Stories via email on August 23, 2023, writing:
This is not true.
A Google News search using the keywords "Military Arrests FEMA Deputy Administrator Erik Hooks" produced no results substantiating this claim.
Under the 1878 Posse Comitatus Act, the military does not have the authority to arrest civilians. This act can be voided under certain circumstances explicitly authorized by the U.S. Constitution or Act of Congress. Congress.gov does not show legislation making such authorization.
Lead Stories reached out to FEMA and will update this fact check if a response is received.
Additional Lead Stories fact checks that mention "Maui," "FEMA" and "wildfires" can be read here.
Real Raw News
Real Raw News has a long history of publishing false claims in mock news stories, many of them about convictions and executions of various public figures at Naval Station Guantanamo Bay in Cuba. For example, the site reported former Secretary of State Hillary Clinton was hanged (she wasn't); former White House Chief of Staff John Podesta was executed (he wasn't); and that "the military" convicted former Attorney General William Barr on charges of treason (it didn't).
The website for Real Raw News includes a disclaimer that warns readers not to take its content too seriously. Specifically, it says:
Information on this website is for informational and educational and entertainment purposes. This website contains humor, parody, and satire. We have included this disclaimer for our protection, on the advice on legal counsel.

(Source: RealRawNews.com screenshot taken Tue Aug 3 16:39:48 UTC 2021)
Previous Lead Stories debunks of Real Raw News items are collected here.