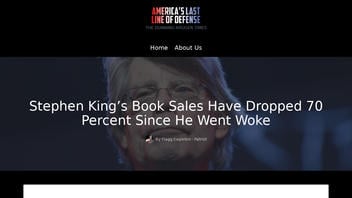 Have Stephen King's book sales dropped 70 percent since he "went woke"? No, that's not true: The claim appeared in an article on a satirical website known for publishing fabricated content.
The claim originated in an article published by The Dunning-Kruger Times on August 13, 2023, titled "Stephen King's Book Sales Have Dropped 70 Percent Since He Went Woke" (archived here). It opened:
Steven King is learning the hard way that his decision to enter the world of the woke is a costly endeavor. Like most things on the left, King's career is in ruins.
Users on social media only saw this title, description and thumbnail:
Nobody knows 'go woke go broke' quite like the former master of horror.
The article claims:
According to a new report, the author's book sales are at an all-time low. 'That's really cutting into his income,' said publishing mogul Joe Barron, 'and this is a guy who likes to live large.'
Joe Barron is not a "publishing mogul," he was a friend of the American's Last Line of Defense (ALLOD) website network who passed away. The Dunning-Kruger Times is part of ALLOD. Barron's name lives on as an homage, conveniently taking on the role of a spokesperson to offer false official statements when needed.
The article claims there is a "new report" that his "book sales are at an all-time low," but does not provide evidence of such a report. A Google search for keywords "steven king books sales all time low" yields no reputable results except for other fact checks.
The article also claims their research shows King's book sales have dropped 70 percent but a Google search of the terms "steven king books sales drop 70 percent" yields no reputable results to confirm this.
King's latest book, "Fairy Tale," was published in September 2022 and was a New York Times No. 1 bestseller. As of August 15, 2023, "Fairy Tale" was highly ranked on Amazon.com in hardcover and on audible, almost a year after its release.
The ALLOD network of sites run by Christopher Blair, a self-professed liberal troll who produces content targeted to conservative audiences. Lead Stories has published fact checks on many of the fabricated narratives Blair's network has recently published (here). Lead Stories has a satire policy and typically does not fact check content clearly labeled satire. In this case it is warranted as ALLOD content is frequently plagiarized and republished on other websites without the disclaimer.
Lead Stories has reached out to King's publisher Simon & Schuster and will update the story when a response is received.
The Dunning-Kruger Times
The Dunning-Kruger Times is a satirical website with an about page (archived here) that has following disclaimer:
About Us

Dunning-Kruger-Times.com is a subsidiary of the 'America's Last Line of Defense' network of parody, satire, and tomfoolery, or as Snopes called it before they lost their war on satire: Junk News

About Satire

Before you complain and decide satire is synonymous with 'comedy':

sat·ire ˈsaˌtī(ə)r noun: The use of humor, irony, exaggeration, OR ridicule to expose and criticize people's stupidity or vices, particularly in the context of contemporary politics and other topical issues.

Everything on this website is fiction. It is not a lie and it is not fake news because it is not real. If you believe that it is real, you should have your head examined. Any similarities between this site's pure fantasy and actual people, places, and events are purely coincidental and all images should be considered altered and satirical. See above if you're still having an issue with that satire thing.
The website is named after the Dunning-Kruger effect, a term from a psychology experiment that describes the phenomenon of being ignorant of one's own ignorance. (That experiment has been disputed by a math professor.)