STORY UPDATED: check for updates below.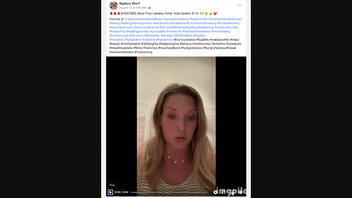 Was the 2023 Hawaii Digital Government Summit scheduled with the purpose of turning Maui into "the first smart island," "governed by AI" and was the August 2023 wildfire started to create a crisis to be solved by AI? No, that's not true: As of this writing, the event's website did not show any Maui-specific sections or outline any plans to convert any part of Hawaii into a "smart island," "governed by AI." While investigators were still searching for the starting point of the fire as of August 15, 2023, winds from Hurricane Dora, dry forest conditions and blown-down power lines - not a shadowy cabal, were among the leading suspects.
The claim appeared in a post (archived here) published on Facebook on August 13, 2023. It opened:
SHOCKING Maui Fires Lahaina, Kihei, Kula Update 8-12-23
The post contained a cellphone video showing a woman in an unidentifiable location. At the 00:10 mark, she said:
Did you hear that the government of Hawaii states their goal is to rebuild and make the entire island of Maui the first smart island? They want the entire island governed by AI is outlined in the Hawaii Digital Government Summit of 2023 that they plan to host next month on September 25th, 2023 on Maui. Wow. Now they're going to come to the rescue for this horrible problem. And last January in 2023 there was a smart city conference in Maui to turn Maui again into the Smart City Island. Pushing everything electric, making 15 minutes smart cities...
This is what the post looked like on Facebook at the time of writing: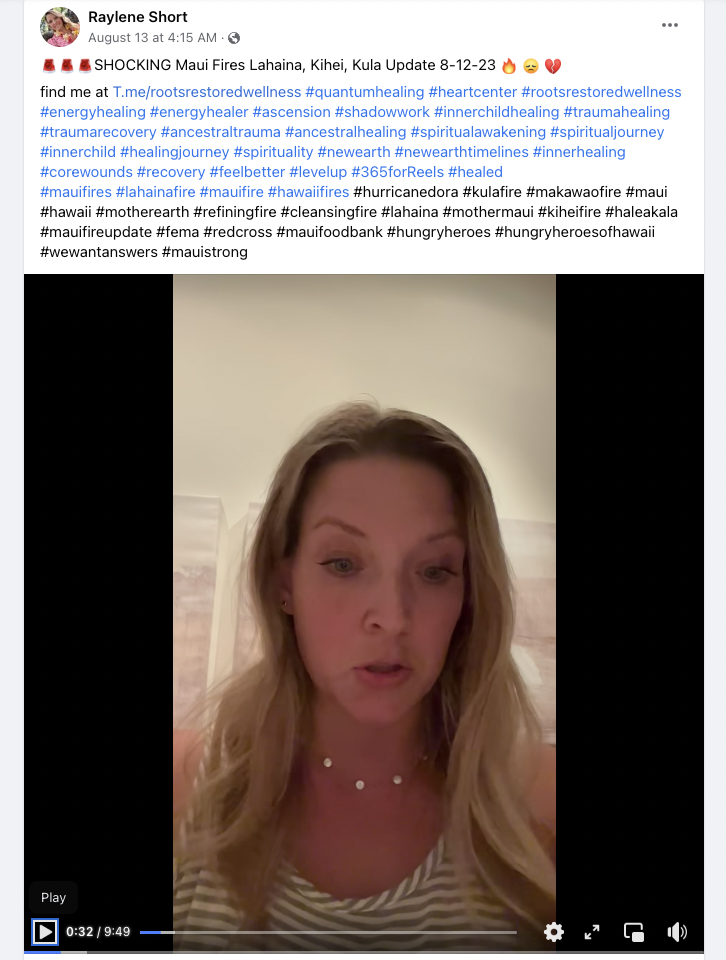 (Source: Facebook screenshot taken on Tue Aug 15 13:09:21 2023 UTC)
James Gonser, a senior communication manager at Hawaii's Office of Enterprise Technology Services, told Lead Stories via email on August 15, 2023:
The idea that the state government will rebuild Maui into a 'smart island' is not true.
A search for the terms "Maui", "smart island" and "governed by AI" across the thousands of credible sites indexed by Google News did not show any credible reports corroborating the claim, made in the video, that un-named forces intend to make Maui the first "smart" island.
The 2023 Digital Government Summit's agenda did not include Maui-specific topics, as of this writing. No panel was planned to discuss the "first smart island," "governed by AI."
The summit is scheduled to take place in Honolulu, a city not located on Maui: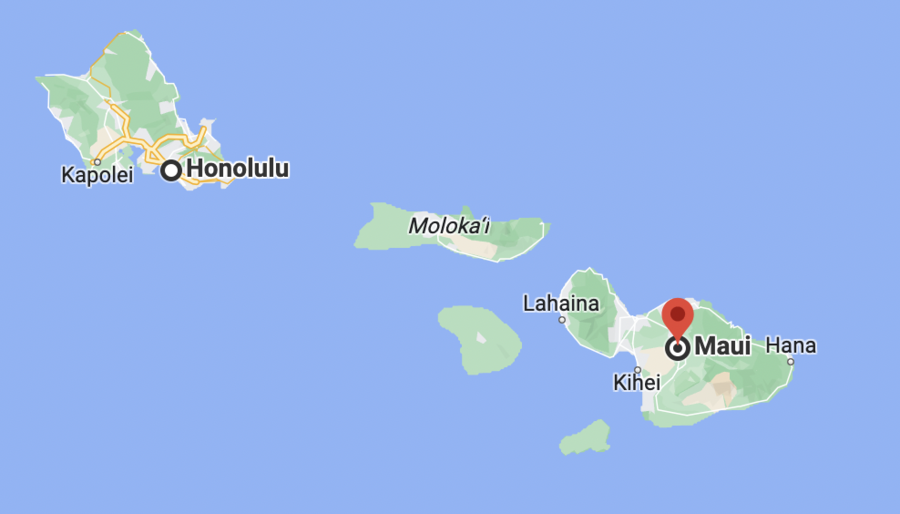 (Source: Google Maps screenshot taken on Tue Aug 15 17:29:02 2023 UTC)
The claim plays into a narrative implying that Maui wildfires were somehow planned by larger entities with a lot of resources such as the government or real estate developers.
There has been no official declaration of the cause of the fire. The Honolulu Star-Advertiser reported that two lawsuits allege that Hawaiian Electric's downed power lines started the blazes. However, as of this writing, no conclusions about the cause of wildfires have been announced. What is known is only that dry weather and strong winds could have been a contributing factor.
The wildfires broke out in Hawaii on August 8, 2023. It has become the deadliest natural disaster in the history of the state. In the aftermath of the blazes, some residents expressed concerns that the massive fire damage may attract developers, pricing out local populations from the area. In response, Hawaii Governor Josh Green said he is considering a temporary sales ban on fire-damaged properties in the city of Lahaina to prevent land grabs and permanent displacement of those who lost their homes. As of this writing, the most recent official update on the situation still discussed fire containment efforts, and the exact details of the rebuilding strategy were still to be determined.
"Smart city", the concept referred to in the post, is a developing concept in urban planning, that brings design and technology together to make cities less wasteful, communicate better with residents and respond more quickly when city resources are needed. A 2016 paper published in the Journal of Urban Planning elaborated:
... a smart city represents a mode of life, an ideal city to develop and rediscover. In this sense, sustainability involves the smart concept, less waste, better quality of life, better social life, and greater efficiency. Apart from the improved energy efficiency, a smart city requires much more than an energy or mobility system, it also implies an adoption of a remote monitoring and control system. The keyword for a smart city is communication, including intercommunication of energy, resources, information systems, and between monitoring equipment and control of services and participation. A smart city is something that is constantly evolving and therefore requires constant communication and dissemination of information.
The same paper explains that the monitoring involved in this concept is not a form of implied government control over people's choices in their private lives. It rather refers to the implementation of technical solutions for real-time tracking of traffic, water systems, air quality or emergencies.
A 15-minute city, also mentioned in the claim, is another concept in urban planning. It emphasizes planning that ensures major services are within a short walk or bike ride from most residents. Proponents of the concept say that it makes life more convenient and saves a lot of time that can be better spent than commuting from point A to point B. Opponents, however, argue that the 15-minute-city urban planning may increase economic inequalities, reproduce segregation and create barriers to accessing different services.
Lead Stories found no evidence that what was described as "a smart city conference" actually took place in Maui in January 2023.
What did take place during that month at that location was the Hawaii International Conference on System Sciences, one of the largest of its kind. The event creates a space for the exchange of ideas among government workers who operate computer systems. The conference does not serve as an enforcement mechanism for any new laws.
The conference typically has multiple sections. A 2023 call for papers included scholarly articles on the concept of "smart and connected" cities, but that did not even make it to the top most popular themes. Similarly, that events advance materials do not include calls to make Maui a "smart island."
Other Lead Stories fact checks involving Maui wildfires can be found here.
2023-08-16T16:07:38Z

2023-08-16T16:07:38Z

Adds quote from a senior communication manager at Hawaii's Office of Enterprise Technology Services.