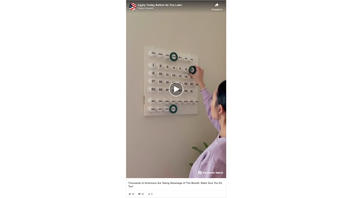 Is the federal government giving out health spending cards worth up to $5,600 that every American qualifies for? No, that's not true: The claim that the government is freely giving out health spending cards with thousands of dollars on them is a scam. Such scams are usually attached to some sort of advertorial asking whether one needs federal assistance or insurance.
The claim appeared in a post (archived here) on Facebook on August 20, 2023. The narrator of the video included in the post opened:
If y'all remember how much those stimulus checks used to help out, pay attention. The state is now handing out $5,600 monthly health spending cards by the thousands. All Americans are qualified, but you don't have much time left.
This is what the post looked like on Facebook at the time of writing: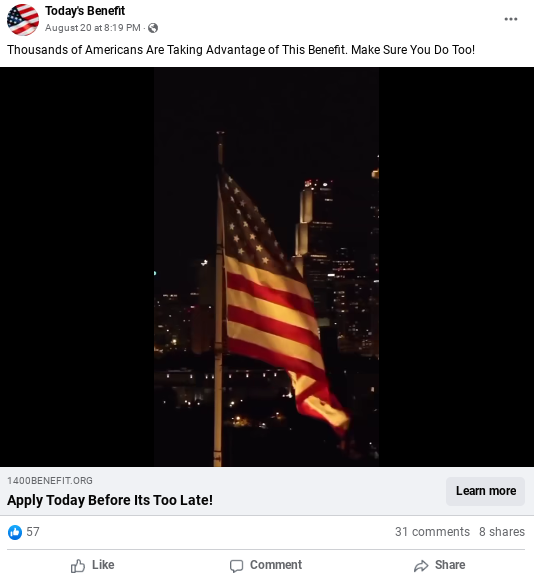 (Source: Facebook screenshot taken on Tue Aug 22 14:46:35 2023 UTC)
Lead Stories searched for information about a health spending card that was available to all Americans. We did not locate anything credible. However, we did find a possible origin for the $5,600 figure used in the claim. The figure was mentioned in some federal resources describing the stimulus checks that were sent to Americans after the implementation of the American Rescue Plan that became law in 2021. Some Americans qualified for stimulus checks that were worth $1,400 per person (including children, if applicable). Thus, in some explanatory documents (here and here), an example was used of a family of four that qualified for $5,600 worth of stimulus checks.
Lead Stories also explored the federal government's benefits website under the category "Healthcare and Medical Assistance" and did not find any information that matched what the post on Facebook claimed. Those who are curious about what benefits they actually are eligible for can use the official benefit finder questionnaire on that website.
The link in the post led users to a URL that did not end in .gov, the top-level domain for websites of organizations in the U.S. government. Instead, it brought users to a webpage with a title that read "Unlock $6400 in Tax Credits for Americans to Cover Groceries, Gas, and Rent Expenses." The webpage contained a bot that asked whether one wanted to know if they qualified for "a $6400 subsidy as a Health Credit." The information on the webpage and the information in the post published on Facebook conflict: Not only are there different dollar amounts that Americans are allegedly eligible for, but the uses of the supposed benefits are not consistent.
A screenshot of the webpage linked in the post published on Facebook is included below: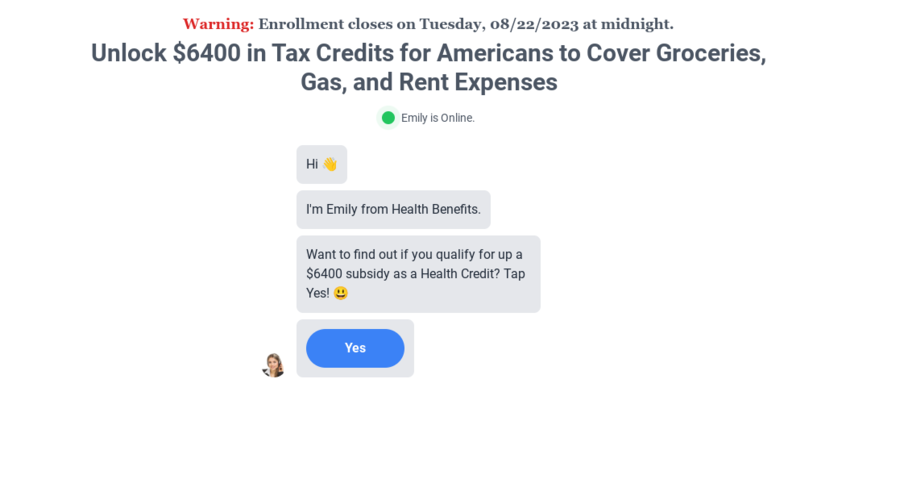 (Source: 1400benefit.org screenshot taken on Tue Aug 22 14:53:26 2023 UTC)
The webpage includes a disclaimer at the bottom that begins:
This website is not affiliated with the Affordable Cares Act program or any other government entity. The information provided on this website is for informational purposes only. It is not intended to be, nor does it constitute any kind of financial advice. Please seek advice from a qualified professional prior to making any financial decisions based on the information provided. This website acts as an independent digital media & advertising publisher. This webpage is formatted as an advertorial. An advertorial is an advertisement that is written in an editorial news format.
A screenshot of the full disclaimer is included below:


(Source: 1400benefit.org screenshot taken on Tue Aug 22 15:50:23 2023 UTC)
The companies behind such webpages typically are trying to advertise some sort of federal assistance guidance or insurance service to users. The federal government has warned Americans that it "does not offer 'free money'" and that such claims are often scams. Lead Stories has explored similar scams in the fact checks found here.