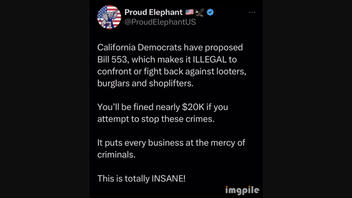 Does California Senate Bill 553 make it illegal to confront or fight back against looters, burglars and shoplifters? No, that's not true: California SB 553 does not fine employees who confront shoplifters, the senator who sponsored the bill and legal experts told Lead Stories. It requires businesses to have a plan in place for employees to prevent workplace violence.
The claim appeared in a post (archived here) on Instagram on September 5, 2023. It opened:
California Democrats have proposed Bill 553, which makes it ILLEGAL to confront or fight back against looters, burglars and shoplifters.
You'll be fined nearly $20K if you attempt to stop these crimes. It puts every business at the mercy of criminals.
This is totally INSANE!
This is how the post appeared on Instagram at the time of writing: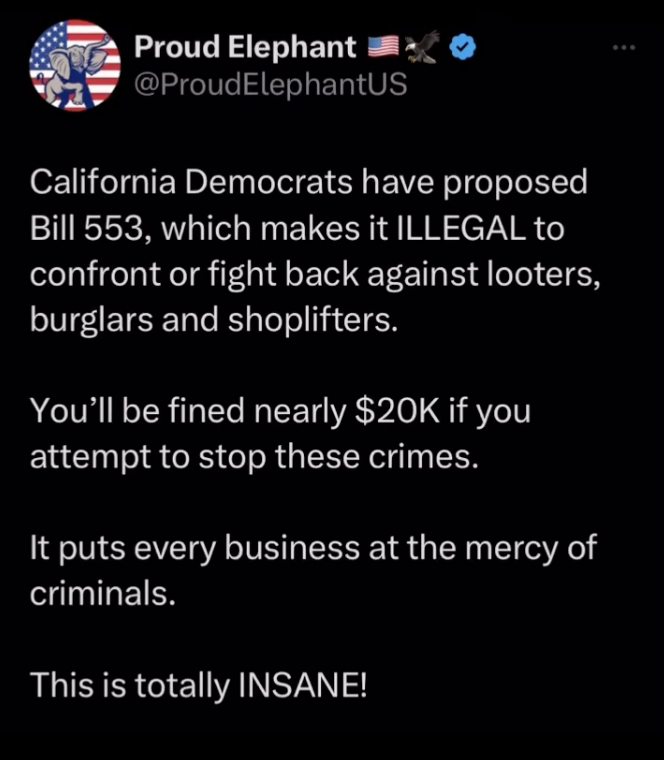 (Source: Instagram screenshot taken on Tue Sept 19 16:34:51 2023 UTC)
"That's not an accurate description of the bill," David Alan Sklansky, a professor and faculty co-director of the Stanford Criminal Justice Center, told Lead Stories via email on September 19, 2023. He continued:
There is nothing in the bill that prohibits or restricts the ability of anyone to confront or fight back against shoplifters, burglars, or looters. The main provisions of the bill require employers to adopt programs to protect against workplace violence.
Senate Bill 553 was amended on August 28, 2023, before the post on Instagram. Sklansky explained that an earlier version of the bill "included a provision that barred employers from requiring non-security personnel to intervene against shoplifters." That was removed in the final version of the bill. Sklansky stated, "it never barred employers from having security personnel fight back against shoplifting or other forms of theft."
Chesa Boudin, the executive director of the University of California Berkeley Criminal Law & Justice Center, told Lead Stories via email on September 19, 2023, that "Nothing in SB 553 would limit the ability to fight back against criminals - the bill would help ensure a safe work environment for people working in retail."
Calling the post, "blatant disinformation," Boudin stated, "nothing I've seen in prior versions of the bill could explain or justify the disinformation campaigns against this common sense approach to ensuring frontline workers are safe on the job."
State Sen. Dave Cortese, the sponsor of the bill, told Lead Stories via email on September 19, 2023, that the bill was "designed to assist both workers and their employers in preparing for, as well as preventing, incidents of workplace violence. This bill introduces violence as a potential type of workplace hazard to be avoided on the Cal/OSHA Injury Illness Prevention Plan, a plan already mandated by law."
As a small business owner, Cortese said he "empathized with the severe hardships caused by smash-and-grab robberies and other forms of violent workplace violence on businesses, workers, and the public." He explained why the final version of the bill did not include any references to shoplifting:
To eliminate any confusion regarding the bill's purpose, and as part of a negotiation with Cal/OSHA, we removed all references to shoplifting. SB 553 never, in any form, prohibited employees from doing security work as predesignated by their employer, and never impeded personnel from doing their job.

The bill also never, in any form, required the hiring of additional security. For the past six years, Cal/OSHA has worked on the General Industry Standard on workplace violence, which is expedited into law under SB 553. The General Industry Standard covers all industries; it does not have language specific to any industry, such as retail shoplifting. While the retail industry is still covered by the violence prevention provisions outlined in SB 553, retail shoplifting is no longer called out separately by SB 553. These amendments led every opposed business group to withdraw their formal opposition to SB 553.