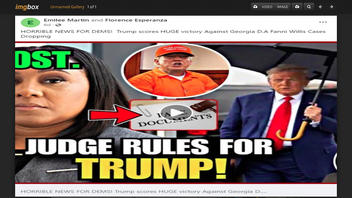 Does a Pennsylvania judge's ruling in a state civil suit that Donald Trump's false election claims while in office are covered by presidential immunity also apply to his four criminal cases? No, that's not true: A law school professor called the claim in a video "misleading," telling Lead Stories that the "ruling did not find that former President Trump is immune from all legal consequences for any actions he took while in office." Other legal experts agreed.
Presidential immunity typically pertains to actions taken in the course of official presidential duties, and criminal cases involve alleged violations of the law that are distinct from the exercise of presidential authority.
The claim appeared in a post and video on Facebook (archived here) on September 5, 2023. The caption for the video says:
HORRIBLE NEWS FOR DEMS! Trump scores HUGE victory Against Georgia D.A Fanni Willis Cases Dropping
This is what the post looked like on Facebook at the time of writing: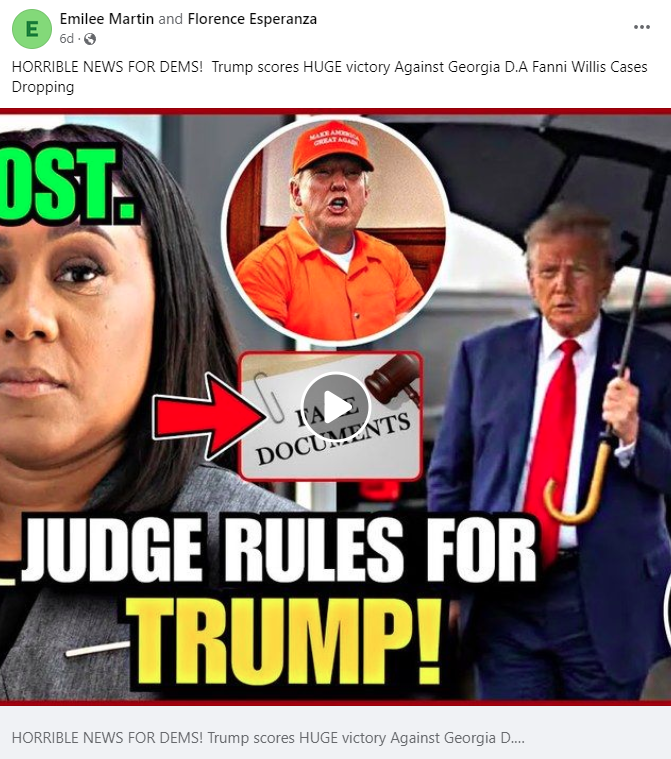 (Source: Facebook screenshot taken on Tue Sep 12 15:48:59 2023 UTC)
In the case discussed in the video, a Pennsylvania election worker filed a private defamation lawsuit alleging that Trump's statements regarding the state's election had defamed him personally, resulting in both physical and emotional harm.
Legal experts
Shlomo Pill, an assistant professor of law at Texas Southern University's Thurgood Marshall School, told Lead Stories in a September 12, 2023, email that the ruling in this particular case was not surprising. He explained:
[Philadelphia County Court of Common Pleas] Judge [Michael] Erdos ruled that a private citizen may not file a civil suit based on official actions (such as Trump's statements about the election) done by the President while they were in office. This is relatively uncontroversial, and is a basic protection offered to elected officials, including the President, that insures that they can make decisive decisions and take decisive action in their official capacities without having to always be hedging and second guessing themselves to avoid potential liability in lawsuits brought by citizens who are harmed by their conduct.
He said the principle is deeply rooted in U.S. constitutional law:
Imagine, for example, if private citizens could sue the President for every injury they claim to have suffered as a result of some policy decision: What if every American service person that served in Iraq or Afghanistan could drag the former Presidents into court for the policy decision to conduct military operations in those countries? This would likely constrain the President's willingness to exercise discretion to make these decisions in the best interests of the country (as they see them).
Additional details of the case can be found in this story.
Josephine Potuto, a professor of constitutional law emeritus at the University of Nebraska College of Law, said the judge's ruling was "very narrow" and "restricted to the facts in the case before him." In her September 12, 2023, email to Lead Stories, Potuto added that the case only "decided the specific factual question before the judge" and nothing else. The judge's ruling doesn't give the former president immunity in any other cases:
Different facts in later cases may make a difference. Also, [the judge's ruling] is not binding on fed judges and judges in different states as well as appellate courts.
Trump is charged in separate criminal cases in New York, Florida, the District of Columbia and Georgia.
In a September 12, 2023, email to Lead Stories, Kay Levine, an associate dean for research and professor of law at Emory University's School of Law in Atlanta, echoed Potuto. She said, "The ruling of a Pennsylvania trial court judge can't be binding on federal courts or on courts in NY or GA because they all preside over different judicial systems." Levine continued:
The key point for readers to understand is that a ruling by a judge in a Pennsylvania state court - on any legal issue - is of very limited reach. It affects the case before him, but not any other case in any other court. His ruling is not binding authority on any federal court or on any state court in GA or NY.
In his email, Pill said there's no contradiction between the Pennsylvania case and the criminal cases:
While it is thus uncontroversial that a former President is immune from a private civil suit premised on their past official actions while in office, it is also true that this does not equal a blanket absolute immunity from all kinds of legal repercussions. A former President is not at all immune from criminal prosecution if they engaged in criminal conduct while in office. There is well known controversy about whether a sitting President can be subject to criminal prosecution, but it is quite clear, I think, that a former President can be subject to criminal or civil penalties brought by a state or by the federal government -- as opposed to by a private citizen -- for their past illegal conduct while in office.
In an August 1, 2023, story (archived here), The Hill reported how Erdos laid out the limitations of his ruling in the case against Trump:
'Other legal proceedings may examine the propriety of his statements and actions while he was the President and whether, as the plaintiffs in this and other cases contend, it was this conduct which served as the actual threat to our democracy,' Erdos ruled. 'But this case is not the proper place to do so. Here, Trump is entitled to Presidential immunity.'
In the conclusion of his email, Pill said the social media video is deceptive in its assertion that Trump has immunity from prosecution. He continued:
I will add that even if the Pennsylvania court ruling said what the misleading video claimed, this would still not change anything about other cases pending in other states or in Federal courts. This was a ruling by the lowest level trial court in Pennsylvania; the ruling is not controlling in other Pennsylvania courts, and certainly not in the courts of other states, which are free to reach their own conclusions about the scope of Presidential immunity until that issue is addressed directly by the United States Supreme Court.

So, in short, the video is misleading; Judge Erdos's ruling did not find that former President Trump is immune from all legal consequences for any actions he took while in office; other cases, from the New York financial case, the Georgia election interference case, the Federal classified documents case, and others, can and will proceed unaffected by this ruling.
Additional Lead Stories fact checks of claims related to Trump and his indictments can be found here.