STORY UPDATED: check for updates below.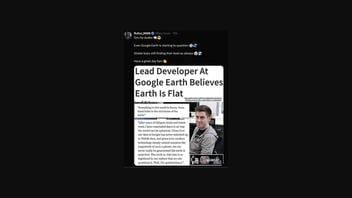 Did a "lead developer at Google Earth" say he believes the Earth is flat? No, that's not true: This claim originated from a 2017 article that Lead Stories was unable to verify as being authentic. We could not find any evidence that a lead developer at Google ever publicly said this or that a lead developer was ever suspended from Google for having these beliefs, as a post claims.
The claim appeared on X, formerly known as Twitter, (archived here) where it was posted on September 5, 2023. It opened:
Gm my dudes 👊🏻😎


Even Google Earth is starting to question 🌎💦

Globie tears still finding their level as always 😭🚰

Have a great day fam 🫡
Here is what the post looked like on X at the time of writing: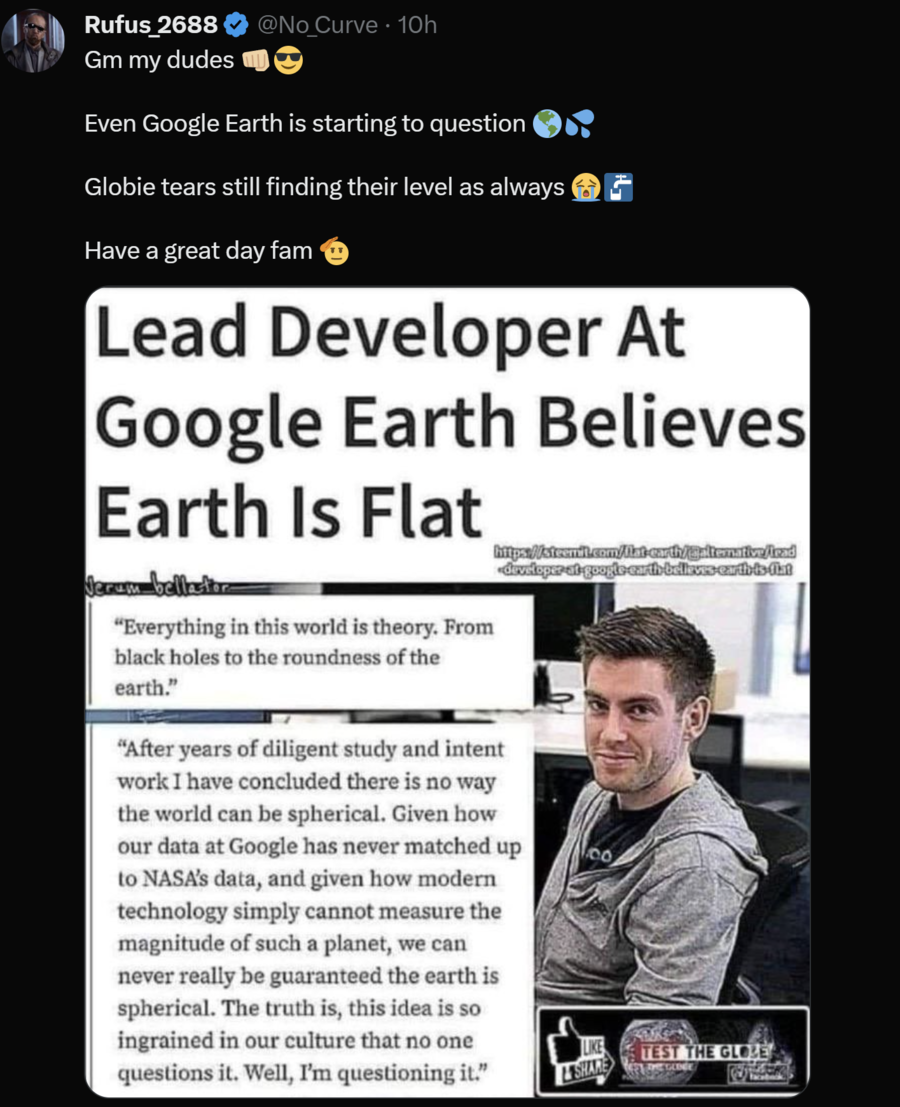 (Source: X.com screenshot taken on Wed Sep 6 14:43:11 2023 UTC)
This post included an image of text and an unidentified man sitting at a desk. The juxtaposition of the text and the photo implies that the man in the photo is the Google developer who purportedly believes the Earth is flat. The text is two quoted paragraphs, with the implication being that they are from the developer. The quotes explain that after years of study and looking at data from NASA, he's concluded that the Earth is flat. The post does not mention the name of the lead developer, or where the material in quotes came from.
A URL seen underneath the headline goes to steemit.com, a social media site that runs an in-house "cryptocurrency" system in which contributors are rewarded for their contributions "with digital tokens called STEEM." On that site, the same story and photo as the claim on X was posted as a 6-year-old article (archived here). Unlike the post, the article had a name and age for the purported developer: 29-year-old Thomas Wilkinson.
The article claimed that Wilkinson tweeted, "Everything in this world is theory. From black holes to the roundness of the earth," and blogged about his belief. The article did not link to the tweet or blog post. Lead Stories did not find a tweet by Wilkinson on X. A Google search of the name Thomas Wilkinson did find someone with that name who works at Google, but the two do not look alike and do not have the same job titles.
The last paragraph of the steemit.com article reads, "And this tweet and post didn't come without a price. Following his tweet and blog post Google has suspended Wilkinson to settle this situation internally." Lead Stories searched Google News for evidence of this by searching the phrase, "Thomas Wilkinson suspended from Google" and found none.
A reverse image search of the photo in the X post showed that this apparently is a stock image used as far back as 2018. According to the results shown, it has been used on other websites that have nothing to do with a lead developer at Google speaking about how he believes the Earth is flat.
Lead Stories found the original article on web.archive.org posted on September 26, 2017, by the website theintellectualbro.com, which appears to be no longer active. An archived version of their front page from 2018 has the Google Earth developer story and several other stories that appear to be satire. The original article used a different name for the purported developer -- Greg Oikinson instead of Thomas Wilkinson -- but every other aspect of the story is the same.
Lead Stories could not find anyone with the name Greg Oikinson on LinkedIn. We also did not find a tweet from Oikinson saying, "Everything in this world is theory. From black holes to the roundness of the earth." This article also ended with a paragraph claiming that Google had suspended Oikinson to deal with the situation internally. We did not find any evidence on Google News of Google suspending anyone named Oikinson for believing the earth was not round.
Lead Stories could not find any evidence that this was a real story at all or that a developer got fired because of their belief that the Earth was not spherical.
More Lead Stories fact checks on flat Earth claims here.
2023-09-06T23:10:21Z

2023-09-06T23:10:21Z

Revises and updates internet history of article.