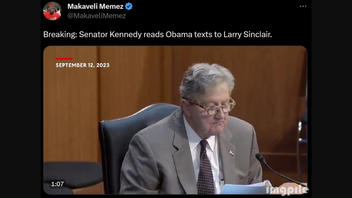 Did Sen. John Kennedy read aloud during a Senate hearing sexually explicit text messages former President Barack Obama sent to Larry Sinclair? No, that's not true: The video is authentic, but mislabeled. The Louisiana Republican was reading gay sex scenes from two books during a Senate Judiciary Committee hearing regarding banning books from libraries.
The claim appeared with a video on X, formerly known as Twitter, on September 12, 2023, (archived here) that opened:
Breaking: Senator Kennedy reads Obama texts to Larry Sinclair.
This is what the post looked like on X at the time of writing: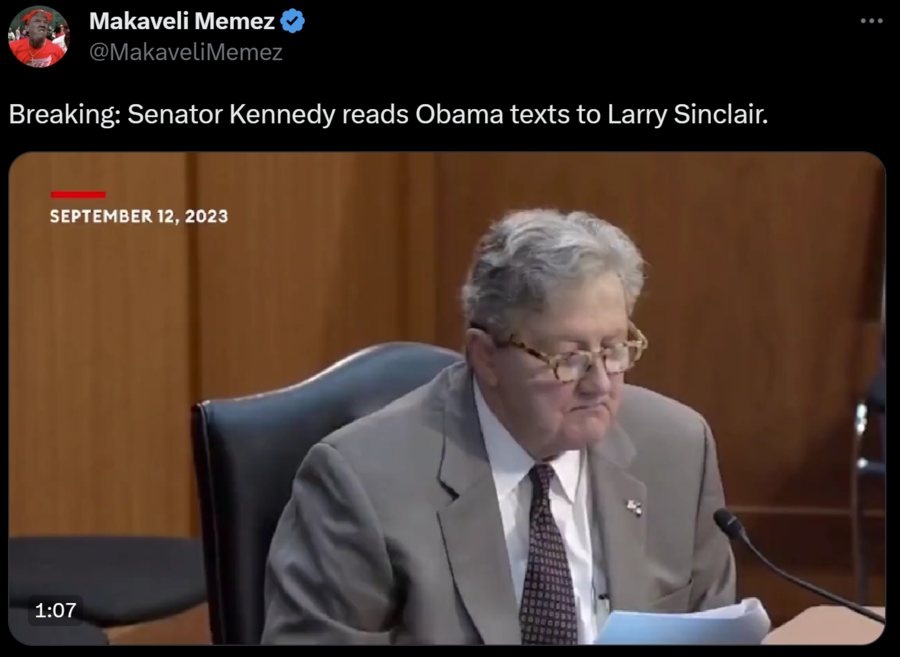 (Source: X screenshot taken on Wed Sep 13 22:17:06 2023 UTC)
The sexually graphic language read by Kennedy was not from text messages between Obama and Sinclair, who claimed without any evidence on Tucker Carlson's show, broadcast on X, that he took drugs and had sex with Obama. It repeats a claim he made in 2008 in a book. He took and failed a polygraph test over that claim.
Kennedy was speaking on September 12, 2023, in the Senate at a hearing titled "Book Bans: Examining How Censorship Limits Liberty and Literature." He read from "two books that have been much discussed," "All Boys Aren't Blue" and "Gender Queer," titles he clearly says in the video from the hearing posted on the Forbes YouTube channel.
In the video posted on X, Kennedy begins saying:
I put some lube on and got him on his knees and I began to slide into him from behind. I pulled out of him and kissed him while he masturbated. He asked me to turn over while he slipped a condom on himself. This was my ass and I was struggling to imagine someone inside me. He got on top and slowly inserted himself into me. It was the worst pain I think I have ever felt in my life. Eventually I felt a mix of pleasure with the pain
This matches Kennedy's comments in the video on the Forbes channel on YouTube. Beginning at 37 seconds in, Kennedy says the first book he is going to read from is "All Boys Aren't Blue," as the video shows:
At 45 seconds into the X video, Kennedy says:
I got a new strap, strap-on harness today. I can't wait to put it on you. it will fit my favorite dildo perfectly. You're going to look so hot. I can't wait to have your cock in my mouth. I'm going to give you the blowjob of your life, then I want you inside of me.
This matches his comments in the Forbes channel YouTube video beginning at the 1:33 mark, where he says he will be reading from the book "Gender Queer":