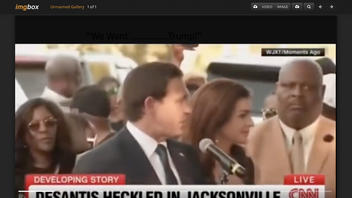 Did "enthusiastic crowds" chant "We want Trump" at Florida Gov. Ron DeSantis while he spoke in Jacksonville, Florida? No, that's not true: The audio in one of the three videos in this post has been edited. While DeSantis was heckled at an event in Jacksonville in August 2023, the original video shows him being booed without the crowd mentioning former President Donald Trump or chanting, "We want Trump." He was speaking following a racially motivated mass shooting in Florida on August 28, 2023.
The added audio was taken from the other two videos in the post, both of which show a crowd at a political rally on August 12, 2023, in Iowa, where both Trump and DeSantis were campaigning.
The claim appeared in a post (archived here) on X, formerly known as Twitter, on August 29, 2023. Above three videos featuring DeSantis, the caption was:
Ron DeSantis Experiences Enthusiastic Crowds Chanting ..... 'We Want ..................Trump!'
😂😂😂😂😂😂😂😂😂😂😂😂😂
This is what the post looked like on X at the time of writing: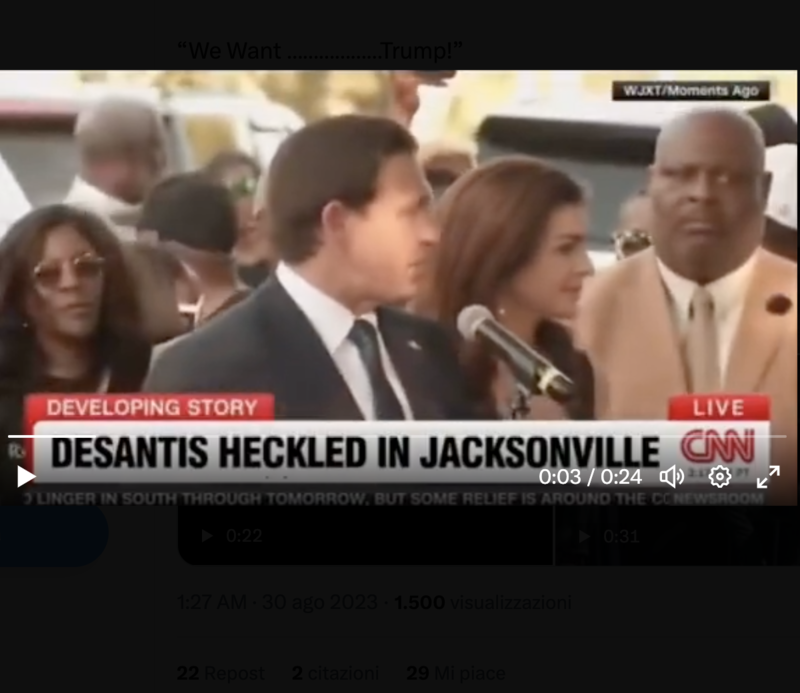 (Source: X screenshot taken on Wed Sept 28 15:10:42 2023 UTC)
The 22-second video in the post accurately displays DeSantis addressing a crowd heckling him in Jacksonville. However, the crowd is not chanting "We want Trump" or anything else about the 2024 presidential race.
News coverage videos of the event were posted on YouTube on August 28, 2023, by several news organizations including The Associated Press and CGTN (China Global Television Network), with authentic audio. An August 28, 2023, NPR article titled, "'You're not welcome here!' DeSantis booed at vigil for Jacksonville shooting victims," had an image from the same event. Neither the videos nor the article reported anyone in the crowd chanting "We want Trump."
An August 12, 2023, New York Times article titled, "At the Iowa State Fair, DeSantis Can't Seem to Catch a Break," reported that Trump and DeSantis were both physically present at an event where the "we want Trump" chanting was heard.
Additional Lead Story fact checks mentioning DeSantis and Trump can be found here.