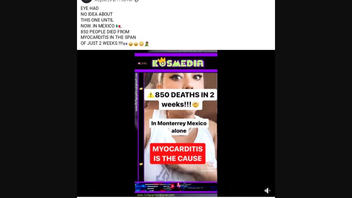 Did 850 deaths occur in two weeks in Monterrey, a city in the Mexican state of Nuevo León, that were caused by myocarditis? No, that's not true: The increased number of deaths in Mexico during June 2023 occurred during a heat wave, and it wasn't 850 deaths. Myocarditis is a term for the inflammation of the heart muscle and is typically a treatable condition. The condition has also been recognized as a rare symptom of mRNA vaccination; its prevalence has been exaggerated for the purposes of spreading COVID-19 vaccine misinformation.
The claim appeared in a post on Facebook (archived here) on August 29, 2023. The post included a video that featured a person alleging that doctors were speaking out about 850 deaths caused by myocarditis in Monterrey. The caption of the post read:
EYE HAD
NO IDEA ABOUT
THIS ONE UNTIL
NOW. IN MEXICO 🇲🇽,
850 PEOPLE DIED FROM
MYOCARDITIS IN THE SPAN
OF JUST 2 WEEKS !!!!👀🤯🤯😳🤦🏾‍♂️
This is what the post looked like on Facebook at the time of writing: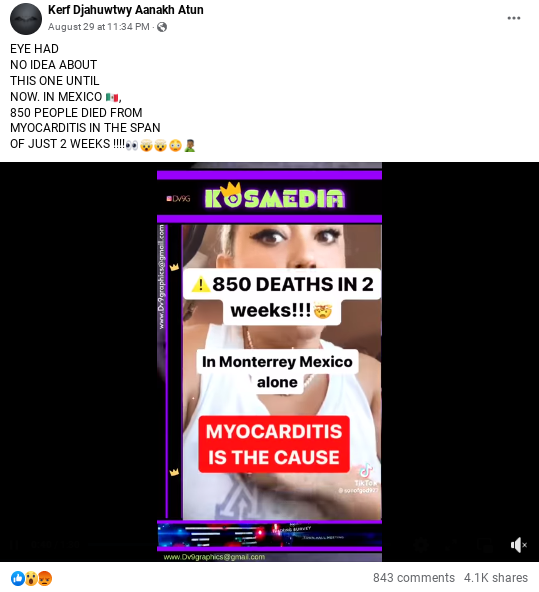 (Source: Facebook screenshot taken on Wed Sep 6 14:40:12 2023 UTC)
There has been an increase in heat-related deaths that happened across Mexico in 2023, with more than 100 deaths being attributed to the heat. Many of these deaths occurred in Nuevo León. However, the person in the video making the claim asserted that doctors have actually been saying that myocarditis was the cause of these deaths. Lead Stories found no credible evidence of this being the case and discovered that the claim is based on erroneous and misunderstood information.
The 850 number originated from a radio interview (archived here) of Miguel Gallardo, head of a division at the Civil Registry of Nuevo León. In the interview, Gallardo said that during a heat wave that occurred in June 2023, around 850 deaths had been attributed to heat stroke. That number was later refuted by Abelardo García González, the general director of the Civil Registry of Nuevo León, who said that Gallardo was speaking unofficially and was not in the position to provide such information.
As for the conflation of the erroneous 850 deaths figure with myocarditis, the confusion may have stemmed from a statement by Luis Orozco, deputy attorney general of Nuevo León. According to media outlets (here and here), Orozco stated that during the June 2023 heat wave, there were hundreds of deaths in Nuevo León that, instead of being attributed to heat strokes, were primarily caused by myocardial infarctions, also known as heart attacks. Heart attacks are not the same as myocarditis.
Death by myocarditis is a narrative often associated with COVID vaccine misinformation. The condition has been reported as a side effect of some mRNA COVID-19 vaccines; however, as noted by the Centers for Disease Control and Prevention, the symptom is rare, and such vaccination is considered safe. Lead Stories has debunked several claims that myocarditis was the cause of fatal events: those fact checks can be found here.