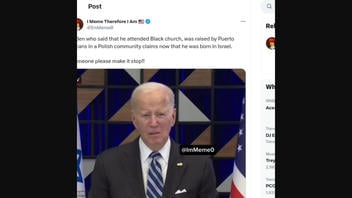 Did President Joe Biden say he was born in Israel in a speech he made during the 2023 Hamas-Israel conflict? No, that's not true: During his speech, Biden explained why he believed Israel was developed. An official transcript records him saying "why it was born," not "where I was born."
The claim appeared in a post (archived here) on X, formerly known as Twitter, on October 18, 2023. It included a video of Biden making a speech in which he was discussing Israel. The caption of the post read:
Biden who said that he attended Black church, was raised by Puerto Ricans in a Polish community claims now that he was born in Israel. Someone please make it stop!!
This is what the post looked like on the X platform at the time of writing: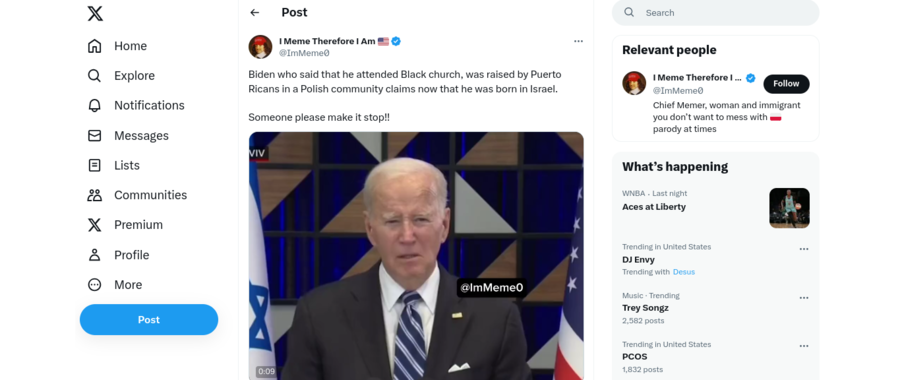 (Source: X screenshot taken on Thu Oct 19 18:46:16 2023 UTC)
The user who posted the claim says in their bio (archived here) that they post "parody at times." But there was no indication on the post itself that it was parody or satire.
The video included in the X post was taken from footage of a speech Biden made on October 18, 2023, in Tel Aviv, Israel, about the 2023 Hamas-Israel conflict. Both a recording of the speech published by C-SPAN (archived here) and an official White House transcript (archived here) show Biden's full statement at that point in the speech. He said:
The State of Israel was born to be a safe place for the Jewish people of the world. That's why it was born. I have long said: If Israel didn't exist, we would have to invent it.
Biden did not claim that he was born in Israel at any point in the speech. His official biography on the White House's website (archived here) says that he was born in Scranton, Pennsylvania, and raised in Delaware.
This fact check is focused on the born-in-Israel claim, but the X post making the claim also says that Biden said that he was raised in a Black church. Lead Stories has already debunked the implication behind that claim here.
Other Lead Stories articles on claims pertaining to the 2023 Hamas-Israel conflict are here.