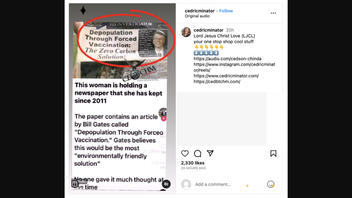 Did Bill Gates write a 2011 article calling for "depopulation through forced vaccination"? No, that's not true: The article was written by someone else whose byline can be clearly seen on the publication website. The quote attributed to Gates on the website is real, but it was taken out of context and was about carbon emissions, not depopulation or forced vaccinations.
The claim appeared in a post on Instagram on October 30, 2023. It opened:
Depopulation Through Forced Vaccination: The Zero Carbon Solution!

This woman is holding a newspaper that she has kept since 2011

The paper contains an article by Bill Gates called 'Depopulation Through Forced Vaccination.'

Gates believes this would be the most 'environmentally friendly solution'

No one gave it much thought at the time.
This is what the post looked like on Instagram at the time of writing: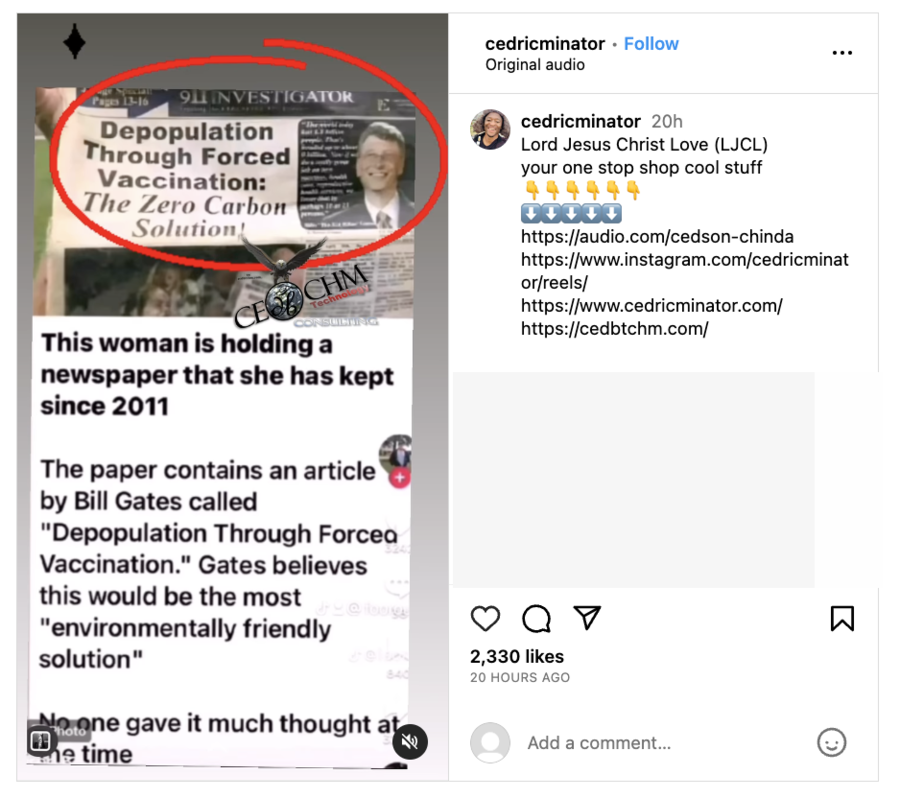 (Source: Instagram screenshot taken on Tues Oct 31 17:24:37 2023 UTC)
The newspaper being shown is The Sovereign Independent (archived here) from June 2011, and the article is titled, "Depopulation Through Forced Vaccination: The Zero Carbon Solution!" The author of the article is identified as Rachel Windeer, not Gates.
The quote next to the headline is attributed to "Billy 'The Kid Killer' Gates," along with a picture of the well-known billionaire, and reads:
The world today has 6.8 billion people. That's headed up to about 9 billion. Now if we do a really great job on new vaccines, health care, reproductive health services, we lower that by perhaps 10 or 15 percent.
Gates said this during a 2010 TEDx talk called "Innovating to Zero," but he was speaking about how carbon emissions could be lowered with new vaccines, health care and reproductive services. He was not speaking about lowering the population or depopulation. The comment in the newspaper and Instagram post at starts at the 4:17 mark in the video but he begins explaining his theory on how to reduce carbon emissions globally at 3:07.
Other Lead Stories fact checks about Bill Gates can be found here.