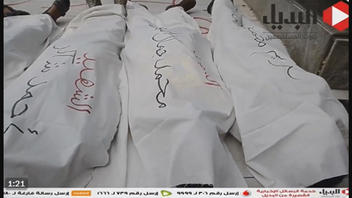 Does a video on X show Hamas crisis actors pretending to be Palestinian corpses in October 2023? No, that's not true: This video was originally posted on YouTube in 2013. It shows students protesting at Al-Azhar University in Cairo, Egypt, featuring a display of "corpses" represented by actors.
The claim appeared in a post (archived here) published on X, formerly Twitter, by @darksecretplace on October 30, 2023. It was captioned:
HAMAS' Post-Mortem Players need a bit more work.
This is what the post looked like on Twitter at the time of writing: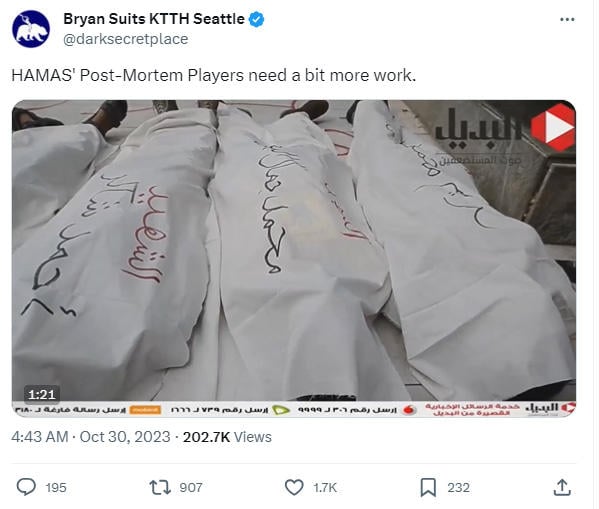 (Source: X screenshot taken on Tue Oct 31 14:03:01 2023 UTC)
This video does not show "HAMAS Post-Mortem Players." These are student protesters in Egypt. The video was posted on YouTube 10 years before the claim post on X, on October 28, 2013. The video's caption, translated from Arabic to English by Google, read:
57,975 views Oct 28, 2013
A representational display with corpses inside Al-Azhar University Photographed by Mustafa Darwish Montage by Muhammad Anwar
Dozens of Muslim Brotherhood students at Al-Azhar University organized a massive demonstration in front of the college administration building, and Brotherhood students at Al-Azhar University joined the girls' and boys' marches side by side, in one march, which met between the college building Medicine and Engineering, next to the Al-Azhar University Presidency building, after they roamed around the campus to mobilize students and disrupt studies, as the marches headed to the Faculty of Engineering.
For further context, an October 28, 2013, article in Al Jazeera reporting on the student protests explained:
The Muslim Brotherhood and supporters have rejected the military-installed government and regularly stage protests against the army, which ousted [deposed President Mohamed] Morsi on July 3 after millions took to the streets demanding his resignation.
The footage of the student protestors, who are obviously not corpses as they shift their positions under the symbolic protest shrouds, has been used in the past to accuse media outlets or opposition groups of staging other events with crisis actors. On March 1, 2018, the Urdu-language website tasnimnews.com claimed this was ISIS and Al-Nusra propaganda exposed by Hashd al-Shaabi in Iraq. In an April 16, 2018, article in the Macedonian website Reporter this video was purported to be "Western propaganda" showing civilian deaths from Russian bombings in Syria. A March 11, 2018, Serbian-language article in nezavisne.com suggested without proof that this was a staged video that had been aired by CNN and BBC to show people killed in an Aleppo, Syria, bombing.
A post on X (archived here) on May 15, 2018, with captions in both English and Hebrew said:
The Palestinian lie.
Or: When scratching your nose, you must scratch.
Other Lead Stories fact checks of claims about the Hamas-Israel conflict that began in October 2023 can be found here.