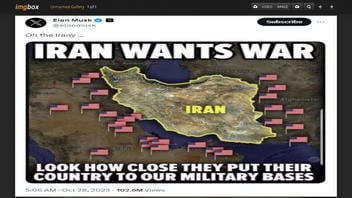 Does a map published on social media claiming to show U.S. military bases around Iran accurately portray America's military presence there? No, that's not true: The map overestimates the number of U.S. bases in the region. U.S. Central Command, which has command authority over U.S. forces in the Middle East and West/Central Asia, and military experts contacted by Lead Stories said -- contrary to the map -- there are no American bases in Afghanistan, Pakistan or Turkmenistan as of this writing.
The map was shared in a post (archived here) published on X (formerly Twitter) by Elon Musk, the platform's owner, on October 28, 2023, titled "IRAN WANTS WAR. LOOK HOW CLOSE THEY PUT THEIR COUNTRY TO OUR MILITARY BASES." The post's caption said:
Oh the Irany ...
This is what the post looked like on X at the time of writing: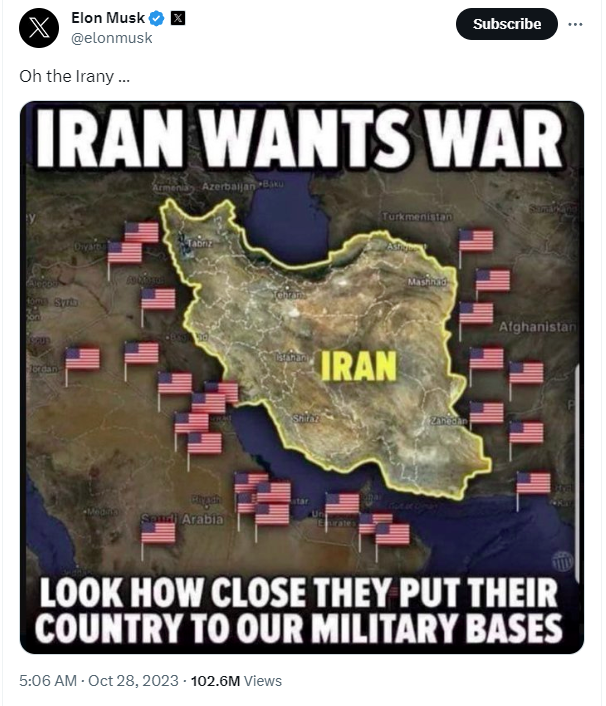 (Source: X screenshot taken on Mon Oct 30 15:25:56 2023 UTC)
The map
The map posted by Musk shows American forces encircling Iran. In an October 30, 2023, email, Central Command (CENTCOM) told Lead Stories it was reluctant to provide specific details:
Due to operational security, CENTCOM will not share information regarding the specific locations of military bases and personnel stationed within our AOR [area of responsibility].
Lead Stories noted an apparent discrepancy in the map showing U.S. military bases in Afghanistan, Pakistan and Turkmenistan. For one thing, the last American forces pulled out of Afghanistan on August 30, 2021. The red oval on the map below indicates the purported U.S. bases in the three nations:
(Source: X screenshot taken on Mon Oct 30 15:25:56 2023 UTC)
Asked to clarify in a second email, CENTCOM provided this response:
I refer you to Elon for any questions regarding that incorrect map.... But no, CENTCOM does not have any bases in Afghanistan.
CENTCOM provided no response regarding Pakistan and Turkmenistan.
Military expert
Heather Williams, a senior policy researcher at the RAND Corporation and a professor at Pardee RAND Graduate School, weighed in on the notion of all three nations along the eastern border of Iran having U.S. bases. In emails on October 30-31, 2023, she said:
There are no U.S. forces in Afghanistan, so clearly the map is farcical; however, there are many active U.S. bases in the Middle East, and the U.S. has tremendous ability to project military power in the region using naval platforms.

The serious underlying point, though, is one Tehran understands quite well - that it is well within the range of U.S. military kinetic capabilities. This reality was even more jarring when there was a significant U.S. presence in Afghanistan, such that Iran felt - as the map depicts - encircled.

For Tehran, the question is not whether the U.S. has the military capabilities to threaten it but whether the United States has the political will. The proximity of our military presence provides a significant measure of deterrence, but given large geopolitical realities, Tehran probably also doubts the U.S. desire to engage in an extended conventional conflict within Iran, which would certainly be costly and bloody. ...

To my knowledge, there are no U.S. bases in Pakistan either. ...

Also none there [in Turkmenistan].
Musk weighs in
About 12 hours after his original post, Musk owned up (archived here) to the inaccurate placement of U.S. bases around Iran. He said:

(Source: X screenshot taken on Mon Oct 30 23:12:02 2023 UTC)
The X Help Center says this about what Musk called "getting Noted" on the social media platform:
Community Notes aim to create a better informed world by empowering people on X to collaboratively add context to potentially misleading posts. Contributors can leave notes on any post and if enough contributors from different points of view rate that note as helpful, the note will be publicly shown on a post.
Old map
The map shared by Musk has been making the rounds for at least six years. Using a Google Lens search (archived here), Lead Stories found the following post (archived here) on X from February 6, 2017: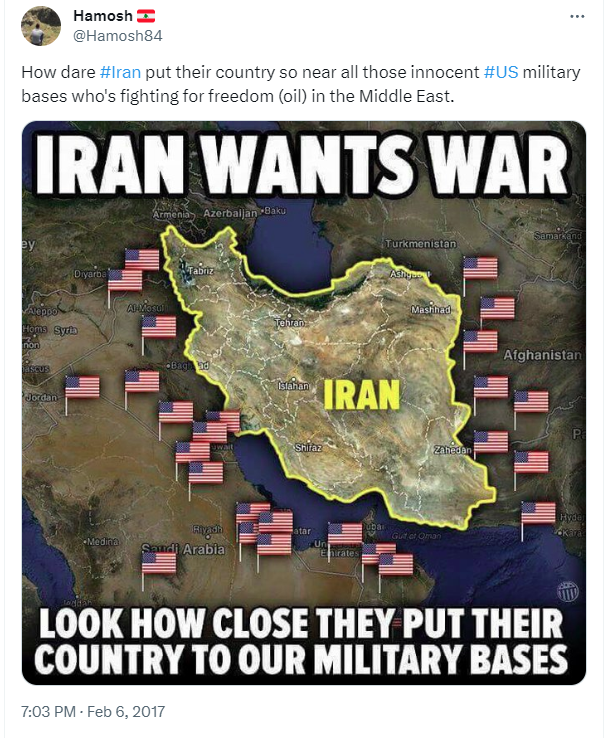 (Source: X screenshot taken on Mon Oct 30 22:07:58 2023 UTC)
Read more
Other Lead Stories fact checks of claims about Iran can be found here.