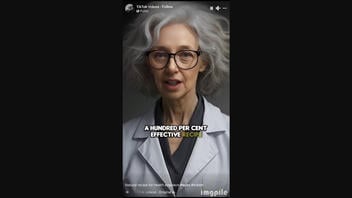 Is cucumber-and-carrot juice a "100% effective" way to restore vision within a week? No, that's not true: There is no scientific evidence that this drink can improve eyesight or cure any degenerative diseases of the eye, the National Eye Institute told Lead Stories. A clinical nutritionist confirmed that a cucumber-carrot-juice drink would not restore vision loss, particularly in seven days.
The claim appeared in a video posted as a Facebook Reel on October 17, 2023, with the caption, "Natural recipe for health eyepiece #eyes #vision." It opened with a person saying:
Restores vision in seven days. Glaucoma and cataracts are in the past.
This is what the post looked like on Facebook at the time of writing: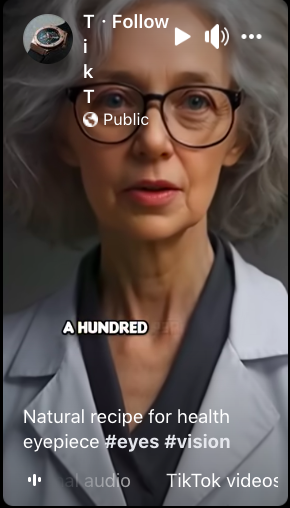 (Source: Facebook screenshot taken on Wed Oct 25 23:12:57 2023 UTC)
The narrator then details the ingredients for this drink that will supposedly "restore vision":
Today I will share with you a powerful natural recipe to restore vision that is easy to prepare at home. First, take a cucumber and cut it into pieces. Cucumber contains riboflavin, thiamine and vitamin B6 as well as the minerals calcium and magnesium.

We will also need two carrots. Peel them and cut them into pieces. Carrots contain beta carotene which your body converts into Vitamin A, and Vitamin A is important for healthy vision. ...

We will also need fresh parsley. In addition to Vitamin A, parsley contains sufficient amounts of lutein and zeaxanthin, plant pigments that prevent the development of macular degeneration and cataracts.
Dr. Emily Chew, senior investigator and director of the Division of Epidemiology and Clinical Applications at the National Institutes of Health's National Eye Institute, responded to the claim via email on October 25, 2023:
There is no scientific evidence that specific food combinations or dietary supplements can improve eyesight or cure any degenerative diseases of the eye.
Chew explained that "[f]ollowing a diet rich in fruits and vegetables, lean protein, especially fish, and whole grains, is essential to maintaining good health, including that of your eyes." She also advised: "Before taking any dietary supplements, you should consult with your doctor. Some dietary supplements can cause adverse effects and interact with medications you are already taking."
Dr. Zhaoping Li, professor of medicine and chief of the Division of Clinical Nutrition at UCLA, called the video's claims "really false" and "really misinformation." In an October 27, 2023, phone call with Lead Stories, Li elaborated:
There is a benefit of those nutrients in it that may help support the retina health, but they're not going to restore vision.
Additional Lead Stories fact checks of false claims about the health benefits of drinking various beverages can be found here.