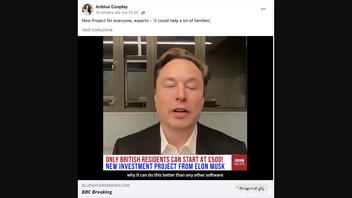 Did BBC News broadcast "breaking" news that Elon Musk has a new trading app that will allow Britons to make so much money that they won't have to work anymore? No, that's not true: The BBC's website includes no such report and the footage of Musk is from an appearance at the World Government Summit on February 15, 2023. He did not speak about a trading platform at the event; an AI-generated voice has been added to authentic video of Musk to create a fake interview by the BBC's Fiona Bruce.
The claim appeared in a video (archived here) where it was published on Facebook on October 10, 2023 under the title "𝘽𝑩𝘾 𝘽𝒓𝙚𝒂𝙠𝒊𝙣𝒈. New Project for everyone, experts - 'it could help a lot of families',". It opened with video of BBC announcer Fiona Bruce appearing to say:
Britons won't have to work anymore. Elon Musk has unveiled his new project in which he has already invested more than $3 billion.
This is what the post looked like on Facebook at the time of writing: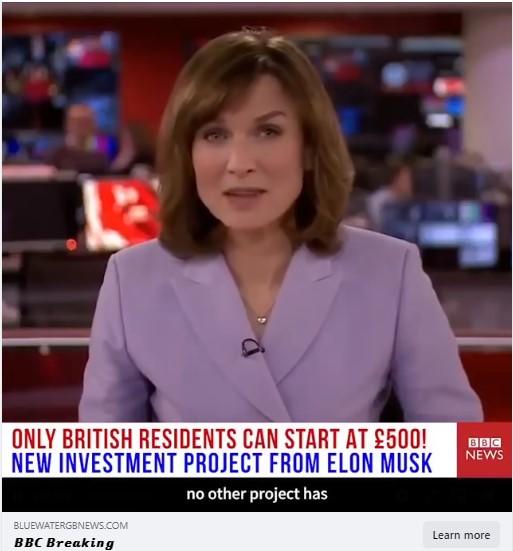 (Source: Facebook screenshot taken on Mon Oct 16 20:31:39 2023 UTC)

The video begins with Fiona Bruce (archived here) speaking about a trading app and then appearing to have a conversation with Musk. This is not a real BBC newscast. Bruce's voice has been dubbed and it appears to be a deepfake AI program (archived here). The footage posted on Facebook of Musk shows him in a white shirt and black blazer in front of cabinets beginning at 18-seconds. This matches his wardrobe, hair and the backdrop of his appearance at the 2023 World Government Summit where H.E. Mohammed Abdullah Al Gergawi, minister of cabinet affairs, UAE and chairman, World Government Summit is speaking with Musk.


The video of Musk has been manipulated -- the mouth is made to move in sync with the text-to-speech audio. While the fake BBC video has Musk saying the phrase "this software trades stocks," a search of the transcript for the 34-minute World Government Summit video recorded on February 15, 2023, yields zero results for that phrase or the words software, trades or stocks.
In the video posted on Facebook, Musk also claims, "this powerful computing device is nothing like your home computer," but he never says the words computing or computer during the World Government Summit interview, a search of the transcript from the video shows.
At the end of the fake BBC video and in the post there is a link to a website that has nothing to do with a trading app and instead is for a metal air filter (archived here).
A Google search for the phrase, "New Trading App from Elon Musk," do not return a credible match (archived here). A search of the BBC website for Elon Musk and trading app also did not feature any articles about a new trading platform (archived here).
Lead Stories has debunked many false claims about Elon Musk in the past, several include deepfake manipulated videos. These can be found here.
Additional Lead Stories fact checks about artificial intelligence can be read here and about deepfakes here.