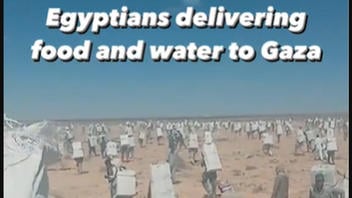 Did Egyptians deliver humanitarian aid of food and water carried on their backs from Egypt to Gaza? No, that's not true: The video in the post making that claim predates the 2023 Hamas-Israel conflict and therefore could not depict a humanitarian response to the October, 2023 blockade imposed by Israel. The video used in the false claim was first posted on TikTok on August 31, 2023. The original captions on the video, and comparisons with other similar videos, point to this being a smuggling operation at the border of Libya and Egypt.
The video recently resurfaced on Instagram (archived here) where it was published by @rapidtaxadvisor on October 13, 2023. It was captioned:
Watch as Egyptians take impactful steps - literally - by walking to deliver essential food and water to the Gaza Strip.

#war
This is how the post appeared at the time of writing: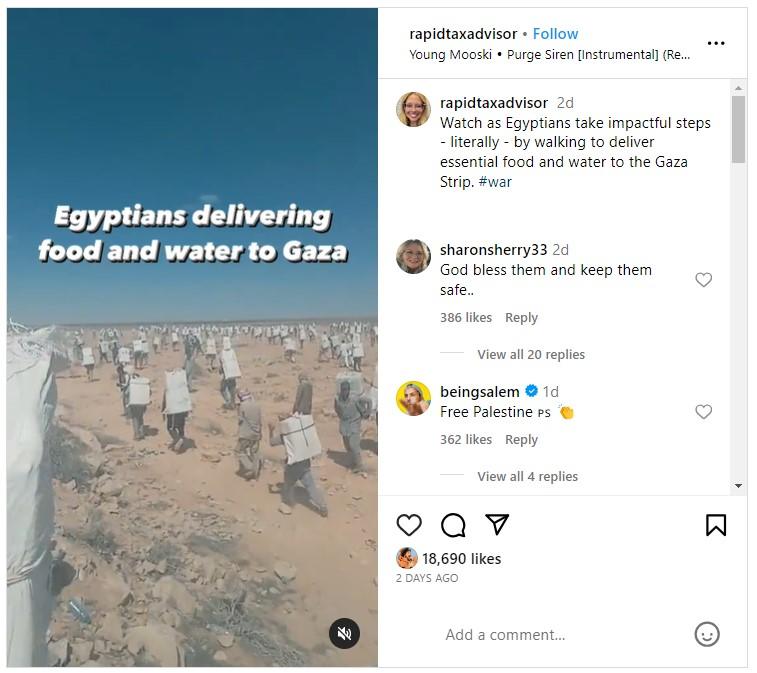 (Source: Instagram screenshot taken on Mon Oct 16 18:19:19 2023 UTC)
Text in the video reads:
Egyptians delivering food and water to Gaza
This is not what the video shows. An early copy of the video was posted on TikTok (archived here) on August 31, 2023, before the Hamas attacks in Israel on October 7, 2023. Because the video predates the attacks, it is impossible that the video would show a humanitarian response of aid carried to the people of Gaza. The caption and hashtags of the TikTok are in Arabic, translated by Google it reads:
#Al-Salloum_Egypt_Western_Borders🇱🇾🇪🇬🥀🍃🤍 ،،،، #Matrouh_and_its_Holha🔥💪😎 #Explore #Follow_and_like_and_explore_please_not_order
The letters LYEG which appear next to several emojis, represent the emoji abbreviations for the flags of Libya and Egypt. Salloum or Sallum is a village in the northwesternmost part of Egypt on the border of Libya. This is not near Gaza, which borders the northeastern most part of Egypt.
This is not the first time this video was shared on social media with a misleading caption. On September 10, 2023, this video was featured in a fact check by misbar.com. An example of the false claim Misbar addressed was posted on X (formerly Twitter) on September 7, 2023. That post (pictured below) was captioned in Arabic. The Google translation reads:
An unfortunate scene on the Egyptian-Libyan border shows thousands of Egyptians wishing to work in Libya or wanting to illegally immigrate to Europe!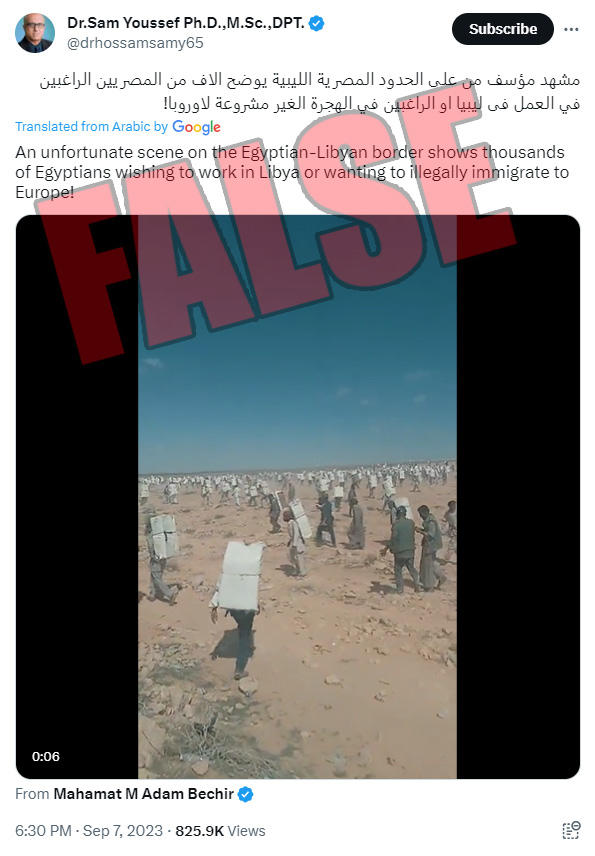 (Source: X screenshot taken on Mon Oct 16 20:14:12 2023 UTC)
Misbar embedded many clips in their article showing people carrying similar packs, one dating back to June 13, 2022, which was titled, "Smuggling the Egypt-Libya Salloum Border." Misbar isolated two still frames in another video showing identical writing on two of the packs and concluded:
It is noted that the bags carried by the people in the video clips are identical in shape, size, and color, and that they carry writing attached to what appears to be a symbol, and all of these are indicators that suggest that these people are crossing the borders within the framework of an organized activity, and not within the framework of a migration of people.
Lead Stories is not able to ascertain exactly what is inside these white packs, but from a number of similar videos it seems to be a smuggling operation as described in the 2017 paper published in the journal International Affairs titled, "The practice and culture of smuggling in the borderland of Egypt and Libya". On page 12 in the PDF document four styles of smuggling are described, the most common seems to match what is pictured in the videos:
There are four principal forms of smuggling in the borderland, that go under different names and involve different practices. The first one is called tigarat al-shanta: trading by bag. Tigarat al-shanta--never tahrib al-shanta (smuggling by bag)--is the most common and accepted form of smuggling in the daily border traffic at the official coastal checkpoint located between Salloum (Egypt) and Amsaad (Libya).37 Tigarat al-shanta is a form of petty trade and smuggling that is practised by individual male members of the Awlad 'Ali who travel to Libya for a couple of days and return to Egypt with a bag filled with tea, clothes, harissa, cigarettes, Chinese mobile phones and other such goods.
A search of TikTok found an account, @ha___mane, which used similar hashtags as were on the August 31, 2023, TikTok video. This account has many short videos with smuggling culture themes.
One video shows people walking with white packs on their backs (below left) near pickup trucks loaded full with similar packs -- as if distributing them among the people. In the background of this @ha___mane TiktoK video (pictured below center) and another, the same (or similar) large hangar-like building with an arched roof can be seen which seems to match the one in the August 31, 2023, TikTok (yellow arrow below right). The videos shared by @ha___mane were also posted on August 31, 2023.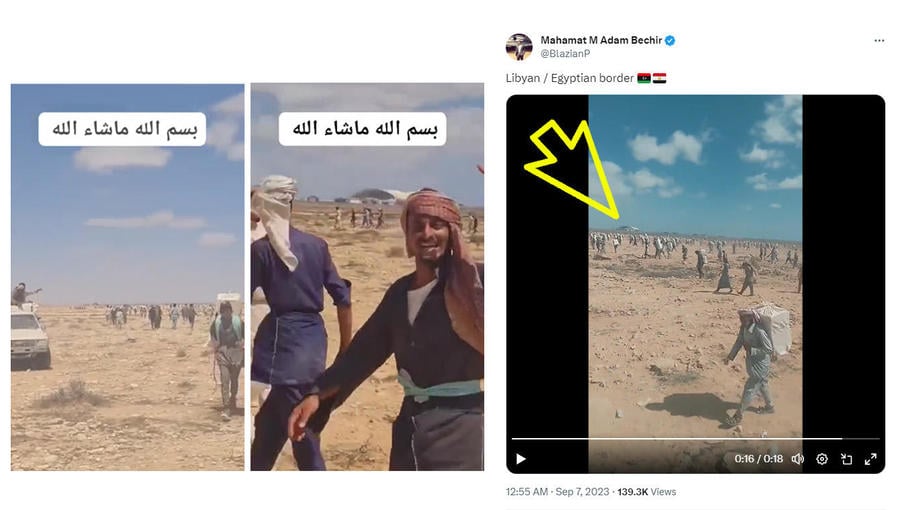 (Image source: Lead Stories composite image of Tiktok and Twitter screenshots taken on Mon Oct 16 22:31:25 2023 UTC)
In two additional @ha___mane videos posted on August 31, 2023, and September 3, 2023, people appear to be assembling the makeshift backpacks and packing them from stacks of cases of cigarettes; these cigarette cases are marked Oris and Platinum.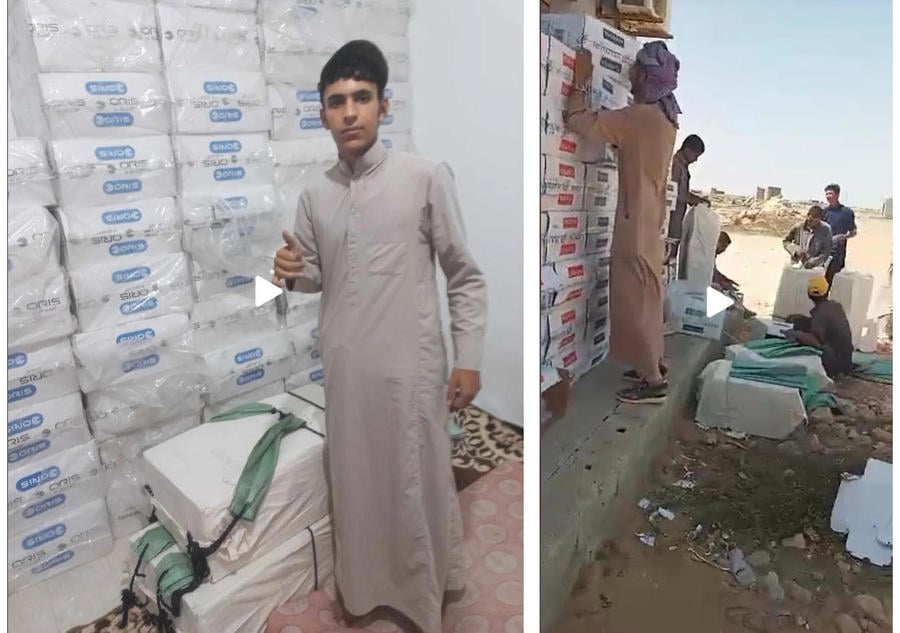 ((Image source: Lead Stories composite image of Tiktok screenshots taken on Mon Oct 16 22:31:25 2023 UTC)
Other Lead Stories fact checks that mention the Hamas-Israel conflict are here.