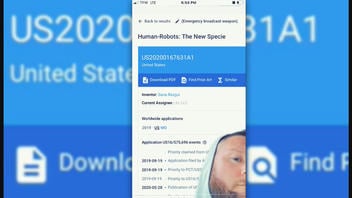 Did a patent for "Human-Robots" come out in late 2019 at the same time as the COVID-19 pandemic -- proving existence of a plan to replace humans with robots, rendering human military and police forces obsolete? No, that's not true: There is a real patent application with the U.S. patent office for "Human-Robots: The New Specie", but it was first submitted as a provisional application on September 19, 2018, more than a year before the first recorded outbreak of COVID. There is no credible connection between the patent and the pandemic nor does the post provide evidence that in post-pandemic times people are being replaced with the "Human-Robots" described in the patent.
The video (archived here) was posted on TikTok by @engineerdadlyfe on September 19, 2023. It was captioned with 23 hashtags:
#greenscreen #greenscreenvideo #news #october4th #emergency #duet #fypシ #fyp #goviral #robot #ai #what #why #fypシ゚viral #timesync #antartica #run #ohno #stitchthis #blowthisup #foryourpage #getout #end
This is what the post looked like on TikTok at the time of writing: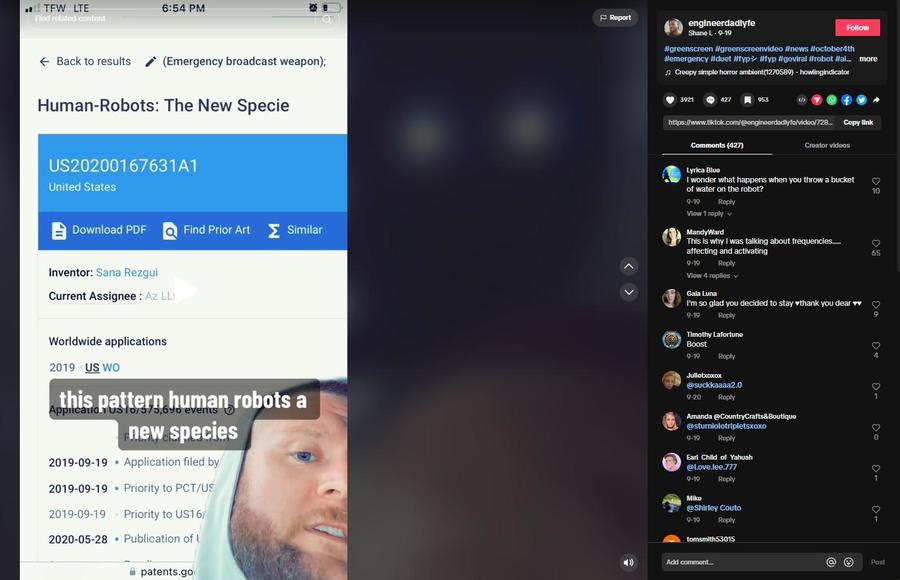 (Source: TikTok screenshot taken on Wed Oct 4 16:59:54 2023 UTC)
The scope of this fact check will focus only on the claim regarding this patent for "Human-Robots: The New Specie," pending patent #US20200167631A1 (archived here), and not neutrino detectors or underground tunnels mentioned in the second half of the video.
The 05:19-minute-long video opens with the narrator filming himself in a vehicle. Between 0:05 - 01:05 seconds he says:
Let me ask you guys something. When did the coronavirus come out? Really hit hard around like what -- late 2019, early 2020? Yeah. You know what else came out around then? This patent, "Human-Robots: The New Specie". Oh, late 2019. And you know what? They can do the exact same thing that a human can do. And I've been wondering this entire time how has military authority and positions of civil distinction been passing these bullshit laws and policies through when you know they got to look at their own families and be like, "What the hell's happening?" Doesn't matter. They waited long enough to get the COVID virus out and strike fear in the heart of millions and billions because they knew that their little robot buddies were gonna be ready for the aftermath.
The presence of a pending patent does not mean that the Human-Robots (HR) described are mechanically functional or in production. The provisional application (archived here) for this patent was filed by Sana Rezgui on September 19, 2018. The post provides no independent, verifiable public evidence of Human-Robots in operation.
The first COVID cases were documented December 31, 2019.
Rezgui is the owner and only employee of a California business registered with the name Az, LLC (archived here). Later patent filings for Rezgui's inventions have been assigned to Az, LLC. The law website Justia has published a list of 19 patents by Rezgui (archived here), some are granted and some are pending. These inventions mostly have to do with electronics and circuits. The description in patent #US20200167631A1 reads like vintage science fiction but such a reality may not be too far over the horizon. The abstract reads in part:
The current invention aims to help resolve such issues by offering a relief system that uses a new robotic specie, called Human-Robots (HRs) and that are intended to improve the quality of our lives in terms of education, health-care, well-being, safety and security. The new specie may autonomously work and move in close proximities with and among HBs and within their natural environments, to share their workloads and tasks and is especially tuned to their well-beings and of their surroundings. The robotic specie is reliant on a standard reconfigurable system and platform that can take multiple shapes, be modular, incremental, scalable, mobile, intelligent, connected, social, and possibly fully-autonomous. The new HR society will form the new race of autonomous personal and public service providers and take part in our society as a new specie.
Lead Stories did not find any evidence through a Google search (archived here) that the HRs are ready to launch or that the timing of the patent application was associated with the COVID pandemic, as Rezgui had already made a provisional application in 2018 more than a year before the first word of the Coronavirus began to make news.