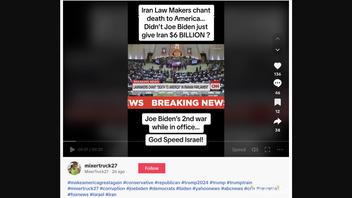 Did CNN show footage capturing Iranian lawmakers chanting "death to America" in the aftermath of the October 7, 2023, Hamas attack of Israel? No, that's not true: The video circulating on social media was aired in 2020. The chanting was the reaction to the death of Qasem Soleimani, a high-ranking Iranian military official killed by a U.S. airstrike in Iraq in January 2020.
The claim appeared in a video (archived here) posted on TikTok on October 8, 2023. A white text overlay on top of the CNN window said:
Iran Law Makers chant

death to America...

Didn't Joe Biden just

give Iran $6 BILLION ?
This is what the post looked like on TikTok at the time of writing: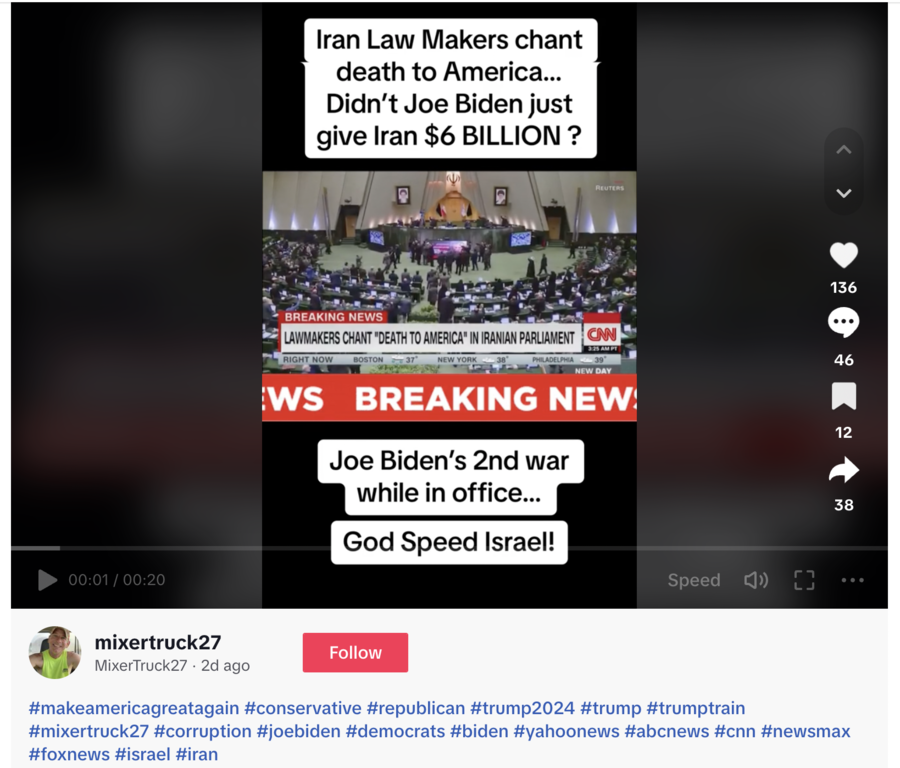 (Source: TikTok screenshot taken on Tue Oct 10 16:00:31 2023 UTC)
A fragment of a CNN news program, reused on social media in 2023, was aired more than three years before the 2023 Hamas attack. It was posted on CNN's account on YouTube on January 5, 2020, as the media company continued to report on the death of Soleimani, which had occurred two days prior.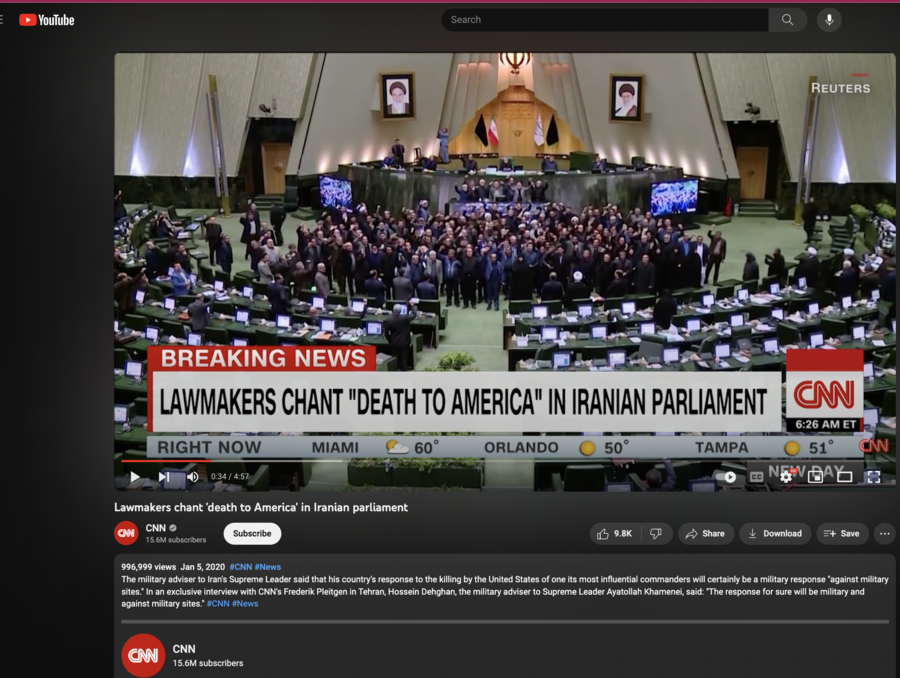 (Source: YouTube screenshot taken on Tue Oct 10 16:26:05 2023 UTC)
A search across Google News (archived here) limited to October 2023 results shows fact checks debunking similar claims.
The $6 billion figure mentioned in the post on TikTok referred to the August 2023 prisoner swap deal between Iran and the Biden administration. Five Americans who had been jailed in Iran were released into house arrest in exchange for eventual access to a restricted account in South Korea with the Iranian oil revenue from transactions with Seoul occurring before 2019, when the Trump administration sanctioned such transactions.
That deal was at the center of a number of misleading claims related to the 2023 Hamas-Israel conflict, Politifact reported.
On October 7, 2023, Brian Nelson, the U.S. Department of the Treasury's under secretary for terrorism and financial intelligence, said on X (archived here) that the money remained intact: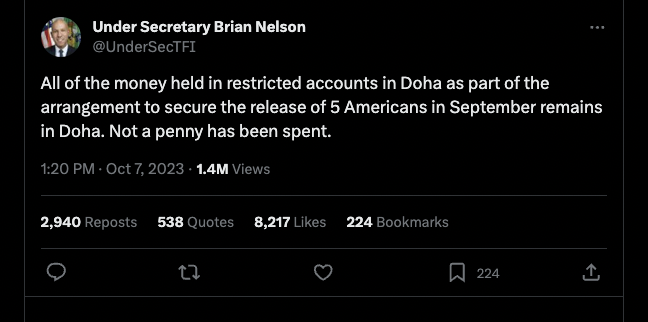 (Source: X screenshot taken on Oct 10 15:23:20 2023 UTC)
On October 8, 2023, Secretary of State Antony Blinken denied once again (archived here) that any funds from the $6 billion was spent in connection to the preparation of the 2023 Hamas invasion of Israel. He told NBC's Meet the Press:
... these were not U.S. taxpayer dollars. These were Iranian resources that it had accumulated from the sale of its oil that were stuck in a bank in South Korea. From day one, under our law, under our sanctions going back many years, it's always had the right to use those funds for humanitarian purposes - for food, for medicine, for medical equipment. The funds were moved from one bank to another where it could more easily do that, but under the close supervision of the U.S. Treasury Department ... not a single cent has been spent from that account.
On October 9, 2023, White House national security spokesperson John Kirby told NBC's "Meet The Press" (archived here) that Iran was "complicit" but the United States did not have specific pieces of evidence to pinpoint its direct involvement in the October 2023 attack on Israel. Kirby's remarks on Iran are at the 2:48 mark in the "Meet The Press" video.
Other Lead Stories articles on claims pertaining to the 2023 Israel-Hamas conflict are here.