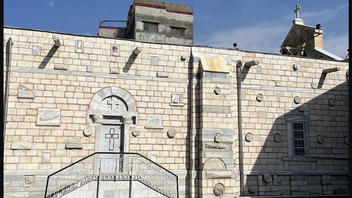 This fact check focuses only on claims surrounding a purported bombing of Saint Porphyrios Church on October 9, 2023.
Was the nearly 900-year-old Saint Porphyrios Greek Orthodox Church In Gaza destroyed by Israeli bombs? No, that's not true: After claims went viral that the church had been destroyed, the church posted messages on its Facebook account, reassuring the community that the rumors were not true and the church "is in the best condition." The poster himself corrected the claim later the same day.
The claim was posted (archived here) by Sulaiman Ahmed on X (formerly Twitter) on October 9, 2023. It was captioned:
BREAKING: ISRAEL BOMBS AND DESTROYS THE LARGEST CHURCH IN PALESTINE

Israel has bombed the Greek Orthodox Church of Saint Porphyrius in Gaza.

The church is the THIRD OLDEST CHRISTIAN temple in the WORLD.

The irony lies in Christian Zionists supporting the destruction of their own churches.
This is what the post looked like on X at the time of writing: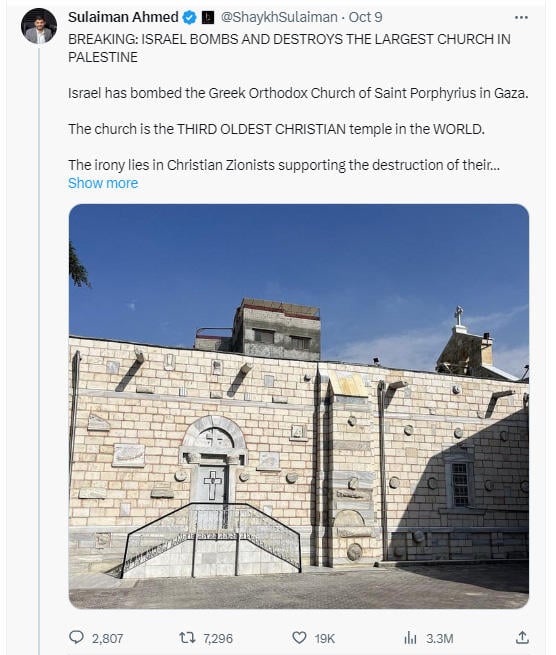 (Source: X screenshot taken on Tue Oct 10 17:36:20 2023 UTC)
The photo in the post is the Wikipedia creative commons image of the church, photographed on November 29, 2022. The following post in Ahmed's thread is video of the ornate interior, captioned:
THE CHURCH BEFORE IT WAS DESTROYED BY ISRAEL
The next post in the thread (archived here) offers a correction and shares a screenshot from the Facebook account of Saint Porphyrios Orthodox Church - Gaza, but the original post has been shared much more than the correction.
Saint Porphyrios Orthodox Church - Gaza posted on their Facebook page (archived here) on October 9, 2023, at 9:30 p.m. local time. The screenshot below shows the entire message translated into English, but it appears to have originally been four similar captions that were composed in several languages. One reads:
Dear beloveds in Christ. We would like to inform you that Saint Porphyrios Church in Gaza is untouched and operating in service of the community and our congregation. The news circulating about it being damaged are false. We appreciate your concern for thr safety of our church and people and request your prayers for us.
Saint Porphyrios Church
Gaza- 10/09/2023 21:30 pm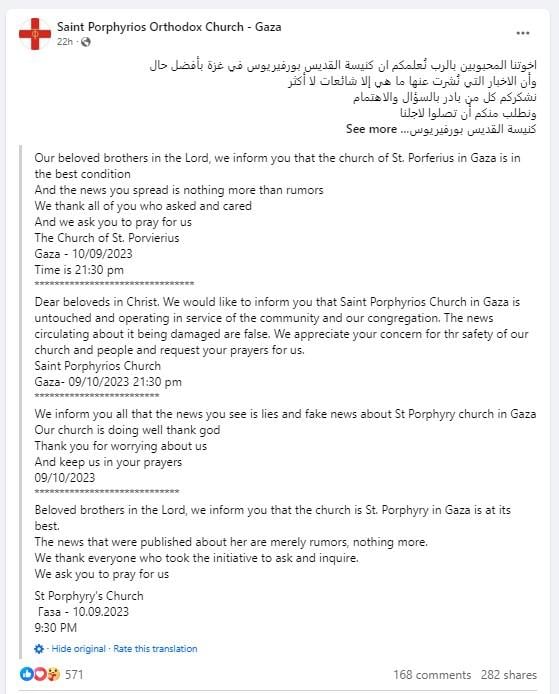 (Source: Facebook screenshot taken on Tue Oct 10 17:30:15 2023 UTC)
The church has posted once more since this message, with no further update regarding any damage to the church. On October 10, 2023, they wrote:
Our beloved sons
Archbishop Alexios and Father Silas wish you and your families well, and they would like to inform you that they will not be traveling abroad
Other Lead Stories articles on claims pertaining to the 2023 Hamas-Israel conflict are here.