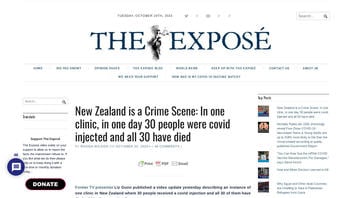 Have 30 people in New Zealand, all allegedly given COVID-19 shots at one clinic on the same day, all died since receiving their vaccinations? No, that's not true: A New Zealand Ministry of Health official told Lead Stories that "There is no evidence to support this claim." Also, only four deaths in New Zealand are possibly linked to reactions following coronavirus shots, according to a New Zealand public health official actively monitoring vaccine safety.
The claim appeared in an article and video (archived here) published on The Exposé website on October 22, 2023, with the headline "New Zealand is a Crime Scene: In one clinic, in one day 30 people were covid injected and all 30 have died." The article opened:
Former TV presenter Liz Gunn published a video update yesterday describing an instance of one clinic in New Zealand where 30 people received a covid injection and all 30 of them have died, within the same time frame.
This is what the video looked like in the story on The Exposé website at the time of writing: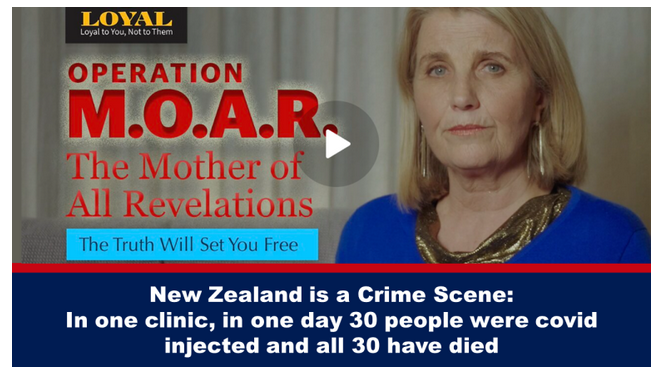 (Source: The Exposé screenshot taken on Mon Oct 23 23:01:11 2023 UTC)
The video
In the video, which runs just over eight minutes long, Liz Gunn -- leader of the New Zealand Loyal Party (NZL) -- provides no evidence or details to support the claim that there's a clinic in New Zealand where 30 people were vaccinated on the same day, all of whom have since died. Gunn pinned her information on a whistleblower whose name she did not disclose, using cloak-and-dagger imagery. About 55 seconds into the video, she said:
We have now come to an undisclosed location with a New Zealand clinician/mathematician who is very experienced in statistical analysis. That person has with us reviewed the data and confirms our position that it is damning. ...

On one day, 30 people were jabbed on the same day at the same location. All are now deceased and their deaths are in close temporal, time, proximity to each other. ... You see, statistically, the numbers of deaths we saw cannot be attributed to natural causes, given the same site and the same date of vaccination. It would be what they say, statistically, highly unlikely.
Gunn makes this claim and references the alleged data she claims to possess, implying a cover-up by New Zealand officials. However, she does not release any of the data herself, suggesting it's for the protection of the unnamed whistleblower as her reason. At 4:40, she continued:
I've seen the information firsthand. I have struggled sleeping at night since then, knowing that this level of detail is now available but as we find today being withheld. ... whistleblowers always face great risk, as we all do, who seek to bring the truth to the people of this country under urgency. ...

What I will do, New Zealand, should this whistleblower finally find the drive that we are showing at New Zealand Loyal, the determination that we have, and approach me again and say they will divulge it all, what I will do is take that information [and release it]. ... What I want more than anything is for these truths to be brought to you, the people of New Zealand.
The Exposé article did not provide any additional evidence or details to substantiate the claim beyond citing Gunn's video.
New Zealand Ministry of Health
Chris James, group manager of Medsafe, the medical regulatory body run by the New Zealand Ministry of Health (MoH), responded to the claim in The Exposé article and the video posted by New Zealand Loyal. In an October 26, 2023, email, he said
There is no evidence to support this claim. ...

No reported deaths to Medsafe match the claim as reported.
Medsafe is responsible for collecting spontaneous reports of suspected adverse reactions to medicines including vaccines, like the U.S. Food and Drug Administration and the Centers for Disease Control and Prevention.
James said those COVID-19 vaccine adverse event reports have been investigated and findings published in regular safety reports. He continued in the MoH response:
About 90% of New Zealand's eligible population has completed a primary course of vaccination.

A number of deaths post-vaccination have been reported, however, the majority of these deaths at the time of the last safety report were unlikely to be linked to the vaccine.
Safety report details can be found here.

New Zealand National Public Health Service
Christian Marchello, vaccine safety surveillance and research manager at New Zealand's National Public Health Service, said "There is no evidence that vaccination is responsible for excess mortality in New Zealand." In the October 26, 2023, email response from the MoH, he continued:
Publicly available data shows that four deaths in New Zealand are possibly linked to adverse reactions following COVID-19 vaccination.

This is in the context of 3,361 people whose deaths have to date been directly attributed to COVID-19 in New Zealand, with more than 12.6 million vaccines administered to eligible New Zealanders as of 2 October 2023.

By chance and separate to a prior COVID-19 vaccination event, some people will experience new illnesses or die from a pre-existing condition shortly after vaccination, especially if they are elderly.
The National Public Health Service has more information about New Zealand's adverse event reporting here and COVID-19 vaccination data here.
Google search
A Google News search (archived here) on October 26, 2023, using the terms "30 people die in New Zealand after getting COVID shot vaccine on same day" found no results matching the claim in The Exposé article or the New Zealand Loyal video.
The Exposé
The Exposé is a website that mostly features anonymously published content about U.K. COVID-19 data and statistics. Lead Stories has looked at several of their articles in the past and found them to be misleading. In July 2021 U.K. based fact checking organization logically.ai uncovered evidence that implies the site is being run by Jonathan Allen-Walker of Scunthorpe, Lincolnshire in the U.K., a man apparently associated with a local welding, machining and metalworking company.
More to read
Additional Lead Stories fact checks of claims related to vaccines can be found here.