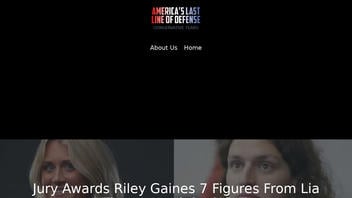 Were swimmer Lia Thomas and the NCAA forced to pay swimmer Riley Gaines millions of dollars in a lawsuit? No, that's not true: This claim appeared in an article on a satirical website known for publishing fabricated content. That website has a disclaimer that reads, "Everything on this website is fiction."
The claim appeared in an article published by conservativetears.com on October 23, 2023, titled "Jury Awards Riley Gaines 7 Figures From Lia Thomas and the NCAA" (archived here). It opened:
A Kentucky jury reached a swift verdict in the case of Gaines v. Thomas and the NCAA, deliberating for only 15 minutes. Upon their return, visibly emotional, they awarded Riley $3.9 million from the NCAA and an additional $1.2 million from Thomas.
Users on social media only saw this title, description and thumbnail:
Riley can finally move on.
The article continued:
Expressing her satisfaction, Gaines shared with her followers on platform X, 'This verdict fulfills all my expectations. Hopefully, this ordeal can now come to an end.'

Thomas declined to comment to the press but issued a statement through her publicist, Joe Barron, who remarked, 'Lia is deeply disheartened by the perceived unjust and tragic judgment against her and intends to file an appeal.'
A search (archived here) of the Google News index of thousands of web pages, using the keywords "Riley Gaines was awarded $3.9 million from the NCAA and $1.2 million from Lia Thomas" produced no credible independent reports supporting the claim. It would have been deemed a significant news event with widespread coverage if this were true.
A search of the X platform, formerly known as Twitter (archived here), did not produce any posts that confirmed Gaines made any such statement regarding expectations of a verdict. The quote attributed to "publicist Joe Barron" is not credible as this October 26, 2023, Google search (archived here) shows that Barron is not Thomas's publicist.
Barron was a friend of Christopher Blair, the founder of The Dunning-Kruger Times. Barron's name is frequently used in Blair's satirical stories as an homage. Lead Stories fact checks on stories referencing Joe Barron are here.
Lead Stories reached out to Thomas' representatives and the NCAA. This fact check will be updated if any responses are received.
Conservative Tears is part of America's Last Line of Defense network of satirical sites run by self-described troll Blair. There is a disclaimer on their website stating, "Everything on this website is fiction":
About Satire

Before you complain and decide satire is synonymous with 'comedy':

sat·ire ˈsaˌtī(ə)r noun: The use of humor, irony, exaggeration, OR ridicule to expose and criticize people's stupidity or vices, particularly in the context of contemporary politics and other topical issues.

Everything on this website is fiction. It is not a lie and it is not fake news because it is not real. If you believe that it is real, you should have your head examined. Any similarities between this site's pure fantasy and actual people, places, and events are purely coincidental and all images should be considered altered and satirical. See above if you're still having an issue with that satire thing.
Other Lead Stories articles on claims related to Lia Thomas are here.
Other Lead Stories fact checks on claims from Conservative Tears are here.