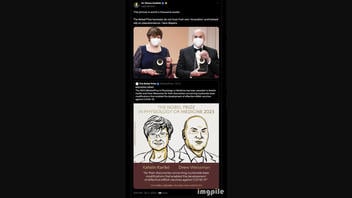 Does a photo of Katalin Karikó and Drew Weissman -- the 2023 Nobel Prize laureates in physiology -- that shows them wearing face masks demonstrate that they do not trust "their own 'innovation'" in the field of mRNA vaccine development? No, that's not true: An image shared on social media was taken more than a year prior to the announcement of the 2023 Nobel Prize winners, when Karikó and Weissman received another award in Japan. Unlike the United States, Japan was still mandating masks during that specific time frame in 2022. "It was required," Nobel Prize laureate Karikó confirmed to Lead Stories, refuting the claim in the post. Both scientists were seen celebrating the news without a face covering when the honors were announced in October 2023.
The claim originated from a post (archived here) published on X, formerly known as Twitter, on October 2, 2023. It opened:
This picture is worth a thousand words: The Nobel Prize laureates do not trust their own 'innovation' and instead rely on pseudoscience--face diapers.
This is what the post looked like on X at the time of writing: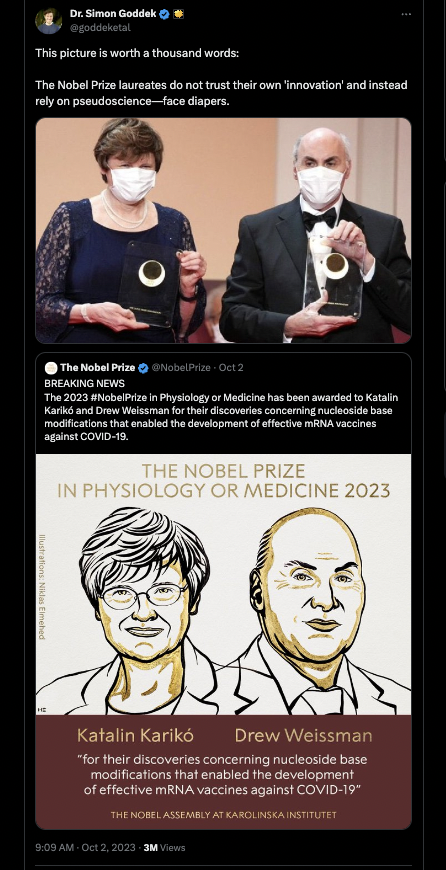 (Source: X screenshot taken on Wed Oct 4 14:13:07 2023 UTC)
The post included a link to the Nobel Prize account on X (archived here) announcing the 2023 winners in physiology: Karikó and Weissman, who received the award "for their discoveries concerning nucleoside base modifications that enabled the development of effective mRNA vaccines against COVID-19."
Contrary to the implication in the post, the photo does not show the scientists in 2023. A reverse image search shows that it was taken more than a year before the Nobel Committee's announcement. According to the file's description on a stock photo website (archived here), it captured a moment from a different event:
According to the Japan Prize website (archived here), its laureates were not able to travel to the country between 2020 and 2022 due to the pandemic-related travel restrictions. In April 2022, the organizers, however, decided to hold a ceremony honoring the winners from three years at once.
A video capturing it was uploaded on YouTube on April 18, 2022, and is also available on the prize's official website. The screenshot gallery below shows that Kariko and Weissman were not the only people to cover their faces -- everyone seen in the footage is masked: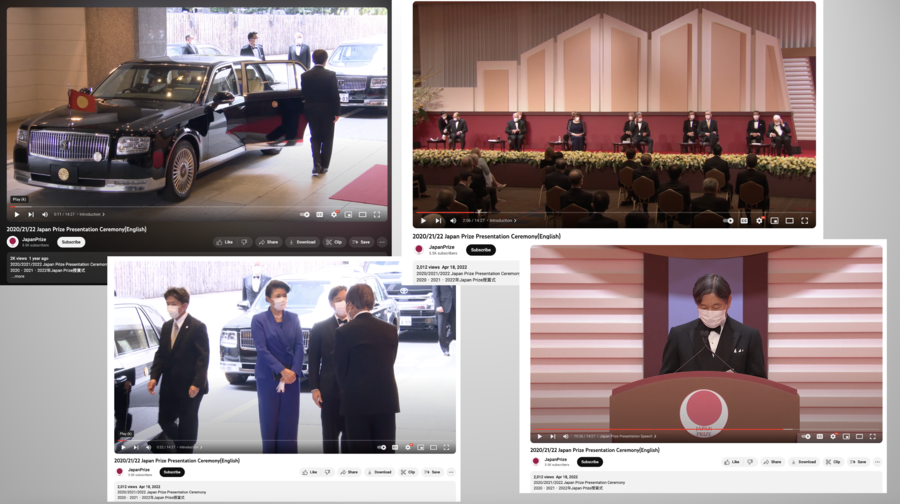 (Sources: YouTube screenshot taken on Wed Oct 4 15:10:19 2023 UTC; YouTube screenshot taken on Wed Oct 4 15:00:10 2023 UTC; YouTube screenshot taken on Wed Oct 4 15:59:05 2023 UTC; YouTube screenshot taken on Wed Oct 4 15:01:02 2023 UTC; composite image by Lead Stories)
Japan was one of the last countries to drop a mask mandate. It happened only in the spring of 2023, as reported by the Japan Times (archived here), which is the oldest and the largest English-language newspaper there, Reuters (archived here) and The Associated Press (archived here), among other credible media outlets.
As of this writing, the same information pinpointing the exact date of the change is still available on the English-language version of the website of the government of Japan (archived here.) It reads:
Starting on March 13, 2023, wearing a mask is left up to the judgement of individuals.

Please remember not to force people to wear masks or take off their masks.
That means that the masks seen on the faces of scientists in 2022 do not speak for the level of their confidence in their research but only confirm that at the time, Japan had strict rules regarding face covering in place.
Katalin Karikó told Lead Stories via email on October 4, 2023:
We received the Japan Prize on April 14, 2022, when Japan was locked down. It was required that everybody everywhere needed to wear mask in Japan. This was a rule that we had to follow, and it was nothing to do with our research. Following our arrival, we were locked down in our hotel room for 5 days in quarantine.
She continued:
This has nothing to do with our confidence in our own research.
Both Karikó and Weissman represent the University of Pennsylvania (archived here). In the United States, the CDC allowed fully vaccinated individuals to stop wearing masks in May 2021 (archived here), much earlier than Japan. Around that time, states started to abandon mask requirements altogether, and since the matter was not decided by the federal government nationwide, not every place in the United States has ever had a mask mandate (archived here.)
The names of the 2023 Nobel Prize laureates were announced in early October 2023.
A picture showing the celebration at the University of Pennsylvania on October 2, 2023 (archived here) portrays both scientists not wearing masks just like the rest of a packed room.
UPenn summarized the essence of their research whose results were first described in a 2005 paper (archived here) many years before the coronavirus pandemic:
...mRNA could be altered and delivered effectively into the body to activate the body's protective immune system.
Professor Qiang Pan Hammarström, who is a member of the Nobel Assembly at Karolinska Institutet -- a body responsible for choosing the winners in this category -- explained the significance of the research conducted by Karikó and Weissman. She said that it not only made COVID-19 vaccines safer, cheaper and more effective -- its significance goes much beyond that:
This discovery has opened a new chapter of medicine. So this is not only going to be useful for producing more vaccines against other infectious diseases like malaria, and RSV, CMV, or the difficult virus including HIV maybe, but also can help us to combate other non-infectious disease - for instance, cancer, and you can make personalized cancer vaccines, for example. And also RNA can be used to directly deliver protein therapies to our cells and that's opened up for all different deseases, with disease like some rare genetic disorders, and also more common autoimmune disorders, for example.
The 2023 Nobel Prize laureates will receive their awards on December 10, 2023, in Oslo, Norway in accordance with its long-standing tradition, described on its website (archived here.)
Other Lead Stories fact checks about COVID-19 can be found here.