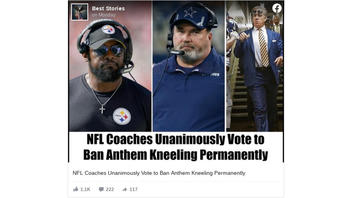 Did National Football League (NFL) coaches unanimously vote to ban "anthem kneeling" permanently? No, that's not true: An NFL representative told Lead Stories that this claim was "totally false." A Google News and NFL.com search did not yield evidence of such a vote, and Lead Stories found the same story reposted on a satire website.
The claim appeared on Facebook (archived here) where it was published on October 2, 2023. The post's caption read:
NFL Coaches Unanimously Vote to Ban Anthem Kneeling Permanently
This is what the post looked like on Facebook at the time of writing: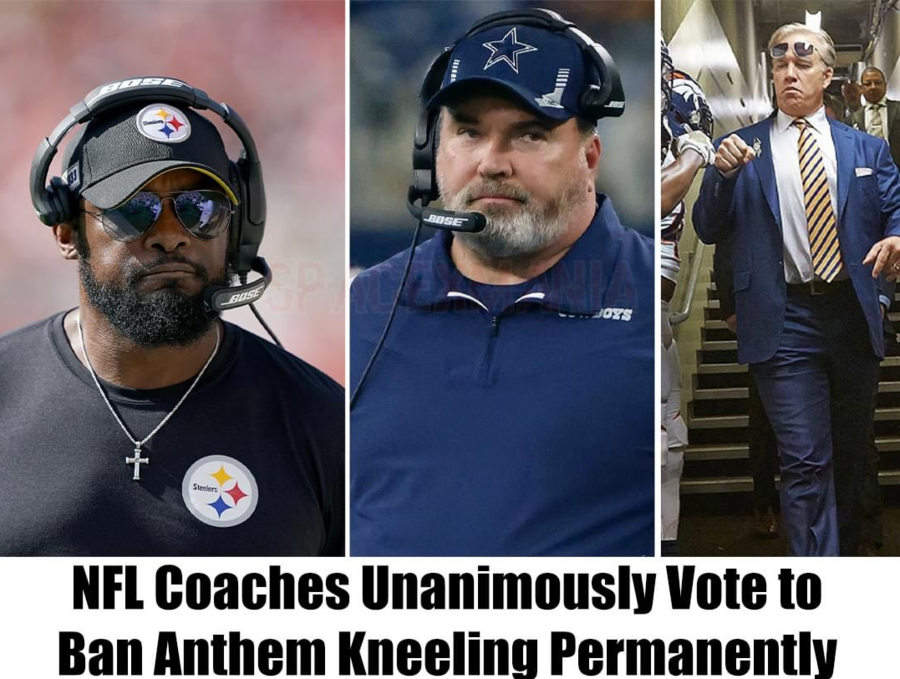 (Source: Facebook.com screenshot taken on Wed Oct 4 15:02:10 2023 UTC)
Lead Stories contacted the NFL about the claim, and in an October 4, 2023, email, Brian McCarthy, vice president of communications for the NFL, responded:
No. Totally false.
A Google News search of the phrase, "NFL coaches AND ban anthem kneeling" (archived here) and "John Elway AND ban anthem kneeling" (archived here) did not yield a relevant or legitimate news article confirming what would, if true, be a major sports news story as well as major news for non-sports-fans. Similar searches of NFL.com uncovered no evidence of a coaches' vote on a kneeling policy.
The Google News search found no evidence that the three men pictured in the post -- Mike Tomlin, Mike McCarthy and John Elway -- voted to ban anthem kneeling at NFL games.
The Facebook page that posted the claim is "Best Stories" which claims to be a "Government organization," according to their "Contact and basic info" section. A Google search of Best Stories as a government organization did not corroborate that (example of search here) (archived here).
The Facebook page posted a link to an article in their comments. That link led to the full article being housed on "viralusastories.info" (archived here). The story was posted here on October 2, 2023.
Lead Stories found the same article on Spacexmania, a satirical website Lead Stories has fact checked claims from in the past. There, the story carries a "SATIRE" flag above the headline. The Spacexmania version of this article was posted October 3, 2023, the day after the original version of the false post.
Other Lead Stories fact checks on claims concerning the NFL are here.