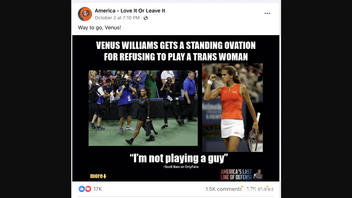 Did star tennis player Venus Williams receive a standing ovation for "refusing to play a trans woman"? No, that's not true: The claim came from an article on a website that's part of a satirical network. The publishing network's Facebook page says "Nothing on this page is real."
The claim appeared in a post on Facebook (archived here) on October 2, 2023. It opened:
Way to go, Venus!
The text overlay on the post, alongside an image of two tennis players, read:
VENUS WILLIAMS GETS A STANDING OVATION FOR REFUSING TO PLAY A TRANS WOMAN

'I'm not playing a guy'

-Scott Baio on OnlyFans
This is what the post looked like on Facebook at the time of writing: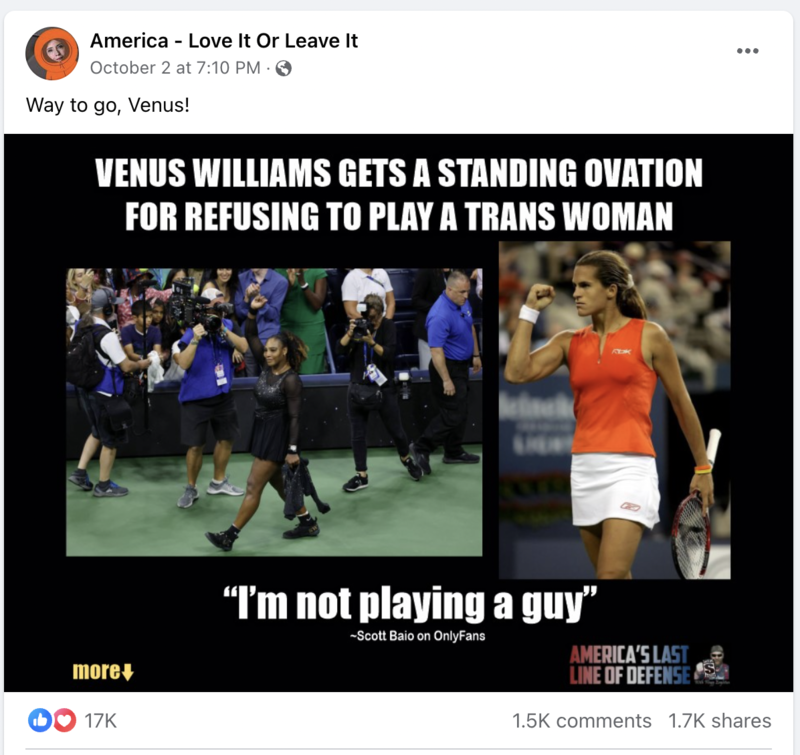 (Source: Facebook screenshot taken on Wed Oct 4 15:56:49 2023 UTC)
This post was by the account America -- Love It or Leave It." Its caption linked to the source of the image and headline, on the site conservativetears.com. The Facebook account and article are part of America's Last Line of Defense -- a satirical network created and run by Christopher Blair.
The Facebook post was headlined "Venus Williams Gets a Standing Ovation For Refusing To Play a Trans Woman." The same headline appeared on the linked article, which opened:
Venus Williams is one of the best tennis players ever to grace the sport. She and her sister, Serena, have won more combined titles than any pair of sisters in sports history.

So when Venus took a stand and refused to play a game against Joe 'Josepheena' LaBarron of France, she made a huge statement.
The photo on the left in the image does not show Venus Williams. It is her sister, Serena Williams, receiving applause after completing the third round of the 2022 U.S. Open.
The tennis player on the right in the post image is Amélie Mauresmo, the first Frenchwoman in history to climb to the top of the world rankings in the sport. She identifies as a cisgender woman.
Lead Stories reached out to the public relations firm representing Venus Williams and will update this fact check as appropriate if a response is received.
The Conservative Tears website and the America Love It or Leave It social media account are part of America's Last Line of Defense (ALLOD), the network of satirical sites run by Blair. The ALLOD Facebook page says: "Nothing on this page is real."
Other Lead Stories fact checks about the satirical conservativetears.com can be found here.