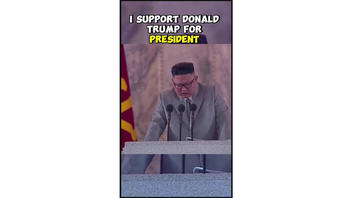 Does a video shared on social media show North Korean leader Kim Jong-Un speaking on the October 2023 Hamas-Israel conflict, Donald Trump and World War III? No, that's not true: This speech shown in the video was made in October 2020, according to the BBC, three years before the 2023 Hamas-Israel conflict began. Also, Kim is not speaking about any international conflict in this video. He is thanking the North Korean army for their service.
The claim appeared on TikTok (archived here) on October 11, 2023. It opened with Kim Jong-Un standing at a podium and speaking Korean into microphones. The caption read:
Supreme Leader: Kim Jong-un addressing the nation about Donald Trump and WWIII. 🇰🇵 #kimjongun #northkorea #israel #palestine #usa #joebiden #biden #trump #donaldtrump
This is what the post looked like on TikTok at the time of writing:
(Source: TikTok screenshot taken on Tue Oct 17 15:58:42 2023 UTC)
The claim is that in the video Kim says that under the Biden administration "conflicts erupt yearly," and then Kim declares his support for former President Donald Trump. There are no supporting links on or under the video to back up this claim.
The TikTok user's bio reads, "Proud Citizen of the Democratic People's Republic of Korea 🇰🇵 Trump 2024 🇺🇸." They are unlikely to be a North Korean citizen as only government officials, researchers and workers abroad have access to the internet, according to the PSCORE website (archived here).
The same video as in the post on TikTok was published by the BBC (archived here) on October 13, 2020. The BBC article says Kim is thanking his troops and talking about North Korea's struggle.
A Lead Stories colleague who speaks Korean translated Kim's speech:
In the unexpected quarantine frontier and natural disaster recovery frontier, our soldiers showed patriotic and heroic commitment that nobody can face without tears of thanks. At this time, looking back on the glorious 75-year-long history of our party from chapter to chapter, I thought a lot about what I should say here, I want to speak to our people from my deepest heart ...
A Google News search of the phrase, "Kim Jong-Un AND Israel AND Palestine AND speech" did not yield any recent or relevant results (archived here).
Other Lead Stories articles on Kim Jong-Un can be found here.
More Hamas-Israel conflict fact checks from Lead Stories are here.