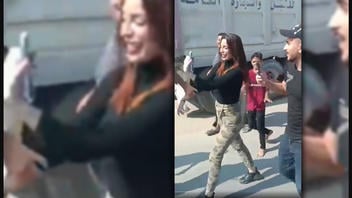 Does a video of a woman taking selfies while she is surrounded by men who are swiftly moving her down the street show an Israeli woman who has been kidnapped? No, that's not true: This woman is an Arabic-speaking social media health and beauty influencer who goes by the name Rosey Quartz. The video does not show an Israeli woman being kidnapped or taken hostage.
The video was posted by many channels on social media on October 7, 2023, the day of the surprise attack by Hamas on Israel. One example was posted on X (formerly Twitter) by Local Focus (archived here). The post was captioned:
Video of more kidnapped Israeli women from southern Israel to Gaza by armed Palestinians.
https://twitter.com/LocalFocus1/status/1710581152572997645
This is what the post looked like on Twitter at the time of writing: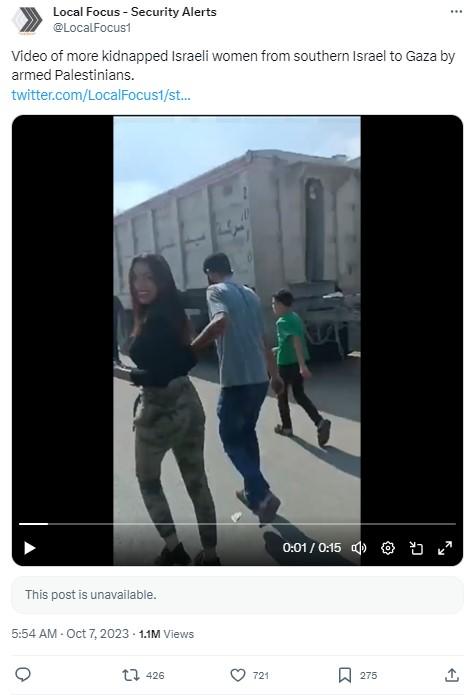 (Source: Twitter screenshot taken on Mon Oct 9 13:49:37 2023 UTC)
The video shows a woman surrounded by a group of men and boys who are moving briskly down the middle of a street. As the woman is jostled and pulled along, she is smiling and looking around and seems to be trying to take selfies or video with her phone camera. Many posts sharing the video, for example here on Telegram, were captioned with statements that the woman was in shock, as a way of explaining her seemingly happy and unconcerned demeanor. The telegram post in Arabic translates to:
#Palestine: A settler was captured and transferred to Gaza, and she was so shocked that she filmed herself.
This woman is a social media influencer who goes by the name Rosey Quartz. On October 7, 2023, @BMaany posted a reply to the Local Focus post above, and identified Rosey, including links to her Instagram, YouTube and TikTok accounts. A second comment from @BMaany included an Instagram story video posted to the @rosey.official1 account eight hours earlier, which shows Rosey Quartz with wet hair, wearing the same outfit -- a black turtleneck and camo pants (pictured below center) -- that she was wearing in the viral video filmed on the street. This video is no longer publicly visible on Instagram. In that video clip the woman speaks Arabic to her audience (translated by Lead Stories staff) :
Good morning people, I will do a live stream video for you.
Many posts, including the posts by @BMaany, which identify Rosey Quartz as the woman in the video, say that she is Palestinian. Lead Stories was unable to confirm her nationality or the exact location where the video on the street was filmed. The bio for Rosey Quartz on Wuzzuf.net puts her location in Madinaty, Cairo, Egypt, and states that she speaks fluent Arabic and English. A post on Instagram from October 6, 2023 -- which appears to be taken in an airport -- is tagged with the location Kuala Lumpur, Malaysia.
Lead Stories compared the unique camo pants and the way that the woman fastens the belt off center in the two videos and they are a perfect match. Lead Stories has reached out to Rosey Quartz and will update this story as appropriate if she responds.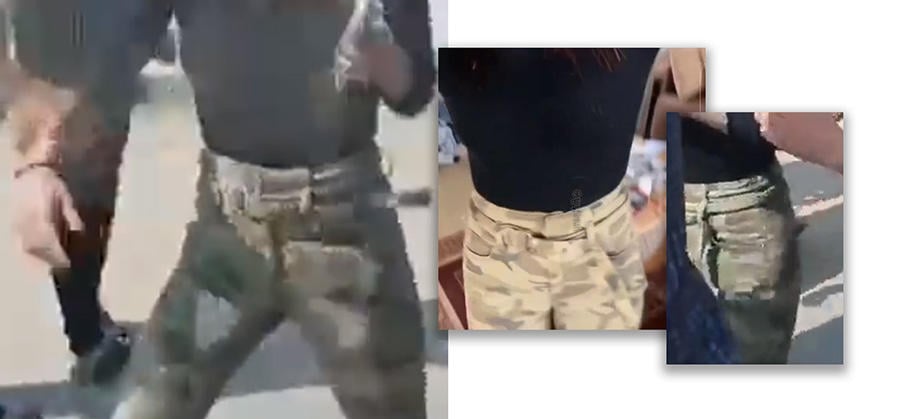 (Image source: Screenshots from X taken on Sun Oct 8 21:37:03 2023 UTC)