STORY UPDATED: check for updates below.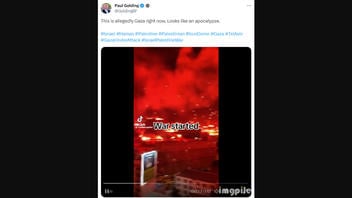 Does a video show "Gaza right now" with the sky in Gaza lit up bright red as rockets and bombs burst in the air? No, that's not true: The video is from a huge celebration with fireworks by fans of soccer team Belouizdad (who were crowned champion in Algeria in the summer of 2020), as multiple similar videos show. It is not footage of the Gaza skyline after the surprise attack by Hamas on Israel on October 7, 2023.
The claim appeared in a video (archived here) where it was published on X, formerly known as Twitter, on October 8, 2023. It opened:
This is allegedly Gaza right now. Looks like an apocalypse. #Israel #Hamas #Palestine #Palestinian #IronDome #Gaza #TelAviv #GazaUnderAttack #IsraelPalestineWar
This is what the post looked like on Twitter at the time of writing: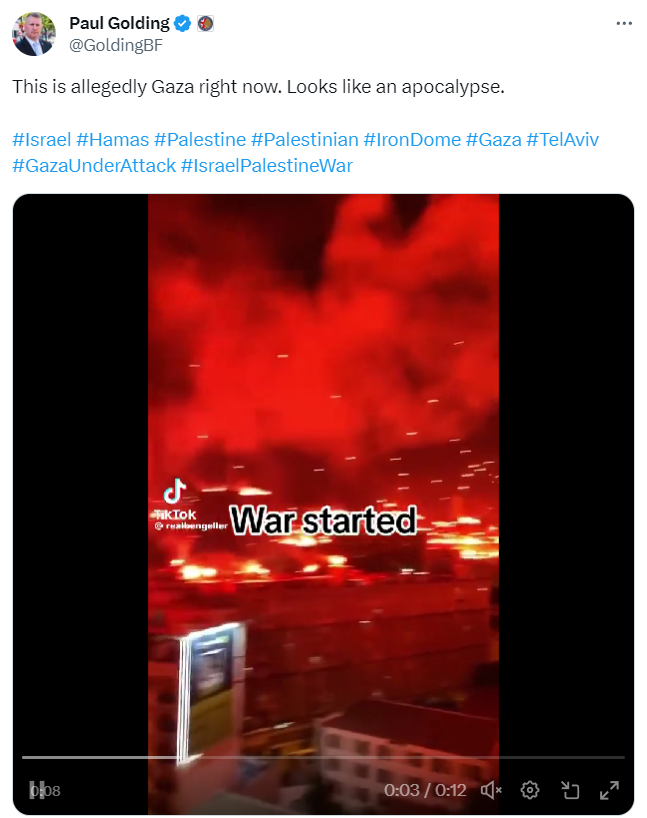 (Source: Twitter screenshot taken on Mon Oct 9 00:43:35 2023 UTC)
The footage is similar to other videos from Algeria that were posted in July 2020 shortly before and after the Algerian football club Belouizdad was officially declared the winner of the championship season (which was cut short due to Covid-19). Here is a post on X (archived here) from July 15, 2023 the has two videos and one still image with the sky fire red and fireworks and smoke in the air:
🔥❤️🤍 pic.twitter.com/oqnWMTsb3P

-- youcef-lao (@lyouuucef) July 15, 2023
The post on X by @GoldingBF was deleted after this story was originally written. But the false claim with the video was posted on other platforms including TikTok here (archived here):
The video with the false claim that it is footage from Israel was also posted here on X (archived here) and here (archived here).
A YouTube video (archived here) post August 7, 2020 also shows the Algerian skyline light up red with massive fiery firework displays following a football match celebration:
Algerian football fans often light up the sky with red pyrotechnics as an article (archived here) and footage from August 7, 2023 shows.
Other Lead Stories fact checks about the attack in Israel in October 2023 can be found here.
2023-10-09T18:41:07Z

2023-10-09T18:41:07Z

This story has been updated to include other versions of the false claim.