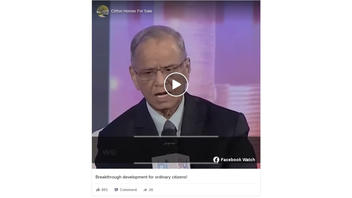 Did Indian billionaire and businessman N.R. Narayana Murthy endorse a quantum computing software that uses quantum AI to trade stocks? No, that's not true: A fake voice has been used in a video on social media to make it appear Murthy made this endorsement. Lead Stories could not find any evidence to substantiate that Murthy made these statements. We also found the original video used to make this video.
The claim appeared on Facebook (archived here) on November 8, 2023. As text scrolled onscreen, it opened with a voice saying:
Hi everybody, I am Narayan Murthy and today I want to present a new project with a 94 percent success rate of Quantum AI.
This is what the post looked like on Facebook at the time of writing:
(Source: Facebook screenshot taken on Thu Nov 16 15:47:44 2023 UTC)
The video claimed that Murthy's team has developed a quantum computing software that would allow users to trade stocks "with minimal risk." The end of the video encouraged viewers to click a banner at the bottom of the video. The banner led to a page (archived here) with a URL beginning with "coffeecaddytotebag.com." The page did not mention or show Murthy, and instead listed what appeared to be logos of various financial articles and pitches.
Lead Stories reverse image searched a screenshot of the Facebook video with the phrase "BT Mindrush," which was on the microphone Murthy is holding, and found the original footage on YouTube (archived here). The original video, published on June 24, 2022, was from a Business Today Mindrush (archived here) 2022 conference. In this video, Murthy did not endorse a quantum computing software that will allow users to trade stocks.
(Source: YouTube video taken on Thu Nov 16 16:53:28 2023 UTC)
A Google News search of the keywords, "Narayana Murthy AND quantum computing software AND quantum AI" (archived here) did not yield any relevant results.
We have contacted Murthy and will update this article when a response is received.
Lead Stories has debunked multiple claims that use a public figure's likeness to create an advertisement. One purported to show Anthony Hopkins advertising a Medicare flex card and the other actor Michael B. Jordan endorsing health benefit cards.