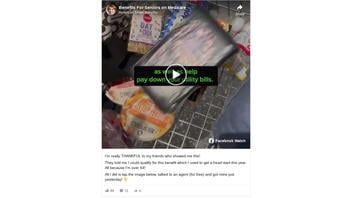 Did actor Anthony Hopkins endorse a Medicare program that allows senior citizens to use a flex card to pay their expenses? No, that's not true: A voice resembling Hopkins was used in a video about a Medicare program that doesn't exist. Lead Stories could not find any evidence that Hopkins has endorsed this on his social media accounts or on a search of thousands of sites indexed by Google News.
The claim appeared on Facebook (archived here) where it was published on November 9, 2023. It opened with a scene of the actor talking, and as matching text appeared on screen, a voice sounding like Hopkins said:
Alright. All seniors on Medicare. There's a new benefit out for anyone on Medicare where you can qualify for a flex card that allows seniors to pay for groceries, over the counter medicines, and other supplies, as well as help pay down your utility bills.
This is what the post looked like on Facebook at the time of writing: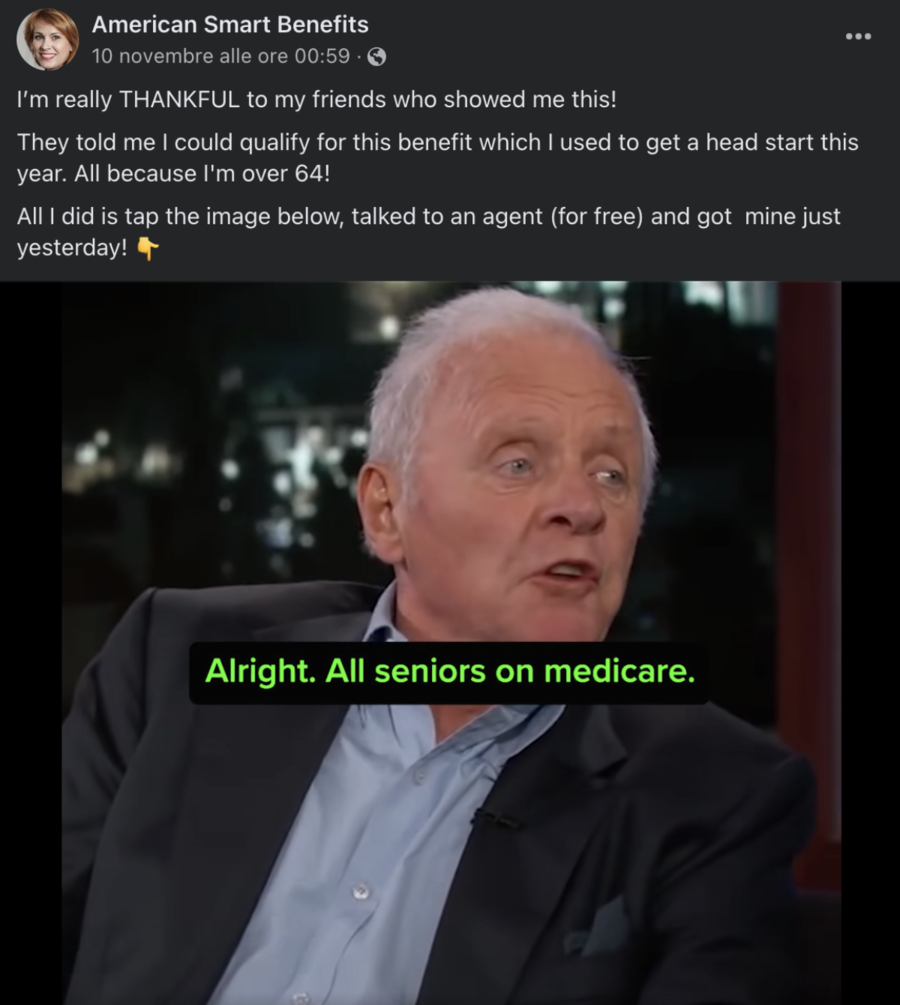 (Source: Facebook screenshot taken on Mon Nov 13 15:52:30 2023 UTC)
The post started with a visual of Hopkins speaking during an interview, but the words heard in the video did not match the movement of his mouth. For the remainder of the video, the viewer just saw stock footage of someone grocery shopping and screenshots of the website where the flex card could be obtained. The clip of Hopkins in an interview is from a "Jimmy Kimmel Live" episode (archived here) from 2017. The Kimmel clip shows Hopkins in the same attire as in the flex card post, and the background behind the actor is the same.
The "Learn More" button underneath the video led Lead Stories to a blank page with the word "Forbidden" in the top left-hand corner. The URL for this blank page was "clk.extrahelpmedi.care." This URL is not associated with the U.S. government's Medicare program. That URL is medicare.gov. Below is evidence of the blank page we encountered after clicking "Learn More": (Source: clk.extrahelpmedi.care screenshot taken on Mon Nov 13 16:04:27 2023 UTC)
USA.gov, a U.S. government website that allows people to search for government services, tells its visitors to avoid "free money:"
The government does not offer free money or grants to people for personal needs.
A Google News search of the phrase, "Anthony Hopkins AND endorses AND Medicare flex card" (archived here) did not produce any results to back up the claim.
Lead Stories has also checked Hopkins' X (formerly Twitter), Instagram, and Facebook accounts and did not see posts endorsing a Medicare flex card.
We have contacted Hopkins' representatives and will update this article when a response is received.
Lead Stories has reported on health card benefit scams since August 2023. Other Lead Stories articles on health care scams featuring public figures can be found here.
Othe Lead Stories fact checks on claims concerning Anthony Hopkins are here and here.