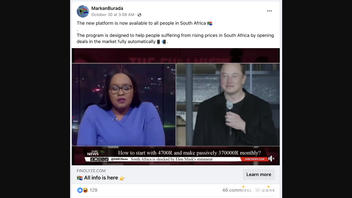 Did Elon Musk promote an investing platform on SABC News South Africa? No, that's not true: This video post uses inauthentic audio dubbed over an authentic video of Musk speaking during a Fox News interview in April 2023. No such report on the South African Broadcasting Corporation website was found. This resembles multiple prior posts making false claims that Musk announced a miracle investing platform on CNN and on the BBC. The posts are used to harvest the personal information of the unwary.
The claim appeared in a post on Facebook (archived here) on October 30, 2023. Above a purported SABC News broadcast featuring a news anchor and Musk, the caption is:
The new platform is now available to all people in South Africa.

The program is designed to help people suffering from rising prices in South Africa by opening deals in the market fully automatically.
Here is what the claim looked like at the time of writing: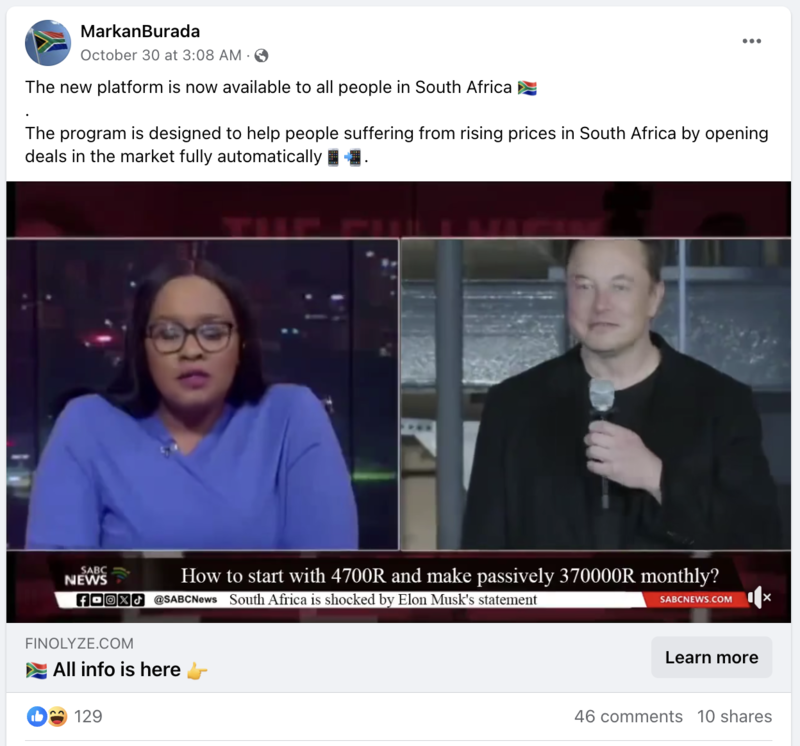 (Source: Facebook screenshot taken on Thu Nov 2 16:21:09 2023 UTC)
The 39-second video opens with a news anchor purportedly introducing Musk. While various video snippets featuring Musk play beside the broadcaster, she says:
Residents of South Africa no longer need to work. Such a statement was made by Elon Musk as he opens access to his new development which generates money automatically using artificial intelligence as a trader.
This is not a real SABC newscast. The voices of the broadcaster and Musk have been dubbed-over with audio making the false claim.
At 13 seconds in the video post, Musk is seen speaking, wearing a black shirt, with a table lamp with a yellow shade on the right. A Google Lens search (archived here) found the same image in this April 18, 2023, CTV News article titled, "Elon Musk says he'll create 'TruthGPT' to counter AI 'bias'". That article linked to the original version of the April 17, 2023, video, on the official Fox News YouTube page. In that interview, Tucker Carlson interviewed Musk about his stance on regulation of artificial intelligence. Musk did not in that interview announce a stock-trading platform.
A News search of Google's index of thousands of reliable information sites (archived here) using the keywords "Elon Musk's 'Automatic Money Generator Using Artificial Intelligence'" produced no results to substantiate claims about an SABC announcement by Musk.
A search (archived here) of the SABC News website for the keywords "Elon Musk promoted an investing platform" did not produce any results to substantiate this claim.
Attached to the Facebook post is a link (archived here) that reads, "All info is here." When clicked on, an unrelated webpage opens that appears to be an online promotion to take courses at a purported business school.
Lead Stories reached out to The SABC News platform for a statement on this claim and will update this fact check if a response is received.
Additional Lead Stories fact checks that mention Elon Musk and investments can be found here.