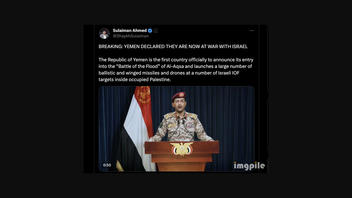 Did Yemen officially declare war on Israel in October 2023? No, that's not true: No credible sources have reported that as of November 1, 2023. Posts on social media making the claim misrepresented the role of the Houthi movement, which tried to launch drones and missiles targeting Israel in October 2023. This group is not internationally recognized as Yemen's government.
The claim appeared in a post (archived here) published on X, formerly known as Twitter, on October 31, 2023. It opened:
BREAKING: YEMEN DECLARED THEY ARE NOW AT WAR WITH ISRAEL.
The post continued:
The Republic of Yemen is the first country officially to announce its entry into the 'Battle of the Flood' of Al-Aqsa and launches a large number of ballistic and winged missiles and drones at a number of Israeli IOF targets inside occupied Palestine.
This is what it looked like on X at the time of writing: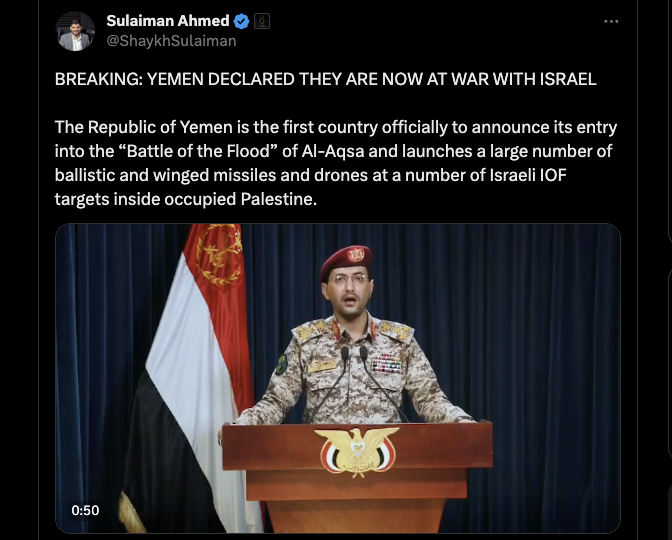 (Source: X screenshot taken on Wed Nov 1 13:31:20 2023 UTC)
The entry shared a video of a man in a military uniform speaking in front of the Yemeni flag.
Contrary to the claim, this person does not represent the entire Republic of Yemen or its government.
In the spring of 2019, the Voice of America (archived here) published a screenshot of a video with the same person under the caption that identified him as "Yahya Sarea, Houthi military spokesperson."
Reuters (archived here) has also consistently described Sarea as a representative of the Houthi between 2019 and November 1, 2023.
The Houthi movement is an Iran-backed rebel group in Yemen that, as of this writing, controls portions of the country's territory, including its capital -- the city of Sanaa, seized in 2014. The group's senior military leaders were sanctioned (archived here) by the United States in 2021 for "actions that perpetuate conflict" and "undermine peace efforts," as the U.S. State Department (archived here) put it, referring to the worsening humanitarian crisis and threats to local civilians as a result of Houthi offensive within the country.
The internationally recognized (archived here) national government of the Republic of Yemen is the Yemeni Presidential Leadership Council led by Rashad Muhammad al-Alimi, not the Houthi.
As of this writing, the Presidential Leadership Council was not directly involved in the 2023 Hamas-Israel conflict.
A search across Google News for the phrase "Yemen at war with Israel" (archived here) shows no credible reports confirming that.
What the October 2023 news articles discuss is not a declaration of war on Israel by Yemen's government but a series of attempted attacks on Israel from the territory of Yemen launched by the Houthi movement.
In October 2023, both Israel (archived here) and the Pentagon (archived here) said Houthi forces attempted to target Israel. On October 31, 2023, Houthis claimed responsibility (archived here) for those attacks, too.
Other Lead Stories fact checks of claims about the Hamas-Israel conflict can be found here.