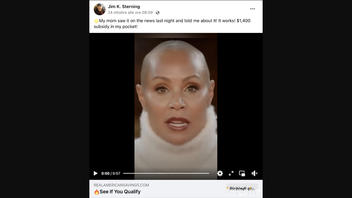 Does a video on Facebook show actress Jada Pinkett Smith endorsing a "health spending card" promotion? No, that's not true: The audio in this post is fake, as she was talking about her health in at least one of the video clips used in this claim -- not a "health spending card." Fake promotions, such as the one linked to this post, have been previously debunked by Lead Stories as scams aimed at getting personal information from people.
The claim appeared in a post (archived here) on Facebook on October 24, 2023. The caption of the post read:
My mom saw it on the news last night and told me about it! It works! $1,400 subsidy in my pocket!
This is what the post looked like on Facebook at the time of writing: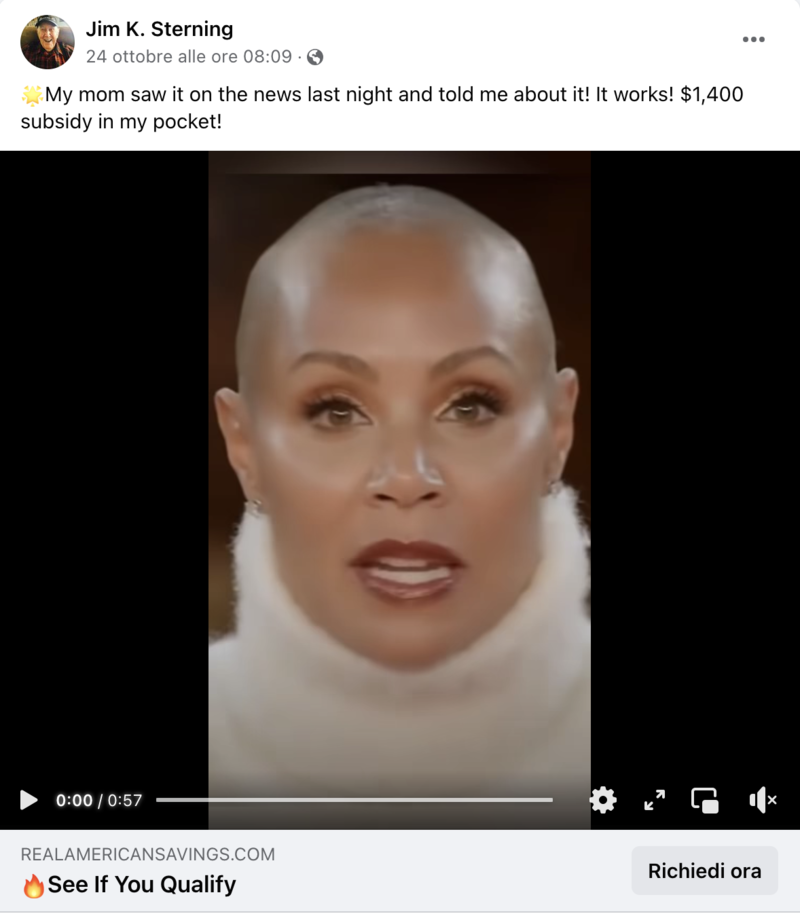 (Source: Facebook screenshot taken on Wed Oct 27 16:53:03 2023 UTC)
The post has snippets of videos of Pinkett Smith and people holding financial documents with audio that resembles Pinkett Smith's voice but does not appear to sync with any of the videos in the post.
The link attached to the post goes to a page for realamericansavings.com that says, "Call now to enroll," but no phone number is shown. That page says, "Thanks to a new Federal Program, Americans are getting discounted healthcare that includes full coverage benefits," but the site is not an official government website nor does it link to a government site. The page's domain name does not end in .gov, the top-level domain for websites of organizations in the U.S. government. No evidence of such a federal program is given.
A Google News search (archived here) using the keywords "Jada Pinkett Smith Endorses Health Spending Card" did not produce any results to substantiate this claim.
The audio in this video is not Pinkett Smith's voice. The opening video snippet was taken from this June 1, 2022, episode of her talk show, "Red Table Talk," where she discusses the impact of her alopecia diagnosis. At the 44-second mark in the authentic video, copied for the start of the video making the claim, she says, "... and let's keep figuring out this thing called life together. Thank you for listening" instead of describing the benefits of state-funded "health spending cards."
Lead Stories previously reported on large-scale false promotion posts that trick people into giving their personal information.
Lead Stories reached out to representatives of Pinkett Smith's and will update this fact check if a response is received.
Other Lead Stories fact checks that mention Jada Pinkett Smith are here.