A police report filed in the southern Philippines said bird hunters stumbled onto the wreckage of a Malaysian plane in a dense forest, although officials say the claim has not been verified.
Malaysian police are trying to speak with the Filipino man who filed the police report, according to Malaysian website FreeMalaysiaToday.com.
"The information has yet to be verified," Sabah (Malaysia) Commissioner of Police Jalaluddin Abdul Rahman told the website.
The police report, which has gone viral in Malaysia, was filed by a man on behalf of his teenaged nephew who reportedly made the discovery with several friends during a bird hunting trip in a forest off Pulau Sugbay, South Ubian Tawi-Tawi, southern Philippines.
"The Suluk man informed police that the wreckage could be that of a plane that disappeared last year," the police commissioner said.
The nephew told the man that he saw skeletal remains in the wreckage. "There was a skeleton still in the pilot's seat. The pilot had his safety belt on and the communication gear attached to his head and ears," the report said.
The group also claims to have recovered a Malaysian flag from the wreckage.
The group found the wreckage last month but "they were not able to communicate the information earlier since there are no facilities on the island," the man said in his police report.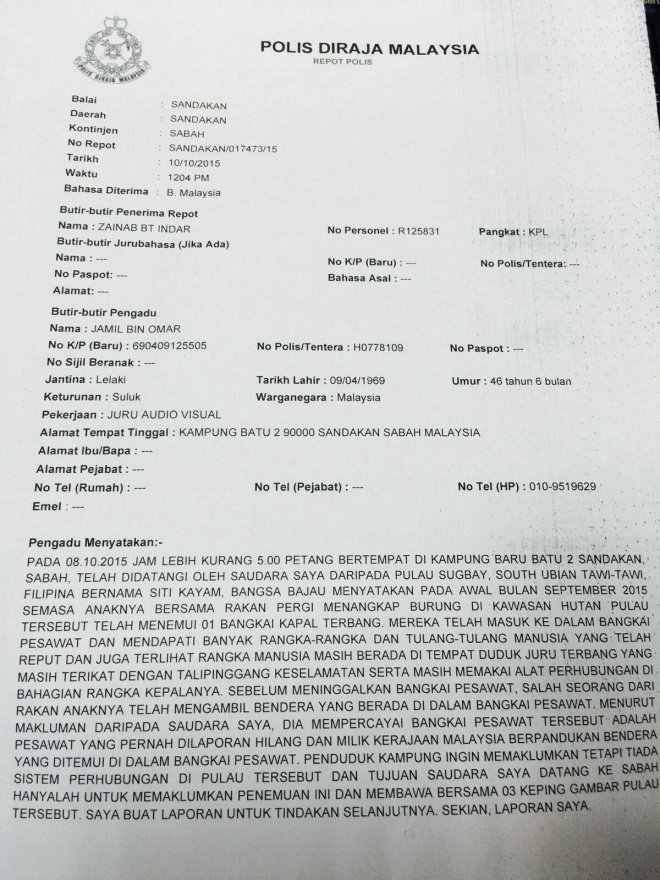 The claim is especially dubious considering that a wing fragment found on a Reunion Island beach in July 2015 was "conclusively confirmed" by experts to be from Malaysian Airlines Flight 370, according to Malaysian Prime Minister Najib Razak.
The Boeing 777 airliner carrying 239 people went missing during a flight from Kuala Lumpur to Beijing in March 2014.
Lead Stories' Trendolizer never stops looking on social nets for the hottest trending content about MH 370. Scroll down to see the latest.