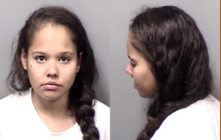 Josseleen Lopez landed in jail because of her decision to take a wine, sushi and meth tour on a motorized cart through a Florida Walmart, according to a police report.
The homeless woman told police she knew it was wrong, but she was hungry, Citrus County Deputy Michael Zarek wrote in his arrest report.
Zarek was called to the Lecanato, Florida, Walmart on December 22, when a security guard noticed Lopez, 25, "acting suspicious inside the store while driving a motorized shopping cart."
He watched as she chose a package of sushi, opened it, ate a piece and then placed the rest of the package back on the shelf, Zarek wrote. Lopez followed the "same pattern" with mini muffins and cinnamon rolls. She ate "the majority of a rotisserie chicken" and two bottles of wine, the arrest report said. The stolen goods totaled $32.26, tax included.
Deputy Zarek found three used drug syringes in the woman's backpack, which she admitted she used "to shoot up meth," he wrote.
Lopez said "she was hungry and did not want to take any of the items outside of the store," he wrote.
"She further stated that she knew what she was doing was wrong, however did it anyway."
Lopez was charged with petty theft and possession of drug paraphernalia and held on $1,000 bond.