Belgian security researcher Inti De Ceukelaire strikes again. After hijacking one of Donald Trump's tweets earlier to make him tweet a video mocking his Russian connections, De Ceukelaire has now made an old Trump tweet play a video for a My Little Pony fan convention:
"@FranzThompson: @LOUISFANUCCHIIV Go vote and support @realDonaldTrump at http://t.co/9LnAKc0KGF" That sounds cool!!!

-- Donald J. Trump (@realDonaldTrump) July 12, 2013
Here is a screenshot of the tweet in case it gets taken down: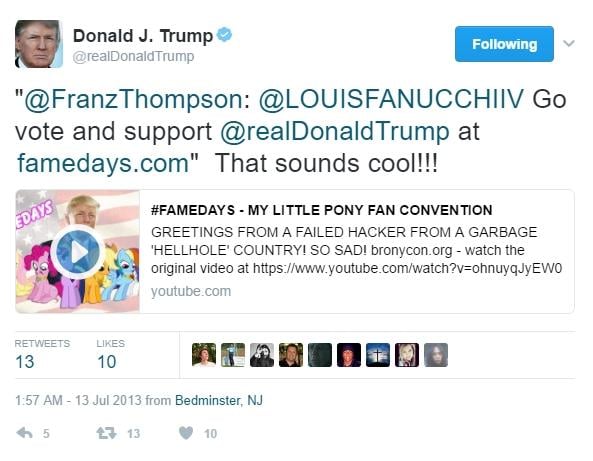 And this is the video the tweet now links to:
De Ceukelaire has been trawling through old Trump tweets looking for ones that link to expired domain names. He then registered these domains so he could basically point them to any website or video he wants, making it appear Donald Trump tweeted a link to them.
He claimed on Twitter he has hijacked at least three Trump tweets like this, although he has revealed only this one and the one mentioned here:
Ondertussen al 3 @realDonaldTrump tweets kunnen hijacken en zit nog maar half 2013. Zucht.

-- Inti De Ceukelaire (@intidc) January 27, 2017
Found out what the other one was? Let us know: [email protected]