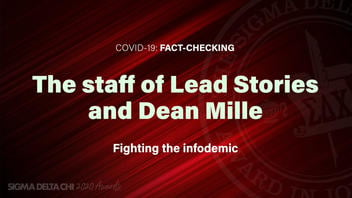 The Lead Stories staff was just awarded a 2020 Sigma Delta Chi Award by The Society of Professional Journalists for our Covid-19 fact checking. We are very happy and honored to have been chosen and will strive to continue our fact checking on Covid-19 related stories. As we went into 2020 we fully expected we would be spending most of our time fact checking election related stories but as it turns there was an even bigger story with even more misinformation (sometimes literally) going viral.
From the official announcement:
The Society of Professional Journalists is pleased to announce the recipients of the 2020 Sigma Delta Chi Awards for excellence in journalism.

Judges chose the winners from entries in categories covering print, radio, television and online. The awards recognize outstanding work published or broadcast in 2020.

Dating back to 1932, the awards originally honored six individuals for contributions to journalism. The current program began in 1939, when the Society granted the first Distinguished Service Awards. The honors later became the Sigma Delta Chi Awards.

Founded in 1909 as Sigma Delta Chi, SPJ promotes the free flow of information vital to a well-informed citizenry; works to inspire and educate the next generation of journalists; and protects First Amendment guarantees of freedom of speech and press.
You can see Lead Stories listed here among the other winners in the Covid-19 category. And here is a video clip of the announcement: