There is an insanely NOT TRUE story making the rounds on the internet about a man getting frisky with his kity cat, titled "Man Rushed To Emergency Room To Have Cat Removed From His Penis". It comes from a known hoax site but some people don't understand that. Lead Stories debunked a similar story a few months ago "Man Emasculated During Failed Attempt to Rape Pit Bull".
This crazy story starts with "A New Hampshire man has been arrested and a 4 year-old cat is now recovering from serious injuries after an incident in an emergency room erupted in shock. Eyewitnesses say that Michael Flockhart, 48, arrived in the emergency room holding what looked like a bundled up blanket below his waist. He was heard telling the admissions department that he had an emergency that needed immediate attention." However, he was told like everyone else to sign in and wait". That's taking crazy cat person to the next level.
The NOT TRUE story continues:
According to reports, Flockhart took a seat in the emergency waiting room with the "scrunched up blanket" in his lap. That's when the people around him say they heard meowing noises coming from underneath the blanket. As they looked closer, the blanket was moving and the cries, of what sounded to be a cat, were getting louder. The incident was causing such an uproar, that security came over to see what the problem was.
The story goes on:
I approached the man in the waiting room, who looked to be a bit distressed," said Robert Hall, emergency room security. "When I got closer, I was hearing muffled cries... I don't know it sounded like a cat. I asked him what was going on and he asked me to come closer. I sat next to him, and he whispered in my ear 'Can you please get the nurses to take me right away... I have my cat stuck on my penis.' Say what! - I obviously thought I heard him wrong. But I didn't, this crazy mother f*cker actually had his manhood stuck inside his cat. What a freak.
The NOT TRUE crazy story concludes with:
Flockhart admitted to doctors that he took a Viagra prior to his encounter with his pet named 'Squishy.' Doctors say Viagra can cause an increased blood flow to the genital area causing unusual swelling. Between that, and the size of Squishy's anus, it was a recipe for disaster. Nurses gave Squishy a sedative to calm him down while the Viagra wore off of Flockhart. Once the swelling subsided, they were able to free the cat. Squishy suffered severe anal tearing and required 17 stitches. Flockhart was arrested and booked on several charges. He is awaiting his trial date.
The guy in the mugshot used in the NOT TRUE story actually comes from a 2014 article "Police arrest convicted sex offender for failing to comply with reporting requirements". So he is a creep, just not the cat sex type. As for the innocent cat pictured in the story, it is actually Bart the Miracle Cat from a 2015 story "Bart the miracle cat: Florida pet scratches its way out of grave after getting hit by car and buried". Poor feline. Now he's fine.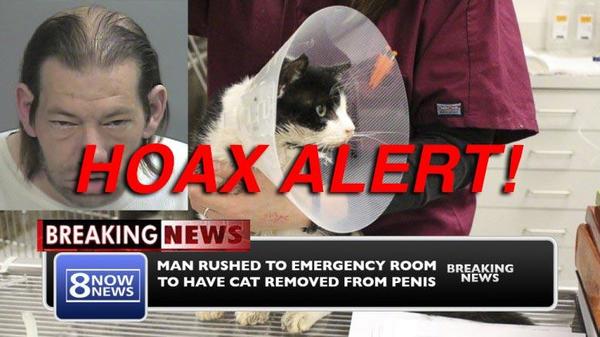 Lead Stories' Trendolizer™ is constantly scouring the web for the hottest news, viral videos and images.
Follow us on Facebook and Twitter @LeadStoriesCom for your daily news.