There is a humorous NOT TRUE story making the rounds on the internet about a room service attendant and The Donald, titled "Donald Trump Caught Snorting Cocaine by Hotel Staff". It comes from a known hoax site but some people don't understand that.
This crazy story starts with "The Internet is buzzing today after white supremacist presidential candidate Donald Trump was caught by hotel staff snorting cocaine. Maria Gonzalez an employee at the Folks INN & Suites Hotel in Phoenix brought room service to his room witnessed it all". Sounds legit.

The NOT TRUE story continues:
When I walked in I saw 3 naked prostitutes and maybe 100,000 in hundred dollars bills and a mountain of white powder on the table, I thought it was a dog on the floor sleep but it was his hair piece, he was bald and sweating like crazy. I asked him where to put the food and he asked me did I wanna take a hit, I told him no but I'll take some of that money, he called me a free loader, told me to get the f*ck out his room and go back to my country.
The hilariously crude NOT TRUE story concludes with:
We reached out to Trumps campaign and he released a statement saying: "I did not disrespect that woman she's a god damn liar and I don't do drugs I do business, when I get elected all hotel employees will have to be U.S. Citizens, they keep taking real American people's jobs and that will stop, not on my watch.
The image of Trump sitting in front of a mound of white powder is obviously a Photoshop masterpiece. Tony Montana, He is NOT. As for the cropped inset image, it comes from a TRUE 2011 article titled "Billionaire Donald 'Trumps' his staff and rolls up his sleeves as he becomes hired help in his own hotel".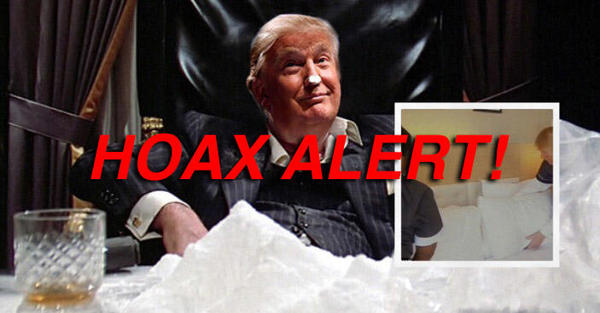 Here's the original picture of Trump working next to his employee: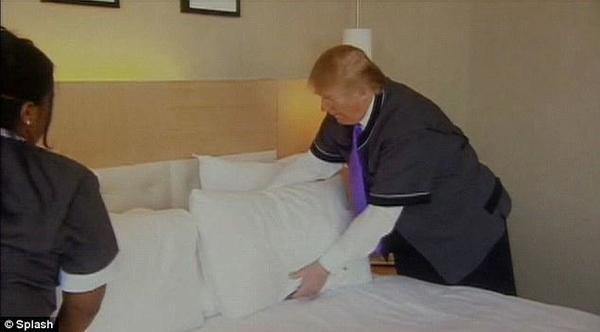 Lead Stories' Trendolizer™ is constantly scouring the web for the hottest news, viral videos and images.
Follow us on Facebook and Twitter @LeadStoriesCom for your daily news.