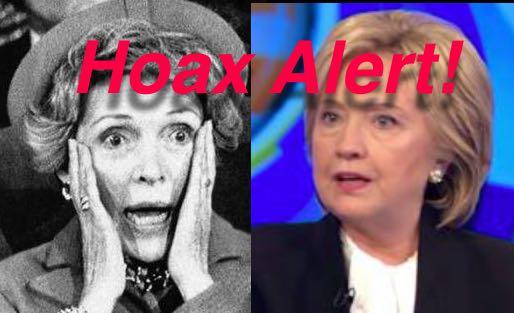 A year-old hoax story that says Nancy Reagan endorsed Hillary Clinton for president is still not true. The former first lady did not say in an interview for the History Channel that she wanted the other former first lady to win the White House.
The fake story was first published in March 2015 by the hoax site National Report and then erroneously picked up by respectable outlets, including Bloomberg Politics. It was debunked in April by Politico, triggering a Bloomberg retraction.
But the story is trending again on social media 11 months later as Clinton is locked in a tough battle with Bernie Sanders for the Democratic nomination.
The initial hoax story claimed that her son Ron Reagan Jr. showed a clip of his mother's purported interview for a purported History Channel series "First Ladies in Their Own Words" in which Nancy Reagan allegedly said: "The time for a woman to serve as our President has come - really, now is the time - and I think the idea of having a former First Lady as the leader of the free world is really quite a marvelous notion. I want Hillary to win. Even though I admire two of the current potential Republican nominees, I have no interest in seeing either of them lead this country."
Hoax stories often gain and regain steam when people who want to believe them suspend reality and click the share button. Please don't be one of them. Think before you click. And when your friends share the Reagan story on their timeline, post this story below it.