There is a fake story trending on the internet about a young college lady who murdered her roommate for sending too many Candy Crush game requests. Though it comes from a known satire site, many folks don't understand that and continue to spread these nasty falsehoods.
The NOT TRUE story states:
A 19-year-old woman beat her roommate to death with an industrial sized bag of jelly beans on Tuesday afternoon. The woman was reportedly frustrated by the amount of invites received for the popular Facebook game Candy Crush. "It started off as once a week," the woman said in her statement. "Soon it was happening every day. My battery was constantly dying from notifications from this girl. I tried disabling notifications, I tried blocking her, I tried everything except murder. Now I'll never have to see that horrible notification again."
What a blow to the ego, right? Nope. The mugshot of the lady used in the NOT TRUE story is actually of Meagan Pastorchik, Miss Hooters 2015. She was arrested in 2012 for "DUS / Driving under suspension, license not suspended for DUI - 1st offense 970/ BENCH WARRANT."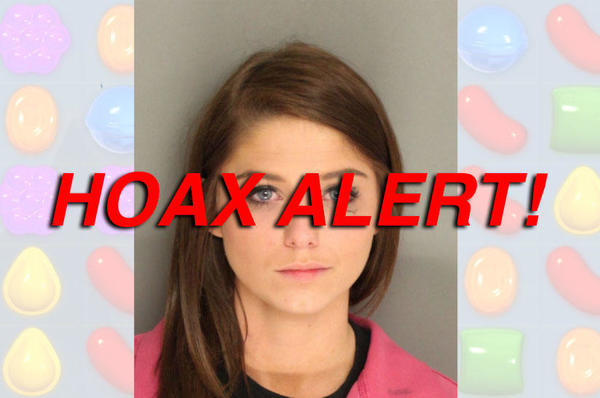 There was another story recently trending on the webs over at Huzlers using a different victim image.

It never ends, people. On and on 'til the break of dawn.
Lead Stories' Trendolizer™ is constantly scouring the web for the hottest news, viral videos and images.
Follow us on Facebook and Twitter @LeadStoriesCom for your daily news.