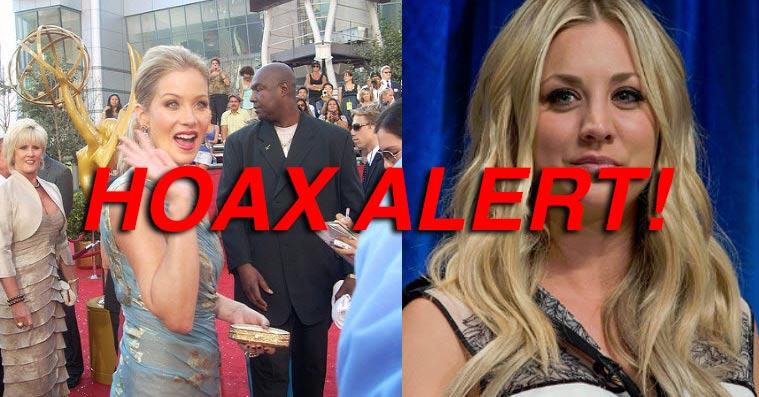 There is a trending HOAX story stating that "Christina Applegate To Replace Kaley Cuoco On The 10th Season Of Big Bang Theory." Rest easy TBBT fans, Penny isn't going anywhere. Although the NOT TRUE story comes from a known satire and hoax site, some people aren't aware of that fact.
A brief excerpt from the HOAX story:
According to CBS spokesperson David Hansen, veteran actress Christina Applegate will be replacing Kaley Cuoco as the popular Big Bang Theory character, Penny. The CBS spokesperson indicated that Cuoco will be finishing her role as Penny throughout the remainder of season nine, however, Applegate will be taking her place beginning with the first episode of season ten.
In researching the names and titles used in this NOT TRUE story, David Hansen is NOT a listed employee or spokesperson for any CBS affiliate. Also, David Clarke is not a writer on TBBT according to the show's website.
The cast of The Big Bang Theory were in the news in 2014 when they were in contract negotiations. According to many articles, TBBT folks are making money hand over fist. Kaley Cuoco is not a real regular on social media but she does post to Twitter now and again:
What's Your Favourite Emoji ? 👸 pic.twitter.com/8UeHT4FOUV

-- Kaley Cuoco (@TheKaleyCuoco) April 28, 2016
As for Christina Applegate, she is doing her thing of being a mother, wife, and entertainer:
Every time she says "I am Katniss" I hear " I am cat piss" distracting. But loving the Hunger Games. So good! #latetothegame

-- christina applegate (@1capplegate) April 29, 2016
Follow us on Facebook and Twitter @LeadStoriesCom for your daily news.