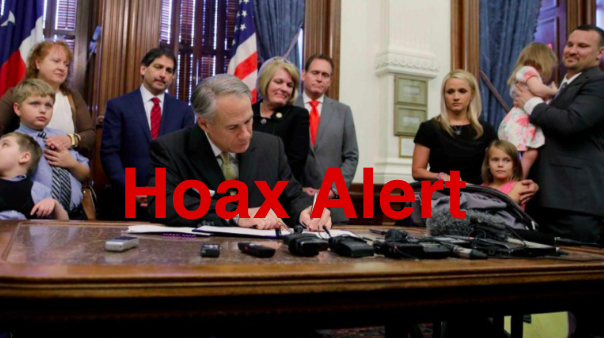 No, Texas IS NOT banning all transgender people form public restrooms.
A hoax has been detected by Lead Stories' Trendolizer which claims that Governor Greg Abbott is signing a bill to ban all transgender folk from using public restrooms. This story was published by known entertainment and hoax site, KRBC News.
For starters, here is the disclaimer on KRBC's website to alert readers of its UNTRUE stories:
This should go without saying, but everything on this website is purely for entertainment purposes. We are in no way affiliated, or trying to look like we are affiliated with any local news station.
Beyond the fact that this story was written by an illegitimate news source, another major clue that this story is FAKE lies in the image used for the UNTRUE article.

The image below shows Gov. Abbott signing a bill in front of various people. This image has been photoshopped so much that a reverse image search proved fruitless... zero matches.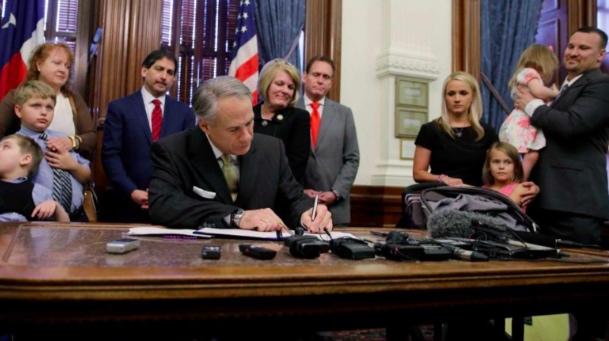 If you'll notice, Gov. Abbott seems to be signing this bill with his left hand, which is odd because he is actually right handed. Essentially the FAKE story features a mirrored image of a REAL photo. Below is the original image we believe was used for the hoax: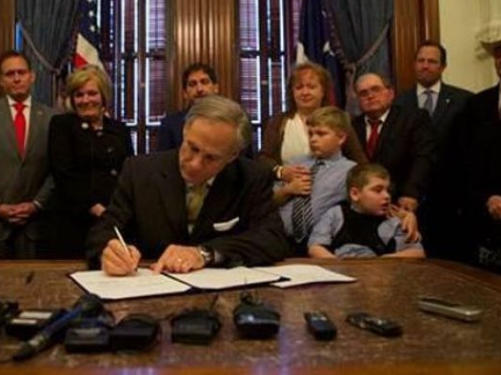 This photo was taken when Gov. Abbott was signing a bill to allow individuals with intractable epilepsy (IE) to access cannabidiol (CBD oil) to reduce seizures. As can be seen, all of the people in the FAKE photo used by KRBC news are facing the opposite direction as the original photo.
Additionally, there have been no recent comments or statements by Gov. Abbott affirming the outlandish claim that transgender folk will be banned from public restrooms in Texas. This story is a flat out HOAX.

Lead Stories' Trendolizer™ is constantly scouring the web for the hottest news, viral videos and images.