There is a NOT TRUE story trending on the internet stating "Navy to Posthumously Charge American Sniper Chris Kyle with Stolen Valor." United Media Publishing, the HOAX website that published the NOT TRUE story, seems to be taking advantage of the fact that Chris Kyle is currently in the news for "discrepancies in 'American Sniper' medal records."
A little of the HOAX:
'American Sniper' Chris Kyle, the former Navy SEAL remembered as the deadliest sniper in U.S. Military history, will be charged posthumously with stolen valor for fabricating valor awards and military decorations, according to one high ranking Navy official not authorized to speak publicly on the case.
The NOT TRUE story does have some truth to it but the "Being Charged" part is FALSE. The current issue of "discrepancies between the number of medals awarded to Chris Kyle" is only being looked at by the Navy at the present time.
The comments posted to the NOT TRUE story show that people believe strongly about this topic: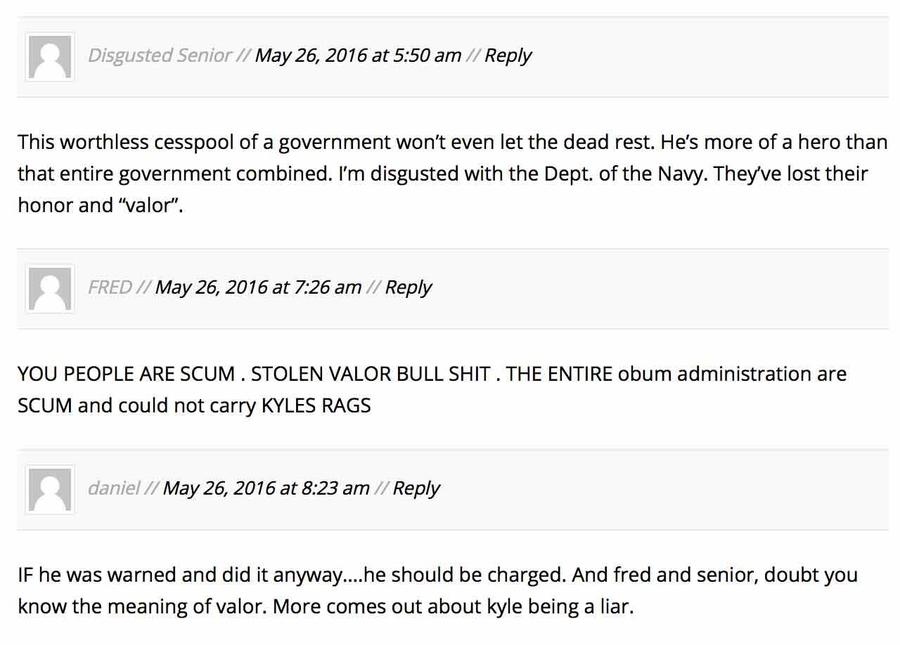 If you see somebody share the NOT TRUE story on the internet, please share this story with them and stop the lies from spreading.
Lead Stories' Trendolizer™ is constantly scouring the web for the hottest news, viral videos and images.
Follow us on Facebook and Twitter @LeadStoriesCom for your daily news.